January 8, 2007
THE BIG STORY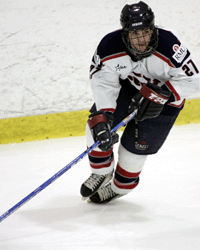 Jake Sparks and his Robert Morris teammates snapped Notre Dame's seven-game winning streak Sunday.
Rather than focusing on the extended unbeaten streaks of Minnesota and St. Cloud State or New Hampshire's impressive sweep at Vermont, it's time to salute the little guy.
Three teams representing the nation's two youngest leagues recorded upsets over opponents from the four established conferences this past weekend – each on the road, and each with varying degrees of difficulty.
The most stunning turn of events took place at Notre Dame Sunday, where College Hockey America upstart Robert Morris stunned the second-ranked Fighting Irish, 4-2. Little-used backup goalie Joe Tuset – the senior was making the seventh start of his career – made 34 saves for the Colonials, who scored four unanswered goals after spotting Notre Dame a 2-0 lead.
"To be able to go into the number-two team in the nation's building – where they are undefeated – and knock them off is very exciting," said Robert Morris coach Derek Schooley.
In Ithaca Saturday, goaltender Jason Smith stopped 28 of the 29 shots he faced, including all 13 he saw in the third period, as Sacred Heart edged Cornell, 2-1. Alexandre Parent's goal 5:31 into the final period was the game-winner for the Pioneers, who are 10-1-3 since Nov. 1.
Sacred Heart's Atlantic Hockey counterpart, RIT, rang in the new year by upsetting Quinnipiac Thursday in the first game of 2007. Jocelyn Guimond made 33 saves in the Tigers' 3-2 win. Matt Smith's goal with 9:49 left in regulation provided the final margin of victory.
MAKING WAVES
Once Ohio State sports fans turn their collective attention away from the school's top-ranked football team following Monday's BCS championship game against Florida, most will focus on the Buckeyes' up-and-coming hoops squad. Hopefully, a fair amount will take notice of an OSU hockey team that has scratched and clawed its way back to .500 after getting off to an abysmal start.
The scarlet and grey icers reached their nadir Nov. 9 – that's nine days prior to the Michigan-Ohio State football game for you Buckeye fans requiring a point of reference. In front of a weekday crowd of 2,000 at cavernous Value City Arena, OSU's record fell to 2-6-1 after losing an 8-5 decision to Western Michigan. Not an encouraging start for a team that lost just four seniors from last season.
In their 13 games since the loss to WMU, however, the Buckeyes are 7-3-3. And after sweeping Alaska in Columbus this past weekend, OSU enters a bye week with a four-game winning streak and a five-game unbeaten streak.
What's been the difference? For starters, freshman goaltender Joe Palmer is settling into his role as the team's top netminder. He's only allowed more than three goals twice in his last eight starts, something he did in four of his first 10 starts. The Buckeyes also welcomed junior forward Tom Fritsche, the team's leading scorer as a freshman and sophomore, back to the fold recently. The Parma, Ohio, native, who missed OSU's first 18 games with an intestinal ailment, has three points in four games since returning to the lineup.
SAY WHAT?
From the Day That Will Live in Infamy Dept.: According to the Robert Morris athletics web site, the Colonials' win at Notre Dame is the biggest upset in the school's history. The only other win that an RMU team has posted over a ranked opponent in recent history came this past fall when the football team beat Central Connecticut State, the 19th-ranked team in Division I-AA, 23-17 in overtime.
From the All Hands on Deck Dept.: Because of the World Junior Championship and, ahem, other personnel matters, top-ranked Minnesota dressed just nine forwards for Friday's game at Minnesota State. That number dropped by one a few minutes into the first period when junior winger Tom Pohl left the game with an injury, forcing coach Don Lucia to move freshman defenseman Brian Schack up front. The Gophers won, 5-1, behind 33 saves from goaltender Kellen Briggs.
IT HAPPENED IN ...
… Bemidji, Minn. (Saturday): Sophomore forward Travis Winter scored two goals and added three assists as Bemidji State finished off a series sweep with a 7-5 win against Wayne State.
... Boston, Mass (Friday): Northeastern's Denis Chisholm scored midway through the overtime period as the Huskies erased an early two-goal deficit to earn a 3-2 win over visiting Boston College.
… Burlington, Vt.: New Hampshire improved to 12-1-1 in Hockey East play and 16-3-1 overall by sweeping Vermont. Forward Trevor Smith paced the Wildcats in Friday's 7-1 rout with two goals and an assist, while goalie Kevin Regan led UNH to a 2-1 win in the series finale by making 34 saves.
… Duluth, Minn.: Minnesota Duluth earned its first series sweep against a WCHA opponent since Oct. 22-23, 2004, by beating Michigan Tech by 2-1 and 5-3 scores at the DECC.
… Erie, Pa.: Air Force swept Mercyhurst in an Atlantic Hockey series, beating the Lakers by 5-3 and 3-1 scores. The Falcons' Eric Ehn scored three goals and an assist in the two games – the nation's leading scorer now has 19-21—40 in 22 games.
… Oxford, Ohio (Saturday): Michigan State scored four third-period goals – including three in the first six minutes of the frame – en route to a 4-1 win over Miami and a split in a key CCHA series.
… Pittsburgh, Pa. (Friday): Notre Dame's Erik Condra scored five points (one goal, four assists) and Kevin Deeth registered a hat trick as the Fighting Irish downed Robert Morris, 6-2, in the inaugural Pittsburgh College Hockey Showcase at Mellon Arena.
… Schenectady, N.Y. (Friday): Justin Mrazek made 37 saves to lead Union to a 4-1 win against visiting Dartmouth.
… Waltham, Mass. (Friday): Forward James Sixsmith scored two goals and two assists and defenseman Jon Landry added a goal and four assists as Holy Cross beat Bentley, 7-4.