January 15, 2007
THE BIG STORY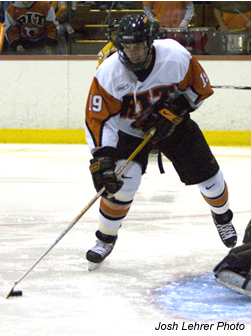 The RIT Tigers, and leading scorer Steve Pinizotto, are Making Waves after their road sweep of former Atlantic Hockey leader Sacred Heart. RIT stands in first place in Atlantic Hockey in its first year as members of that league.
It had to happen. Minnesota finally losing a game. Same with St. Cloud State. Boston University figuring out that scoring more goals than the other team is a good thing. And it all occurred within a 48-hour span.
Because of it, the top five in the INCH Power Rankings have been reshuffled from this time a week ago. Here's why.
* Minnesota's 22-game unbeaten streak ended with a 2-1 loss to Wisconsin Friday. Forward Ross Carlson scored both Badger goals, while wing Jack Skille added two assists. Things could be a lot worse for the Gophers, however. Coach Don Lucia's team has scored one goal in each of the last three games, but they're 2-1 during that span thanks to sharp goaltending work from Kellen Briggs and, most recently, Jeff Frazee. The sophomore – fresh off a successful stint for the U.S. team at the World Junior Championships – made 30 saves in a 1-0 shutout of the Badgers Saturday in his first start since returning from Sweden.
* Minnesota State snapped St. Cloud State's 15-game unbeaten streak Friday in typical Maverick fashion. Trailing 4-1 with less than 16 minutes left in regulation, the Mavs scored four goals in 12:09 to take the lead and added an empty netter with 45 second remaining to salt away the improbable 6-4 win. Fresh off the scintillating victory, the Mavericks returned home Saturday for the back end of the home-and-home series with the Huskies and treated Mankato fans to a scoreless tie.
* Boston University, a team that has struggled to score for a good chunk of the season, left Orono Saturday with a sweep of host Maine in tow courtesy of an offense that scored nine goals in two games. On Friday, the Terriers chased Black Bear goaltender Ben Bishop after a little more than 40 minutes of work, beating him six times on 17 shots. On the other end, John Curry made 40 saves as BU held off Maine for a 6-5 win. Curry was the star Saturday, making 30 saves in a 3-0 shutout.
MAKING WAVES
Sacred Heart's non-league portfolio is more impressive than RIT's, but within Atlantic Hockey, the Tigers proved they're the team to beat, and make their first-ever appearance in the INCH Power Rankings. RIT comprehensively defeated the Pioneers, winning 4-0 and 6-3 at the Milford Ice Pavilion.
Standout goaltender Jocelyn Guimond made 30 saves in a shutout on Friday night, and Rob Tarantino and Brent Patry scored two goals each. Leading scorer Steve Pinizzotto had four points in Saturday's 6-3 win over Sacred Heart.
The Tigers are 13-7-2 overall and 12-3-1 in Atlantic Hockey. They went into this weekend chasing first place, but will be playing the opposite role, as holders of the top spot, until someone knocks them off.
SAY WHAT?
From the Chippiness Will Get You Nowhere Dept.: Maine couldn't solve BU goaltender John Curry during play Saturday night at Alfond Arena. So the Black Bears apparently tried to beat him after the whistle on a couple of occasions.
Maine players Josh Soares and Keith Johnson received minor penalties for shooting after the whistle — an infraction that carries with it an automatic 10-minute misconduct — Saturday. Johnson got his in the first period, while Soares' came a little more than two minutes into the third. Black Bears coach Tim Whitehead told the Portland Press Herald that it was a big crowd and difficult to hear the whistle in Alfond Arena.
That's not all that Whitehead had to say. He and assistant Grant Standbrook and referee Scott Hansen had a heated exchange as the Black Bears left the ice. Whitehead was hit with a 10-minute misconduct.
"I was there to try and help him get his head through the door," Whitehead told the Press Herald. "I was just trying to be helpful."
If Whitehead wants to continue his neighborly ways, he could write out a check in advance payable to Hockey East. That quote certainly appears fine-worthy from this vantage point.
MOVING DAY
Wins this past weekend that'll look good in March
Forget looking good in March, BU's wins over Maine look good right now. The Terriers' unusually high number of ties so far this season make getting wins in the second half imperative, and these two over Hockey East rival Maine are very solid. Boston University's 10 wins at this point in the season is the fewest number of victories by any team in the INCH Power Rankings, except for Cornell's nine. But their four losses is the lowest number in that category, save for Minnesota and UNH.
IT HAPPENED IN ...
… Ann Arbor, Mich.: Michigan scored four goals in the first 23 minutes of its game against Northern Michigan en route to a 5-2 win over the visiting Wildcats Friday for Wolverine coach Red Berenson's 600th career win. On Saturday, NMU's Bill Zaniboni made 36 saves and Mike Santorelli scored two goals — his 19th and 20th of the season — as the 'Cats salvaged a split, winning 2-1.
… Denver, Colo. (Friday): Tyler Ruegsegger's goal with seven seconds left in overtime gave Denver a 2-1 win over visiting Niagara. Juliano Pagliero made 52 saves for the Purple Eagles.
… Duluth, Minn. (Saturday): Colorado College scored four goals during an 8:16 span of the third period to salvage a split of its series with Minnesota Duluth with a 4-2 win.
… Grand Forks, N.D. (Saturday): Philippe Lamoureux stopped all 29 shots he faced as North Dakota, 4-1-1 in its last six games, blanked Alaska Anchorage, 4-0, taking three of four points from the visiting Seawolves.
… Manchester, N.H. (Saturday): New Hampshire scored three third-period goals en route to a 4-2 win over Dartmouth. Josh Ciocco had a goal and two assists for the Wildcats, who got 42 saves from goalie Kevin Regan.
… Michigan rinks (Friday): Three games played in the Mitten State ended with game-winning goals in overtime. In East Lansing, Tim Kennedy's goal 2:04 into OT gave Michigan State a 3-2 win against Alaska. In Sault Ste. Marie, Erik Condra's goal with 1:36 left in extra time propelled Notre Dame to a 4-3 win over Lake Superior State. Down in Big Rapids, meanwhile, Wayne State's Matt Krug scored with 29 seconds left in regulation to send the Warriors' game with Ferris State into overtime at 1-1. WSU's Jared Katz notched the winner 1:42 into extra time.
… North Andover, Mass. (Friday): Benn Ferriero scored three goals and added an assist and Brian Boyle had a goal and four assists in Boston College's 6-1 rout of Merrimack.
… Omaha, Neb. (Friday): Scott Parse scored with 55 seconds left in regulation to lead Nebraska-Omaha to a 2-1 triumph over Bowling Green.
… Springfield, Mass. (Friday): Center Jereme Tendler recorded a hat trick and added an assist in American International's 6-1win against visiting Bentley.