January 22, 2007
THE BIG STORY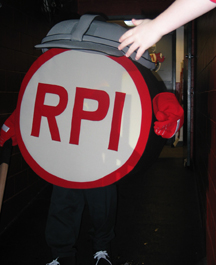 Like a lot of teams in this week's INCH Power Rankings, Puckman split for a while, too. (Photo courtesy Rensselaer)
For the last couple of weeks, we've been waiting for a team to make a statement, stepping to the fore as if to say, "If you want to win a national championship, you're going to have to beat us to do it." Unfortunately, the statement we've heard is, "Uhh … can you check back in a couple weeks?"
The top tier of the INCH Power Rankings has become Splitsville, and treading water has been the exercise of choice lately. Minnesota, once no. 1 with a bullet, is still on top, but due to a pair of low-scoring losses in each of the last two weekends, that bullet has been replaced by a question mark. New Hampshire would have likely bumped the Gophers to second by sweeping UMass last weekend, but the Wildcats could only manage a split.
Notre Dame halved a series with Western Michigan. Denver moved up one spot to fifth this week, but could've climbed higher had the Pies swept Minnesota. St. Cloud State, now no. 3, swept Minnesota Duluth, but those wins only allowed the Huskies to regain the ground they lost when Minnesota State took three of four points from them the previous weekend.
Not every team has done the one step forward, one step back routine, however. Boston University has swept its last two series, including two wins against Merrimack this past weekend. Likewise, Michigan State has won two series in a row. And Vermont notched a huge pair of victories against visiting Boston College.
One thing's apparent by looking at the Power Rankings the last two weeks – the rash of splits benefits the status quo in the short term. But you don't want to be stuck in Splitsville once Sweeps Week eventually comes along.
MAKING WAVES
We're about waist deep in the second half of the season, and Michigan State is playing well. That shouldn't come as a shock to anyone who has followed the team since Rick Comley took over as coach – MSU's pre-Christmas record under Comley, now in his fifth season in East Lansing, is 40-38-9.
Comley's post-Christmas mark, however, is a scintillating 67-30-8. That includes his team's two wins against Lake Superior State at Munn Ice Arena this past weekend – the Second-Half Spartans are 7-1 since the holiday break.
Leading the charge for MSU, which sits in third place in the CCHA standings going into a bye weekend, are cousins Bryan and Jeff Lerg. Bryan, a forward, celebrated his 21st birthday Saturday by scoring the game-winning goals in both wins against the Lakers. He's got a point in 11 of the Spartans' last 12 games and leads the country with six game-winners. Jeff, a goalie, has won nine of his last 10 starts and he's only allowed two or more goals twice in that span.
SAY WHAT?
From the Gotta Shoot to Score Dept.: Providence launched 44 shots on goal in a 3-0 win against Maine Friday, and put 40 shots on target in a 2-0 loss to the visiting Black Bears Saturday. In its two-game series against Boston University, meanwhile, Merrimack was credited with a total of 37 shots.
From the Let 'Em Eat Cake Dept.: Comley, who celebrated his 60th birthday this weekend, walked into his office Saturday morning to find an ice cream cake on his desk with the inscription, "To Rick, Happy Birthday, Tavis MacMillan."
MacMillan, of course, is the Alaska head coach with whom Comley had a heated discussion on the ice following a game the previous weekend at Munn Ice Arena. Comley later learned the cake was the centerpiece of a prank carried out by forwards Bryan Lerg and Jim McKenzie.
"We planned to eat after the game but it melted,'' Comley told Neil Koepke of the Lansing State Journal.
MOVING DAY
Wins this past weekend that'll look good in March
It's almost the point in the season where just about every win looks good in March. That said, Vermont's sweep of Boston College in Burlington is significant on multiple levels.
Not only did the Catamounts catapult into third place in the conference standings, but they did so by beating the Eagles, a team they had lost to six times in as many tries since joining Hockey East last season. UVM did it coming from behind Friday – BC took an early 1-0 lead before the Catamounts scored three in a row en route to a 3-2 win. Saturday, it was Vermont getting a 3-0 lead and holding on for the 4-2 triumph.
Also, the Cats got contributions from a variety of sources. Forward Corey Carlson (two goals) and defenseman Mark Lutz (three assists) were Friday's offensive stars, and forwards Brayden Irwin (2-1—3) and Victor Stalberg (1-1—2) were among Saturday's heroes. Of course, there were the two UVM constants, goalie Joe Fallon (25 saves in both wins) and forward Torrey Mitchell (2-2—4 on the weekend).
IT HAPPENED IN ...
... Air Force Academy, Colo. (Saturday): Goaltender Josh Kassel made 36 saves in Army's 2-0 shutout of Air Force. The Falcons outshot the Black Knights, 36-10.
… Fairbanks, Alaska (Friday): Michigan's T.J. Hensick recorded a hat trick in the Wolverines' 6-2 win against Alaska.
… Grand Forks, N.D. (Saturday): Sophomore forwards Jonathan Toews and T.J. Oshie each scored a goal and three assists as North Dakota completed a home-and-home sweep against Bemidji State with a 6-3 win at Engelstad Arena. The Sioux are 6-1-1 heading into this weekend's series at Minnesota.
… Ithaca, N.Y. (Saturday): Brown scored four third-period goals en route to a 5-2 win over host Cornell. The Big Red is 0-4-2 since beating New Hampshire in the first round of the Florida College Classic Dec. 30.
... Kalamazoo, Mich. (Friday): Jeff Pierce's goal with 2:46 remaining in the third period provided the difference in Western Michigan's 3-2 win over visiting Notre Dame.
… Providence, R.I.: Back-to-back shutouts as Providence and Maine split. Tyler Sims had 28 saves in a 3-0 Friars win Friday. Ben Bishop stopped 40 shots for the Black Bears in their 2-0 blanking. In the series, Bishop made a total of 81 saves on 83 shots.
... Rochester, N.Y. (Friday): Connecticut's Matt Scherer scored 39 seconds into overtime as the Huskies beat RIT, 4-3. The Tigers blew a 3-0 first-period lead.
… Schenectady, N.Y. (Saturday): T.J. Fox's goal 1:04 into overtime gave Union a 2-1 win over visiting Clarkson. The win snapped the Golden Knights' 10-game (8-0-2) unbeaten streak. Justin Mrazek stopped 32 shots for the Dutchmen.
… St. Cloud, Minn. (Saturday): Matt Hartman scored with 52 second left in regulation to give St. Cloud State a 6-5 win against Minnesota Duluth. Mason Raymond assisted on all five UMD goals.
… Troy, N.Y. (Saturday): Rensselaer extended its unbeaten streak in the annual Big Red Freakout! to 17 games with a 3-3 tie against St. Lawrence. But more importantly, Puckman was back in the house.