January 29, 2007
THE BIG STORY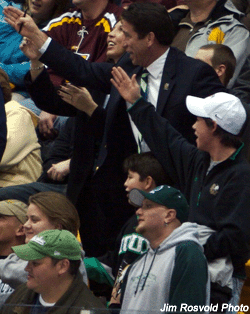 Sieve chant? Tomahawk chop? First down? Only North Dakota AD Tom Buning (wearing suit) knows for sure.
We're not much on celebrity cameos, but for this very special First Shift, we've invited "Family Guy" patriarch Peter Griffin in from Quahog, R.I., to sum up the events of the weekend's North Dakota-Minnesota series. As you've probably heard by now, North Dakota won by a 5-3 score Friday and finished the sweep with a 7-3 win Saturday.
OK, Peter, describe the action from a Fighting Sioux point of view.
"Freakin' sweet!"
Now talk about the games from the Golden Gophers' vantage point.
"Holy crap!"
Well done, Peter. Couldn't have said it better ourselves.
Seriously, Wooderson from "Dazed and Confused" couldn't have made this stuff up. Robbie Bina scoring a shorthanded goal from 190 feet away? North Dakota scoring five straight goals in both games? Philippe Lamoureux outdueling Kellen Briggs and Jeff Frazee?
Needless to say, last weekend's bad trip has Minnesota dazed and confused. Wasn't it just a little more than two weeks ago when the Gophers, losers of four of their last six, owned the nation's longest unbeaten streak? Coincidentally, that distinction now belongs to North Dakota – the Fighting Sioux's first sweep in Minneapolis since 1980 gives them a run of seven games (6-0-1) without a loss.
That the Sioux have flipped the switch on what appeared to be a lost season prior to the holiday break shouldn't come as a shock. Including this season's 8-1-1 mark, North Dakota's post-Christmas record since 2003-04 is an impressive 56-24-4 (.690). With two eminently winnable home series against Minnesota State and Minnesota Duluth sandwiched between an upcoming bye weekend and season-ending road series at Denver and St. Cloud State, Sioux fans have every reason to believe the freakin' sweetness will extend into late March.
MAKING WAVES
Massachusetts, which saw an impressive 6-1-1 start disintegrate by following it with a 2-6-2 run, has quietly climbed into fifth place in Hockey East by going 4-1-1 in its last six outings. The Minutemen, who were paced early on by sophomore goaltender Jon Quick, have scored three or more goals five times in the last six games.
Leading the charge offensively are a pair of seniors – forward Chris Capraro, who extended his point streak to five games with a goal and an assist against UMass Lowell Friday and an assist against Boston University Saturday, and defenseman Mark Matheson, who has at least one point in eight of UMass's last nine outings.
SAY WHAT?
From the So Sioux Me Dept.: There's nothing wrong with a little good-natured ribbing of the opposing goalie after he allows a goal, right? With that in mind, INCH's double-secret Mariucci Cam caught North Dakota athletics director Tom Buning directing the traditional "sieve" chant (complete with Bob Dole-esque, right-handed, pen-gripping, pointing gesture) at a Minnesota netminder. Memo to Gopher and Sioux fans: We're just the messenger. Now talk amongst yourselves.
From the Let It Snow Dept .: Fans leaving Saturday's Miami-Notre Dame contest were warned by the Joyce Center public address announcer to proceed with caution as "significant" snowfall – about six inches – had occurred during the game. Said Fighting Irish coach Jeff Jackson, looking out his office window prior to his post-game press conference: "If this is significant snow, they've never lived in Sault Ste. Marie in the winter." Jackson experienced a decade of harsh Upper Peninsula winters as an assistant coach and head coach at Lake Superior State.
MOVING DAY
Wins this past weekend that'll look good in March
St. Lawrence assumed first place in the ECAC Hockey League over the weekend after beating visiting Harvard and Dartmouth. At 14-10-2 overall and 10-3-1 in conference play, the Saints likely lack the non-conference resume to challenge for an at-large NCAA Tournament berth. They are, however, in prime position to earn a first-round bye in the league playoffs.
Downing the Big Green, especially, allowed SLU to take a big step toward a coveted weekend off in early March, but handling Colgate (tied for fifth in the ECACHL) and Cornell (fourth) in their respective barns this coming weekend would virtually cinch a top-four spot for the Saints. Following the trip to central New York, St. Lawrence plays four straight home games against teams currently eighth or lower (Yale, Brown, Rensselaer, Union) in the conference standings before ending the regular season at Quinnipiac and Princeton.
IT HAPPENED IN ...
... Ann Arbor, Mich.: Michigan scored 15 goals in its sweep of visiting Ferris State, winning by 9-4 and 6-2 scores. Forward Kevin Porter had two goals and three assists in Friday's win. Defenseman Jack Johnson recorded three goals and an assist Friday and followed that effort up with two goals and two assists Saturday.
... Denver, Colo.: St. Cloud State and Denver each earned two points by splitting a series at Magness Arena. The Huskies won Friday's game, 3-2, behind two goals and an assist from forward Andreas Nödl and 30 saves from goalie Bobby Goepfert. The Pioneers scored a 2-0 win Saturday. Goaltender Peter Mannino, in his first game back from a groin injury, made 24 saves to earn the shutout.
... Houghton, Mich. (Saturday): Goaltender Rob Nolan turned aside all 25 shots he faced as Michigan Tech blanked Colorado College, 1-0. The two teams skated to a 2-2 draw in the series opener.
... Kalamazoo, Mich. (Saturday): Forward Paul Szczechura completed a four-point night by scoring the game-winning goal midway through overtime as Western Michigan posted a 6-5 win against Alabama-Huntsville. UAH forward David Nimmo sent the game into the extra session with a shorthanded goal with 17 seconds left in regulation, capping a Charger rally from a 5-2 deficit after two periods.
... Lowell, Mass.: Not a great weekend for UMass Lowell. On Friday, the River Hawks watched Massachusetts score four times over the last 8:30 of third period in a 6-3 win. The following night, forward Brian Boyle scored his second goal of the game with 43 seconds left in regulation to propel Boston College to a 4-3 victory.
... Niagara Falls, N.Y.: Niagara took over first place in the College Hockey America standings by sweeping Wayne State 4-2 and 4-3. Forward Ted Cook scored three goals and an assist for the Purple Eagles, while goalie Juliano Pagliero stopped 73 of the 77 shots he faced.
... Omaha, Neb.: Nebraska-Omaha has won five of its last seven games following a sweep of Northern Michigan. Forward Scott Parse had three assists in the Mavericks' 5-2 win Friday, then added two goals and an assist in Saturday's 6-1 rout.
... Orono, Maine: Maine and Northeastern split a Hockey East series, with the Huskies taking a 6-1 decision Friday and the Black Bears earning a 2-1 overtime win Saturday. In Friday's win, forward Greg Costa scored twice for Northeastern, which got 29 saves from Brad Thiessen. In the series finale, forward Teddy Purcell provided the final margin of victory with his game-winning goal with 43 seconds left in OT.
... Potsdam, N.Y. (Friday): Forward Nick Dodge scored goals at 13:15 and 18:15 of the third period as Clarkson salvaged a 4-4 draw with visiting Dartmouth. Dodge also assisted on teammate Philippe Paquet's short-handed goal 2:19 into third.