February 5, 2007
THE BIG STORY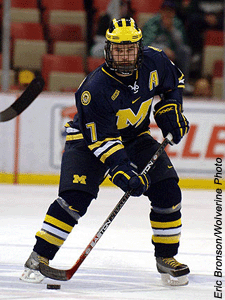 Michigan's T.J. Hensick is the nation's leading scorer with 50 points in 30 games.
Notre Dame has been the feel-good story of the college hockey season thus far. And odds are tilted in the Fighting Irish's favor as far as winning their conference's regular-season championship is concerned.
But this is the CCHA we're talking about here. Regardless of which up-and-comer tries to plant its flag at the summit of the league mountain – be it Ferris State, Ohio State, Miami, or Notre Dame – they'll have to climb past Michigan and Michigan State. The conference's perennial powers, while not likely to track down Notre Dame, are getting hot at the right time.
The Wolverines, fresh off a sweep of Western Michigan, have won six in a row and eight of nine since Jan. 1. Not only is Michigan winning, but they're scoring. A lot. Over their last nine games, the Maize and Blue have scored five or more goals seven times.
Leading the charge during that stretch are linemates T.J. Hensick (7-9--16) and Kevin Porter (4-11--15), who are the country's first- and second-leading scorers with 50 and 48 points, respectively. Sophomores Andrew Cogliano (6-7--13) and Jack Johnson (8-6--14, five-game goal streak) have been sizzling since coming back from the World Junior Championship. What's more, oft-maligned goaltender Billy Sauer has turned the corner, giving up two goals or fewer in seven of his last nine starts.
An hour to the northwest in East Lansing, Michigan State extended its unbeaten streak to seven (6-0-1) – tied with North Dakota for the best current stretch in nation – with a win and a tie at Nebraska-Omaha. The Spartans, who are 10-1-1 in their last 12 games, haven't been quite as potent offensively as their in-state rivals. But they've been stingy on defense (allowing two goals or less in all but three of their last 12) and shown a knack for winning close games (half of the team's last 10 wins have been by one goal).
Winning as of late has been a family affair at MSU, propelled by the cousins Lerg. Jeff, a sophomore goalie, has reverted to the form that made him the CCHA Rookie of the Year last season. Junior forward Bryan, meanwhile, has been both prolific, with at least one point in all but one of MSU's last 14 games, and clutch, with an NCAA-best seven game-winning goals, including the difference maker in each of State's last victories.
Oh, by the way ... Michigan and Michigan State meet at Joe Louis Arena in Detroit Saturday, the final regular-season contest between the two teams.
MAKING WAVES
Speaking of feel-good stories, Northeastern winning the 55th annual Beanpot Tournament, which gets underway at TD Banknorth Garden tonight, would definitely fit in that category. Given the way the Huskies have played lately, it's also an entirely realistic premise.
Northeastern, which opens the Beanpot against Boston University, has won four of its last five games and are 6-2-2 in its last 10 contests following Friday's 1-0 overtime defeat of Merrimack at Mathews Arena. Sophomore forward Joe Vitale scored the game's lone goal with 50 seconds remaining in overtime. The Huskies – behind the stellar play of freshman goaltender Brad Thiessen (2.43 GAA, .920 save pct.) – have allowed three or more goals just once during over its last 10 games.
Don't be surprised if the Huskies-Terriers tilt goes into OT. Six of Northeastern's last 10 games have extended beyond regulation. BU, meanwhile, has an NCAA-high eight ties, and 10 of the team's 25 games have been overtime affairs.
SAY WHAT?
From the Where Do We Start? Dept: So much to report from Durham, N.H. Saturday, where New Hampshire salvaged a split with Maine with a 2-1 win against the Black Bears at Whittemore Center. Goaltending was a big story – the Wildcats' Kevin Regan made a career-high 46 saves in the win. Maine's Ben Bishop, meanwhile, left the contest early in the second period with a groin strain after a collision with UNH forward Trevor Smith.
Another UNH forward, Mike Radja, made headlines by scoring the game-winning goal in his second game back after missing four weeks with a knee injury. It was a chance the Yorkville, Ill., native sounded almost embarrassed to have buried.
"I think Hellen Keller could have scored that one," Radja told Al Pike of Foster's Daily Democrat.
From the Isn't That Special? Dept.: Minnesota Duluth scored three power-play goals and two shorthanded tallies in its 6-4 win at Denver Saturday. The Pioneers had one PPG and one shorty.
MOVING DAY
Wins this past weekend that'll look good in March
With league series against St. Cloud State, Minnesota, and Denver looming in the headlights and disappointing results in series against Minnesota Duluth (split) and Michigan Tech (one point) in the rearview mirror, Colorado College's two-game set against visiting Wisconsin this past weekend had must-win written all over it, especially given the Tigers' bubble status for an at-large berth in the NCAA Tournament.
The situation looked bleak late in the third period of Friday's opener as the Badgers' Brian Elliott appeared to be on his way to making a 1-0 lead hold up. But forward Andreas Vlassopoulos evened the score with just under seven minutes left in reguation and Mike Testwuide scored a little more than two minutes into overtime to give the Tigers a 2-1 win. Third-period heroics weren't necessary Saturday as the Tigers scored four goals in the game's first 23 minutes – including a Cody Lampl tally 21 seconds after the opening faceoff – en route to a 4-2 triumph.
IT HAPPENED IN ...
... Air Force Academy, Colo. (Friday-Saturday): Air Force outshot Mercyhurst by 95-43 margin during the weekend series, but the Lakers outscored the Falcons 7-5 on Friday and earned a 3-2 overtime decision Saturday.
... Anchorage, Alaska (Friday): Forward Jay Barriball and defenseman Derek Peltier each scored two goals as Minnesota snapped out of a mini-slump with an 8-2 win against Alaska Anchorage. Forward Kyle Okposo added a goal and two assists for the Golden Gophers, who erased a 1-0 Seawolves lead by scoring six unanswered goals during a 22-minute span of the second and third periods.
... Big Rapids, Mich. (Friday-Saturday): Ferris State swept visiting Ohio State by 4-2 and 6-2 scores, marking the Bulldogs' first back-to-back wins since winning three straight from Oct. 13-20.
... Cambridge, Mass. (Friday-Saturday): Forward Alex Meintel scored four goals and defenseman Dylan Reese added four assists as Harvard won games against Union and Rensselaer. Meintel scored three times in Friday's 5-2 defeat of Union. The Crimson are 6-3-1 in its last 10 games getting out to a 3-9-0 start.
... Chestnut Hill, Mass (Friday): Goaltender Jon Quick stopped 33 shots as Massachusetts beat Boston College, 5-3. It's the first time in Minutemen history they've captured the season series from the Eagles.
... Fairbanks, Alaska (Friday): Aaron Lee's goal with 1:24 remaining in overtime gave Alaska a 2-1 win against Miami. The RedHawks' Matt Christie scored with 23 seconds left in regulation to send the game into OT.
... Hamilton, N.Y. (Friday}: Linemates Marc Fulton, Tyler Burton, and Jesse Winchester eached scored four points in Colgate's 6-2 win against visiting St. Lawrence. Winchester netted three goals and an assist, Burton added two goals and two assists, and Fulton contributed four assists.
... Milford and Storrs, Conn. (Friday-Saturday): Connecticut goaltender Beau Erickson stopped 66 of 68 shots he faced this weekend as the Huskies swept a home-and-home series from Sacred Heart by 2-1 and 5-1 scores. UConn's Cole Koidahl scored 2-2--4 in the series.
... Moon Township, Pa. (Friday-Saturday): Forwards Kyle Frieday and Sean Berkstresser eached scored 2-3--5 in Robert Morris's weekend sweep of Niagara. Goaltender Joe Tuset made 30 saves in Friday's 7-1 win, while netminder Christian Boucher stopped 39 shots in a 5-2 win Saturday.
... Omaha, Neb: (Friday): Bryan Lerg had two goals and an assist to lead Michigan State to a 5-1 win against Nebraska-Omaha Friday in a game in which no penalties were called.
... Providence, R.I. (Saturday): Brown broke a 2-all game open by scoring three times during a 3:17 stretch of the third period en route to a 6-3 win over Quinnipiac. Ryan Garbutt scored three goals for the Bears, who got 35 saves from goaltender Dan Rosen.