February 12, 2007
THE BIG STORY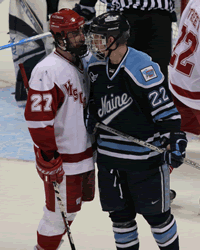 Maine's Mike Hamilton, here shown debating Wisconsin's Ross Carlson at last year's Frozen Four, had a goal and two assists in the Black Bears' win against Vermont Friday.
Do you think, at some point this weekend, Maine goalie Ben Bishop powered up his laptop and Googled the name "Wally Pipp"?
Pipp, of course, was the New York Yankees' first baseman who was benched by manager Miller Huggins on June 2, 1925 — contrary to popular belief, Pipp did not beg out of the game because of a headache — in favor of a young Columbia alum named Lou Gehrig. Gehrig would go on to play in 2,130 consecutive games, while Pipp was dealt to Cincinnati at the end of the season.
Bishop won't be traded; in fact, he'll probably get his starting job back once his balky groin is 100 percent. But the Black Bears can rest assured they've got a capable replacement in freshman Dave Wilson. Wilson, who had played less than 90 minutes in six relief appearances prior to this past weekend, stepped in for Bishop and shut down Vermont twice, backstopping Maine to an important sweep.
The freshman from Caledon East, Ontario, made 32 saves Friday as the Black Bears chased Catamount starting goalie Joe Fallon with four second-period goals en route to a 5-1 win. The following night, Wilson made teammate Wes Clark's first-period goal standing, stopping all 31 shots he faced in his team's 1-0 triumph.
"Bishop is the backbone of our team," Wilson told the Portland Press Herald's Jenn Menendez following Saturday's game. "But whenever I get a chance in net I'm just going to try to prove myself — to myself, fans and the team. As soon as I get in net I just want to do that every game."
After Saturday's game, Maine coach Tim Whitehead told reporters Bishop could be ready for Maine's upcoming series at Boston College Thursday and Friday. If he's not, the Black Bears will feel pretty comfortable with Plan B.
MAKING WAVES
In the most recent ECAC Hockey League notebook, St. Lawrence coach Joe Marsh told INCH's Joe Gladziszewski he didn't feel like his Saints were the team to beat in the conference, even though they've been in first place for quite some time. But as the regular season has dwindled to a scant two weeks, St. Lawrence has, in fact, become the team to beat.
The Saints improved to 13-4-1 in the ECACHL and 17-11-2 overall after beating Yale and Brown at Appleton Arena this past weekend. St. Lawrence is 8-2-2 since Jan. 1 and hasn't lost back-to-back games in league play this season. It's been a balanced attack — six players have scored 19 or more points — that's been backstopped by freshman goaltender Alex Petizian. Less heralded than fellow newcomer Kain Tisi, Petizian has a 13-6-1 record, a 918 save percentage, and a 2.27 goals against average. His goals against average is second best among the country's freshman backstops. Only Cornell's Ben Scrivens has a better GAA among NCAA rookies.
SAY WHAT?
From the Crooked Numbers Dept.: Freshman forward Tomas Petruska's goal with 35 seconds left in regulation gave Bowling Green, the CCHA's last-place team, a 3-2 win over visiting Michigan, bringing to an end the Falcons' 10-game winless streak (0-9-1) and halting the Wolverines' run of six straight victories. BGSU rallied from a 2-1 deficit by scoring two goals in the final 6:35 of the third period. The Falcons hadn't scored more than two goals in any of its previous 10 matches.
From the Vinatieri-Horry-Big Papi Pantheon of Clutch Performers Dept.: Apologies for being so CCHA-centric here, but this begs a mention. Junior forward Bryan Lerg's overtime goal propelled Michigan State to a 2-1 win over visiting Ferris State Friday. Lerg, who leads the nation with eight game-winning goals, has scored the GWG in each of the Spartans' last four wins.
MOVING DAY
Wins this past weekend that'll look good in March
Miami hasn't been on a skid recently; rather, it's been more of a slow decline. Heading into this past weekend's series against Lake Superior State, the RedHawks had posted a 4-5-3 mark since Christmas Day. A team that had once been Notre Dame's primary competitor for the CCHA regular-season championship is in danger of being leapfrogged by both Michigan and Michigan State in the league standings. More importantly, Miami found itself perilously straddling the line between getting an NCAA Tournament at-large bid and shutting it down in mid-March.
With all that in mind, the RedHawks' sweep of Lake Superior State in Oxford this past weekend helped solidify the team's footing in its pursuit of an at-large berth. Friday's 4-1 win was textbook Miami — a strong team defensive effort (the Lakers managed just 19 shots), solid goaltending from junior Charlie Effinger, and a goal from Hobey Baker Award candidate Nathan Davis. Saturday's 3-2 win was a tad unorthodox, as the RedHawks took a three-goal lead midway through the second period and held on for the win.
IT HAPPENED IN ...
... Erie, Pa.: Sacred Heart sophomore forward Eric Giosa had a goal and five assists in the Pioneers' sweep of Mercyhurst.
... Grand Forks, N.D.: Sophomore forward Jonathan Toews had four goals and two assists on the weekend as North Dakota extended its unbeaten streak to nine (7-0-2) with an 8-4 win and 4-4 overtime tie against Minnesota State at Engelstad Arena. Toews has 7-9—16 in the Fighting Sioux's last six games.
... Hamden, Conn. (Tuesday): Brandon Wong's natural hat trick — one that included a pair of shorthanded goals — paced Quinnipiac to a 6-1 non-conference win against Bentley.
... Hamden, Conn. (Friday): Dartmouth's top line of Tanner Glass, Nick Johnson, and David Jones each scored three points as the Big Green beat Quinnipiac, 5-4.
... Houghton, Mich.: Michigan Tech celebrated Winter Carnival with a win and tie against sixth-ranked Denver. Friday's win 2-1 marked the first time the Huskies had beaten the Pioneers in Houghton since Dec. 13, 1997. The three-point weekend is the Huskies' best Winter Carnival showing since sweeping Minnesota in 1998.
... Lowell, Mass. (Thursday): Northeastern mustered just 10 shots on goal in a 1-0 loss to UMass Lowell at Tsongas Arena. In four games since beating Maine, 6-1, on Jan. 26 in Orono, the Huskies have scored a total of two goals.
... Madison, Wis. (Friday): Senior goaltender Brian Elliott made 16 saves for his 15th career shutout and freshman forward Michael Davies scored a pair of goals as Wisconsin downed Alaska Anchorage, 4-0, at the Kohl Center. The victory was career win no. 100 for Badger coach Mike Eaves — after sweeping the Seawolves, Eaves' mark stands at 101-75-21.
... Moon Township, Pa.: Robert Morris extended its winning streak to five games by sweeping the first-place team in College Hockey America for the second straight weekend, this time downing Bemidji State twice. Junior forward Logan Bittle had two goals and two assists on the weekend for the Colonials, who've outscored their opponents by a 23-7 margin in their last five contests.
... Notre Dame, Ind. (Saturday): Sophomore forward Dan Charleston and junior forward Bryan Marshall both scored in the last 4:12 of regulation, leading Nebraska-Omaha to a 2-2 tie with Notre Dame and helping the Mavericks salvage a point in its series with the top-ranked Fighting Irish.
... Providence, R.I. (Friday): Junior goaltender Cory Schneider made 45 saves as Boston College escaped Schneider Arena with a 2-1 win at Providence.

... Storrs, Conn. and Waltham, Mass.: Senior forward Matt Scherer recorded a four-goal weekend to lead Connecticut to a home-and-home sweep of Bentley. The Seattle native has seven goals and one assist in the Huskies' last eight contests.