February 19, 2007
THE BIG STORY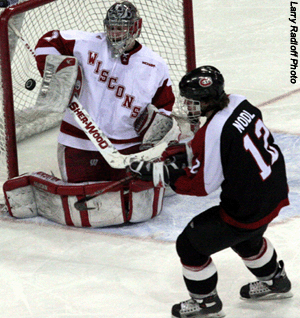 Freshman forward Andreas Nodl and St. Cloud State can keep Minnesota from clinching the WCHA regular-season title this weekend.
It seems most people in the college hockey world — players, coaches, media, and fans alike — focus on positioning for conference playoff seeds and who's battling whom for NCAA Tournament berths. As the producers of the weekly 4x4 feature, we don't see anything inherently wrong with that. After all, looking optimistically to the future is human nature.
Still, winning the league regular-season title results in many of the same perks as capturing the playoff championship — a crisp new banner for the home rink's rafters, gaudy rings. Also, winning a regular-season crown may be a truer test of a team's strength, or at least its ability to play at a consistently high level for an extended period of time. So before we get all playoff-centric, pause with us as we identify those teams sitting in their respective league's catbird seat as the regular season winds down.
Notre Dame became the first team to clinch a regular-season conference championship, sewing up the top spot in the CCHA Friday by beating Alaska just hours after its nearest competitors, Michigan and Michigan State, had been doused by Lake Superior State and Western Michigan, respectively. The Fighting Irish won their first league championship of any kind in a fitting manner, as senior goalie David Brown made 28 saves in a 1-0 shutout of the host Nanooks.
A couple time zones to the east in Colorado Springs, Minnesota distanced itself from the rest of the WCHA, sweeping Colorado College by identical 3-2 scores. In Madison, meantime, St. Cloud State mustered just one point in its series with Wisconsin, losing Friday and tying Saturday. The Golden Gophers could hoist the MacNaughton Cup for the second year in a row as soon as Friday in — ta da! — St. Cloud, where the Huskies host Minnesota in the front end of a home-and-home series.
On its surface, New Hampshire's loss and tie against Boston University seems calamitous, but it had little bearing on the Wildcats' quest for the Hockey East title. Only the Terriers and Boston College can catch UNH, but the 'Cats need only a combination of three points through its wins and ties or BU/BC losses and ties to close out the conference race there.
In the ECAC Hockey League, meanwhile, St. Lawrence will win its first conference regular-season crown since 2000 with a win against either Quinnipiac or Princeton, or a loss to the same by travel partner Clarkson. Atlantic Hockey frontrunner RIT is just one point from locking up its first league championship as a Division I member. Unfortunately for the upstart Tigers, their season ends there — RIT is ineligible for the circuit's postseason. Then, of course, there's College Hockey America, with Bemidji State, free-falling Niagara, and Robert Morris bunched at the top and Alabama-Huntsville and Wayne State huddled below. The only thing we can guarantee in this league is they'll finish the season with five members.
MAKING WAVES
Until they've been officially knocked out of the playoffs, the Wisconsin Badgers hold the title of national champions. Judging by the team's play lately, it's quite apparent coach Mike Eaves's crew isn't ready to relinquish that distinction just yet.
Since starting the season with a 4-9-2 record in its first 15 games, Wisconsin has regrouped to put up a 10-6-1 mark over its last 17 contests. In its win and tie against St. Cloud State at the Kohl Center this past weekend, Bucky did things the old-fashioned way, getting a typical effort in goal from senior Brian Elliot (46 saves, 3 goals against), solid special teams play (Wisconsin scored on three of its 10 power-play chances while limiting the Huskies to one PPG in 11 opportunities), and exceptional contributions from senior forwards Andrew Joudrey (three goals) and Ross Carlson (three assists).
SAY WHAT?
From the Who's Your Daddy? Dept.: INCH CCHA scribe James Jahnke passed along the following sentence from the preview sidebar that ran in Tuesday's Lansing State Journal prior to Michigan State's game that night at Ferris State:
The Bulldogs are playing for pride and the chance to knock up the No. 6 team in the nation.
Guess that explains the Spartans' sluggishness as of late. They're skating for two!
From the Higher Learning in Hershey Dept.: Love this note from our friends with the Washington Capitals who inform us that 14 players with ties to college hockey have suited up for the club's American Hockey League affiliate in Hershey this season. Nice, but even more impressive is that all 14 represent different institutions. The list:
Chris Bourque (Boston University), Marc Busenberg (Connecticut), Trevor Byrne (Dartmouth), Donny Grover (Northeastern), Matt Hendricks (St. Cloud State), Jamie Hunt (Mercyhurst), Matt Koalska (Minnesota), Jeff Pietrasiak (New Hampshire), Sasha Pokulok (Cornell), Nolan Schaefer (Providence), David Steckel (Ohio State), Matt Stefanishion (Ferris State), Stephen Werner (Massachusetts), Kyle Wilson (Colgate)

Here's hoping the Caps bring seniors Andrew Joudrey (Wisconsin) and Travis Morin (Minnesota State) to Hershey for a late-season look once their college seasons have ended.
MOVING DAY
Wins this past weekend that'll look good in March
Boston College has been pretty good, not great, through the first four-plus months of the regular season. And while many observers (INCH among them) predicted greatness for the Eagles this season, it's been mainly limited to short spurts such as the team's sweep of Wisconsin in late October or, more recently, BC's two wins against Maine in Chestnut Hill this past weekend.
Maybe twice beating a Black Bear team that's had issues of its own during the season's second half doesn't measure up to the textbook definition of greatness. Still, for a BC squad that endured a heartbreaking overtime loss to Boston University in last week's Beanpot championship game, teetered on the edge of opening the Hockey East playoffs on the road, and needed some big wins to solidify its footing in terms of an NCAA Tournament berth, it'll do.
Kudos to the Eagles' Nathan Gerbe, by the way. He scored his team's lone goal in the 2-1 loss to the Terriers at TD Banknorth Garden, then added three goals and three assists in the Maine series. The sophomore sparkplug leads BC with 17 goals and has eight markers in his last nine outings.
IT HAPPENED IN ...
... Air Force Academy, Colo. (Friday): Linemates Eric Ehn (1-3—4), Jeff Hajner (1-3—4), and Andrew Ramsey (2-2—4) led Air Force to a 5-0 win against Canisius. Ben Worker made 21 saves for the Falcons, snapping the team's five-game losing streak.
... Boston (Friday): Northeastern freshman goaltender Brad Thiessen stopped all 37 shots he faced in the Huskies' 3-0 win against Providence.
... Detroit (Friday): Wayne State scored six goals on 15 shots over the first 31:10 of its 6-1 triumph over Niagara. Senior forward Jason Bloomingburg had two goals and an assist for the Warriors. The two teams would play to a 4-4 draw Saturday; the tie extended Niagara's winless streak to four (0-3-1).
... Detroit (Sunday): Senior forward T.J. Hensick scored twice — his CCHA-best 52nd and 53rd points of the season — and sophomore goaltender Billy Sauer made 35 saves in Michigan's 3-1 win against Lake Superior State at Joe Louis Arena.
... Grand Forks, N.D. (Friday-Saturday): North Dakota ran its unbeaten streak to 11 games (8-0-3) with a win and tie against visiting Minnesota Duluth. Sophomore forward Ryan Duncan scored the game-tying goal in Friday's 2-2 draw, then scored the only goal in the Fighting Sioux's 1-0 win Saturday.
... Ithaca, N.Y. (Saturday): Forwards Byron Bitz, Mark McCutcheon, and Ray Sawada each scored twice in Cornell's 8-4 win against Princeton at Lynah Rink. Bitz and Sawada each added two assists for the Big Red, which won for the fifth time in its last seven games against one loss and a tie.
... New Haven, Conn. (Sunday): Dartmouth junior goaltender Mike Devine made 51 saves and sophomore forward Rob Pritchard scored two goals as the Big Green downed Yale, 3-2. Freshman forward Sean Backman scored his 17th goal of the season on a second-period penalty shot.