February 26, 2007
THE BIG STORY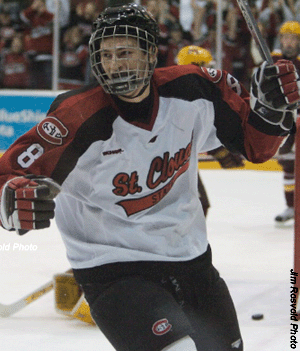 Senior forward Nate Raduns celebrates his first-period goal in St. Cloud State's 5-1 win over Minnesota Friday.
St. Cloud Community College. Jan Brady State University. Those are but a couple of the nicknames University of Minnesota hockey fans love to use when referencing the perceived second-class status of the St. Cloud State University Huskies.
For the short term, the Gopher illuminati will have to mothball those derogatory monikers and forego looking down their noses at their neighbors to the north. That's because the Huskies bopped Minnesota's Pride on Ice in the schnozz twice this past weekend, routing the Gophers by a 5-1 margin in St. Cloud Friday and rallying from a two-goal deficit at Mariucci Arena with four unanswered goals en route to a 5-3 win to close out the sweep Saturday.
"I think what's unique about us," goaltender Bobby Goepfert told Kevin Allenspach of the St. Cloud Times, "is that we find ways to win when we're not playing our best."
The Huskies played their best Friday, thoroughly dominating Minnesota in front of a racuous, sell-out crowd at the National Hockey Center, but Saturday was another matter. The Gophers bolted to a 3-1 lead midway through the second period. In fact, the Huskies were fortunate to trail by two goals at the point were it not for the Goepfert, who made 28 saves through the first 40 minutes.
While the senior netminder kept the game from getting out of hand, the St. Cloud State supporting cast fueled the rally. Marty Mjelleli's third goal of the season with 3:32 left in the second period cut the Gophers' lead to 3-2, and Gary Houseman's fourth goal of the year 2:28 into the third period pulled the Huskies even. Nate Raduns scored the game-winner, his sixth goal of the season, with exactly 12 minutes left in regulation.
The goal that gave SCSU its 5-3 margin, an empty-netter by defenseman Matt Stephenson, epitomized the weekend. Killing off a late penalty, Stephenson corraled the puck in the face-off circle to Goepfert's right and chipped it past a Minnesota player trying to hold the point. While the point man stood at the blue line, Stephenson hustled past him and into the other end, beat another Gopher skater to the loose puck, and lunged to tip it into the empty net.
In addition to giving the Huskies bragging rights over the Gophers for the time being — SCSU took the season series from Minnesota with two wins and two ties — the sweep gives St. Cloud State an outside shot at winning the WCHA regular-season championship. It's highly unlikely, however; Minnesota needs just one point in its series with Michigan Tech this weekend to clinch the MacNaughton Cup.
"If it works out for us, great," said Goepfert when asked about entering the league playoffs as the top seed. "If not, we're a better team for what's happening."
MAKING WAVES
Last season, Dartmouth skated into the last weekend of January with a mediocre 8-10-1 record. Approximately seven weeks later, the Big Green arrived in Albany for the ECAC Hockey League semifinals having posted a 10-1-1 mark over its previous 12 games, a run that allowed coach Bob Gaudet's team to capture the conference regular-season title.
This season, Dartmouth was 6-8-2 overall after a Jan. 13 loss to New Hampshire in Manchester. It's now six weeks since the Big Green's low-water point, and while the team didn't spirit away the league championship with a late-season run, it did grab one of the four coveted first-round byes for the ECACHL postseason tournament by running up a 10-2-1 record over its last 13 games to finish third behind St. Lawrence and Clarkson.
The key for the Big Green has been its rejuvenated offensive attack — Dartmouth has scored three or more goals 11 times in its past 13 games. Not surprisingly, it is 10-0-1 in those contests. Leading the charge is junior forward David Jones, a truly hidden Hobey candidate. The Vancouver native has quietly piled up 39 points in 29 games (that's a healthy clip of 1.34 points per game) and has at least one point all but five of his team's games this season.
SAY WHAT?
From the No Further Explanation Necessary Dept.: "We played like jerks." — New Hampshire coach Dick Umile to Al Pike of Foster's Daily Democrat following the Wildcats' 7-1 loss at Providence. UNH was outshot by the Friars, 51-22, and allowed three power-play goals in eight chances.
From the Bruce McLeod's Frequent-Flyer Account Thanks You Dept.: "We didn't want to see the MacNaughton Cup in our building [Friday]. Today, we started to feel like, 'We don't want to see it at all. Let's make Commissioner McLeod fly back again next week.'" — St. Cloud State coach Bob Motzko to Allenspach. The SCSU sweep means the commish will wing it back to Minneapolis from Denver to watch Minnesota try to clinch the league regular-season title against the Houghton-based Huskies.
MOVING DAY
Wins this past weekend that'll look good in March
Last week in this space, we saluted Boston College for its sweep of Maine. This time around we salute both the Eagles and Black Bears for joining St. Cloud State as the three teams from the Feb. 19 INCH Power Rankings to win twice this past weekend.
Both BC and Maine proved that it's not who you beat, but when you beat 'em. Sure, the Black Bears took down Hockey East cellar dweller Merrimack on consecutive nights in Orono, and the Eagles' victories were over UMass Lowell, the circuit's ninth-place team. But with everyone else in their vicinity losing at least one game, the sweeps appear especially timely and solidify both teams' status in the eyes of the NCAA Tournament selection committee.
IT HAPPENED IN ...
... Bemidji, Minn. (Friday-Saturday): Freshman Brett Bothwell made 25 saves Friday and senior Will Hooper stopped 27 shots Saturday as Wayne State took three of four points from host Bemidji State in a College Hockey America series, beating the Beavers in the opener, 3-1, and skating to a 1-1 draw in the finale. The Warriors, who are 3-0-2 in their last five games, have allowed one goal four times during that span.
... Boston (Saturday): Freshman forward Colin Vock scored two goals in Vermont's 3-2 win over Boston University at Agganis Arena. The BU setback allowed New Hampshire to clinch the Hockey East regular-season title despite the Wildcats' 7-1 loss at Providence that same night.
... Columbus, Ohio (Friday-Saturday): Both games in the Michigan-Ohio State series were decided by late goals. In Friday's series opener, sophomore Brandon Naurato scored with 1:08 left in regulation to give the Wolverines a 4-3 win at Value City Arena. The following night, senior forward Mathieu Beaudoin scored with 1:30 remaining in the third period to propel the Buckeyes to a 6-5 victory.
... Denver (Friday): Senior forward J.D. Corbin scored his first goal of the season 2:18 into overtime to give Denver a 4-3 win over North Dakota. The Pioneers' Geoff Paukovich sent the game into the extra session with a goal 2:18 into the third period.
... Durham, N.H. (Friday): Senior forward Jacob Micflikier recorded a hat trick in New Hampshire's 6-4 win over Providence. Micflikier was named the game's first star, followed by Providence forward Greg Collins (one goal) and New Hampshire forward Greg Collins (two assists). We're not making this up.
... Hamden, Conn. (Friday): St. Lawrence clinched its first ECAC Hockey League regular-season title in seven seasons by beating host Quinnipiac, 4-1. The win was the sixth in a row and the eighth in nine games for the Saints, who got 28 saves from freshman goalie Alex Petizian and a goal and an assist from senior forward Max Taylor.
... Houghton, Mich. (Friday-Saturday): Sophomore goaltender Michael-Lee Teslak stopped all but two of the 57 shots he faced in Michigan Tech's sweep of visiting Wisconsin. The Huskies are 7-2-3 in their last 12 games and enter the final weekend of the regular season with a 15-14-5 mark. Tech hasn't had a plus-.500 record this late in the season since March 9, 1996, when the Huskies came into the WCHA Final Five championship game with an 18-17-6 record before losing to Minnesota.
... Notre Dame, Indiana (Saturday): Senior goalie David Brown turned aside all 15 shots he faced in Notre Dame's 2-0 win against Ferris State. Brown set the school's single-season record for wins (25) and shutouts (five) with the whitewash. Following the game, the Irish were presented with the CCHA regular-season championship trophy and dropped a banner commemorating its first-ever league title from the Joyce Center rafters.
... Princeton, N.J. (Friday-Saturday): Princeton senior forward Kevin Westgarth had 2-5—7 in the Tigers' wins over the two top teams in the ECAC Hockey League. The Amherstburg, Ontario, native had two goals and three assists in Princeton's 7-1 rout of Clarkson Friday, then added two assists in a 4-1 win over St. Lawrence Saturday.
... Waltham, Mass. (Friday): Junior goaltender Jocelyn Guimond made 26 saves as RIT clinched its first Atlantic Hockey regular-season title with a 3-0 shutout of Bentley. The Tigers are ineligible for the league's postseason tournament.