March 5, 2007
THE BIG STORY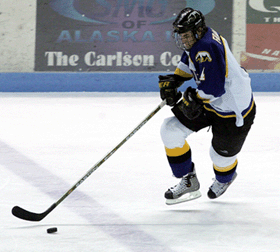 Senior forward Curtis Fraser scored his 19th goal of the season in Alaska's 3-1 win at Western Michigan Sunday as the Nanooks clinched a CCHA first-round series victory over the Broncos.
Never mind that Alaska had won twice in 19 tries between Dec. 9 and the end of the regular season. Block out that Lake Superior State hadn't won back-to-back games at home since Jan. 27-28 of last season. Forget that Northern Michigan had two road wins between Veteran's Day and Valentine's Day.
It's playoff time. Anything can happen.
And though the deck appeared to be statistically stacked against the Nanooks, Lakers, and Wildcats, each of whom found their way into the deciding game in their respective CCHA first-round playoff series, all three advanced into this weekend's conference quarterfinals.
Of the trio, Alaska appeared to face the longest odds. After all, the Nanooks, who slogged their way to a 2-15-2 finish after going 7-4-4 in their first 15 games, entered their best-of-three series at Western Michigan with two road wins all season. But Alaska battled its way to a 3-2 overtime win in Friday's opener, extending the game by scoring twice in the last 3:22 of regulation, then followed a 6-2 loss to the Broncos with a 3-1 win in the series finale. Now the Nanooks, who've packed enough clothes to stay in the Lower 48 for an extended postseason run, get regular-season champion Notre Dame in this weekend's best-of-three quarterfinal series.
Northern Michigan, meanwhile, was the enigma. So much talent, so little to show for it. It looked like the Wildcats had packed it in for the year after they were pummeled by Ohio State, 6-2, on Friday. But behind 42 saves from little-used backup goalie Brian Stewart Saturday, NMU forced a deciding game with a 3-2 overtime win, then once again rode Stewart (34 saves) in a series-clinching 3-2 win Sunday. The Wildcats head to Ann Arbor to face Michigan this weekend.
Lake Superior State was the sentimental favorite. The once mighty Lakers, who hadn't won a CCHA playoff series since 1996, drew a Ferris State team that was 6-2-0 in Feburary as its first-round foe. LSSU, meanwhile, ended the regular season with a 4-10-0 slide, and opened the postseason with a 4-3 overtime loss to the Bulldogs Friday. The Lakers answered with a 4-3 win of their own Saturday, and came away with a 3-2 triumph Sunday on the strength of a goal by freshman forward Nik Sellers with 2:09 left in regulation. LSSU draws Miami in its upcoming quarterfinal series.
MAKING WAVES
Heading into the weekend, it appeared Massachusetts would establish an identity as the unintentional villain in the possible ouster of UMass Lowell as a Hockey East member. A little more than 72 hours later, the Minutemen are riding the momentum of a weekend sweep of Maine at the Mullins Center to a fourth-place finish in the conference standings — the second-best regular-season showing in program history — and a first-round playoff series against the very Black Bears they just dumped twice.
What's more, UMass finds itself on the doorstep of earning an at-large bid to the NCAA Tournament. The 3-1 and 5-3 wins over Maine (the latter in front of a huge crowd of 8,221 fans at Mullins Center) give the Minutemen four straight wins, a 5-1-1 mark in their last seven games and a 10-4-2 record since dropping a 2-1 decision at Merrimack on Jan. 5.
While sophomore goalie Jon Quick (2.22 GAA, .926 save pct.) has been a constant for UMass, the team's offensive production has been on the uptick. The Minutemen have scored three or more goals in 11 of their last 16 matches — they're 9-0-2 in those games — via a scoring-by-committee approach. Eight UMass skaters ended the regular season with 18 or more points, but none recorded more than 31points.
SAY WHAT?
From the This is the Only Way This Season Could've Ended Dept.: Despite recent wins against Michigan and Michigan State, it hasn't been a pretty season for Bowling Green. The Falcons finished the regular season last in the CCHA with a 5-22-1 league mark and a 7-29-2 overall record, and drew fifth-place Nebraska-Omaha in the first round of the league playoffs.
BGSU typically flies to Omaha, but since the first-round playoff series are a best-of-three format and scheduling a return trip via air was near impossible, the team chose to travel via bus. But an intense winter storm turned what's a 10-hour drive in good weather into a 47-hour ordeal — all but seven hours of the trek was spent trying cross Iowa.
The Falcons, who arrived in Omaha three hours prior to Friday's faceoff, exteded the Mavericks to overtime in the opener despite being outshot 39-18 in regulation, but lost 3-2 when UNO's Mick Lawrence scored 4:24 into the extra session. BGSU was ousted Saturday, losing 7-5 to UNO despite a school-record four first-period goals from senior forward James Unger.
From the For The Love of God, Protect Your Five-Hole Dept.: "We left him nude." — Vermont coach Kevin Sneddon, commenting on his team's defensive effort in front of goaltender Mike Spillane to Ted Ryan of the Burlington Free Press following his team's 3-3 tie with UMass Lowell Saturday.
MOVING DAY
North Dakota continues its steady climb from what was a 7-10-1 hole in mid-December to a likely berth as a No. 2 seed in the NCAA Tournament later this month. Following their three-point weekend at St. Cloud State — the Fighting Sioux and Huskies tied by a 3-3 count Friday and UND earned a 7-2 win Saturday — coach Dave Hakstol's team has a 12-2-4 record since Christmas, with the lone blemishes being one-goal road losses at Colorado College and at Denver.
Making the showing against SCSU even more impressive is that the Fighting Sioux got just one assist from sophomore forward Ryan Duncan in the series. The Hobey Baker Award candidate had scored 25 points in his previous 12 outings. With the kind of balance North Dakota had this past weekend (nine different players scored goals against the Huskies), the team most had written off halfway through the season appears to have a third straight Frozen Four appearance in its sights.
IT HAPPENED IN ...
... Buffalo, N.Y. (Saturday): Freshman forward Mike McMillan scored with 8:35 left in regulation to propel American International to a 2-1 win over Canisius in an Atlantic Hockey first-round playoff match. The Yellow Jackets, who also got 28 saves from sophomore goalie Tom Fenton, meet top-seed Sacred Heart in next Saturday's quarterfinals.
... Burlington, Vt. (Saturday): UMass Lowell and Vermont skated to a 3-3 tie in the regular-season finale for both teams. The River Hawks and Catamounts combined for 104 minutes in penalties in overtime, all part of an altercation that broke out with 55 seconds left in the extra period.
... Princeton, N.J. (Sunday): Sixth-seeded Princeton rallied from a 3-2 third-period deficit and defeated Brown 4-3. Seniors Kevin Westgarth and Grant Goeckner-Zoeller scored in the third period, and the Tigers will play at Dartmouth this weekend.
... Hamilton, N.Y. (Saturday): Colgate's Tom Riley scored twice — his second and third goals of the weekend — as the Raiders beat Rensselaer and advanced to the quarterfinals. They will play at St. Lawrence this weekend.
... Colorado Springs, Colo. (Saturday): Denver rallied from three-goal deficits on three occasions and scored twice in the last 36 seconds of regulation to salvage a 5-5 tie with Colorado College. Junior forward Ryan Dingle evened the game with four seconds left in regulation, 32 seconds after freshman defenseman Keith Seabrook narrowed the gap to 5-4.
... Huntsville, Ala. (Saturday): Despite squandering a two-goal third period lead, Niagara won the College Hockey America title outright with its 2-2 draw against Alabama-Huntsville. Sophomore forward Ted Cook scored his 32nd goal -- tops in the nation -- to give the Purple Eagles a two-goal lead with seven minutes remaining in the second period. Seniors Grant Selinger and Mike Salekin scored in the third for the Chargers.
... Minneapolis (Friday): Forwards Evan Kaufman and Tony Lucia scored goals 13 seconds apart late in the second period, breaking a 1-1 tie as Minnesota clinched its second straight WCHA regular-season championship with a 3-1 win against Michigan Tech.
... Cambridge, Mass. (Friday): Stalwart Harvard defenseman Dylan Reese had a natural hat trick as the Crimson rallied for a 5-3 win over Yale in the series opener. Harvard won the series and will face Clarkson this weekend.
... Moon Township, Pa. (Friday-Saturday): Wayne State extended its unbeaten streak to seven games (5-0-2) by sweeping Robert Morris to close the College Hockey America regular season. Senior forward Nate Higgins tallied two goals and two assists to lead the Warriors to a 5-2 win Friday, while freshman forward Jared Katz's goal with 16:57 left in regulation provided the margin of victory in Saturday's 5-4 triumph.