January 13, 2006
Central Scouting Releases Mid-Term Rankings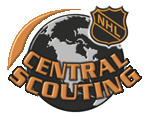 The NHL's Central Scouting Service has released its mid-season rankings of the top players eligible for the 2006 NHL Entry Draft. The rankings list North American and European players separately, as well as separating goalies from skaters (forwards and defensemen).
Current and future college players rank 1-2-3 in the preliminary rankings, with Minnesota grabbing the top two spots. Gopher recruit Erik Johnson edged out current Gopher Phil Kessel for No. 1 overall, while North Dakota's Jonathan Toews is third.
In all, five of the top 15 and 15 of the top 50 in the rankings are college hockey players or prospects.
The North American lists rank 210 skaters and 30 goalies, all playing in the U.S. and Canada. In addition to college players the list features draft-eligible major junior players, as well as a number of college-bound high school, prep and junior players
North American Skaters (College and College-Bound Players Only)
Rank
Player
Pos.
School
1.
Erik Johnson*
D
Minnesota
2.
Phil Kessel
F
Minnesota
3.
Jonathan Toews
F
North Dakota
13.
Kyle Okposo*
F
Minnesota
15.
Mark Mitera
D
Michigan
19.
Nigel Williams*
D
Wisconsin
25.
David Fischer*
D
Minnesota
27.
Brian Strait*
D
Boston University
33.
Carl Sneep*
D
Undecided
37.
Kevin Montgomery*
D
Ohio State
43.
Michael Forney*
F
North Dakota
45.
Blake Geoffrion*
F
Wisconsin
46.
Trevor Lewis*
F
Undecided
48.
Aaron Marvin*
F
Undecided
50.
Eric Gryba*
D
Boston University
52.
Chris Summers*
D
Michigan
62.
Ryan Flynn*
F
Minnesota
64.
Ryan Turek*
D
Michigan State
65.
Eric Baier*
D
Dartmouth
66.
Rhett Rakhshani*
F
Denver
70.
Michael Carman*
F
Minnesota
78.
Jordan Willert*
F
Undecided
80.
Kai Kantola*
F
Undecided
81.
Jamie McBain*
D
Wisconsin
84.
Kyle Medvec*
D
Undecided
91.
Michael Griffin*
F
Undecided
93.
Doug Rogers*
F
Harvard
94.
Brian Lebler*
F
Michigan
96.
Derrick Lapoint*
D
Undecided
97.
Chad Morin*
D
Undecided
102.
Matt Martello*
F
Undecided
104.
Nick Sucharski
D
Michigan State
107.
Jonathan Matsumoto
F
Bowling Green
109.
Brian Gibbons*
F
Boston College
111.
Will O'Neill*
D
Undecided
112.
Kevin Quick*
D
Undecided
114.
David McIntyre*
F
Colgate
117.
Matt Lombardi*
F
Boston College
118.
Cody Wild
D
Providence
120.
Michael Ratchuk*
D
Michigan State
124.
Ray Kaunisto*
F
Miami
126.
Benn Ferriero
F
Boston College
129.
Zach Jones
D
North Dakota
130.
T.J. Miller*
D
Northern Michigan
135.
Alex Biega*
D
Undecided
137.
Jack Christian
D
Harvard
139.
Brian Day*
F
Undecided
143.
David Grun*
F
Minnesota Duluth
146.
Josh Burrows*
F
Undecided
148.
Zach Cohen*
F
Boston University
149.
Tyler Beachell*
F
Undecided
150.
Daniel Lawson*
D
Undecided
151.
Blake Gallagher*
F
Cornell
152.
Ben Street
F
Wisconsin
153.
Erik Felde*
D/F
Alaska Anchorage
154.
Mike Devin*
D
Undecided
158.
Joe Smith*
F
Undecided
160.
Pasko Skarica*
D
Undecided
163.
Jeffery Lee*
F
Alaska Fairbanks
165.
Christopher Huxley*
D
Rensselaer
166.
Brett Peterson*
F
Undecided
168.
Matthew McCollem*
F
Undecided
170.
Michael Blundon*
D
Undecided
171.
Simon Gysbers*
D
Lake Superior State
172.
Tony Romano*
F
Cornell
174.
Tyler Ruegsegger*
F
Denver
177.
Austin Mayer*
F
Providence
179.
Andrew Rowe*
F
Michigan State
181.
Josh Gillam*
F
Dartmouth
182.
Jeremy Russell*
D
Brown
184.
Patrick Maroon*
D/F
Ferris State
186.
Sean Coffey*
D
Brown
187.
Tyler Pederson*
D
Undecided
188.
Ben Smith*
F
Boston College
191.
Chris Clackson*
F
Western Michigan
194.
Chris Auger*
F
UMass Lowell
197.
Peter Child*
D
Undecided
200.
Jason Lawrence
F
Boston University
204.
Mike Testwuide*
F
Colorado College
207.
Carter Camper*
F
Miami
208.
Jack Clayman*
F
Undecided
209.
Gary Steffes*
F
Miami
210.
Greg Squires*
F
Boston University
Limited Viewing
Simon Danis-Pepin
D
Maine
Mike Stuart
D
Brown
North American Goaltenders (College and College-Bound Players Only)
4.
Billy Sauer
G
Michigan
7.
Joe Palmer*
G
Ohio State
8.
Jeff Zatkoff
G
Miami
13.
Alex Kangas*
G
Undecided
15.
Chad Johnson
G
Alaska Fairbanks
16.
Ryan Simpson*
G
Providence
17.
Richard Bachman*
G
Colorado College
18.
John Murray*
G
Undecided
20.
Alec Richards
G
Yale
21.
Bryce Christianson*
G
Undecided
23.
Matt Lundin
G
Maine
24.
Mark Dekanich
G
Colgate
29.
Austin Lee*
G
Princeton
30.
Marc Cheverie*
G
Denver
Limited Viewing
Brett Bennett
G
Boston University
* Indicates player has committed to attend college