June 28, 2006
Brooks, Hotchkiss Elected to Hockey Hall of Fame
By Mike Eidelbes
Former Minnesota coach Herb Brooks and Michigan State alumnus Harley Hotchkiss, part-owner of the NHL's Calgary Flames, were elected to the Hockey Hall of Fame by the hall's selection committee today.
Both Brooks and Hotchkiss were elected in the Builders Category, while six-time Stanley Cup winner Dick Duff and goaltender Patrick Roy, who won four Cups with Montreal and Colorado, were chosen in the Player Category.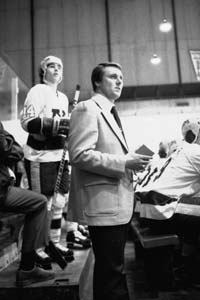 Herb Brooks guided Minnesota to three NCAA titles and four Frozen Four trips.
Brooks is best known for guiding the U.S. to the gold medal at 1980 Winter Olympics in Lake Placid, highlighted by a stunning semifinal win over the heavily favored Soviets. Prior to the Olympics, the St. Paul, Minn., native won three national championships in seven seasons behind the bench at his alma mater, Minnesota. He would later serve as coach at St. Cloud State for one season – Brooks was instrumental in the Huskies attaining Division I status – sandwiched around NHL mentoring stints with the New York Rangers, Minnesota North Stars, New Jersey Devils and Pittsburgh Penguins. Brooks died in a single-car accident on a Minnesota highway nearly three years ago.
"I was not anticipating this honor," Brooks' wife, Patti, said in a statement. "Our family has been overwhelmed with the recognition that Herb has received and we are very proud of his accomplishments. I can't wait to tell my kids."
Hotchkiss , a Michigan State hockey letterwinner in 1950 who graduated from the university with a degree in geology, has served as chairman of the NHL's Board of Governors for the past decade. The Tillsonburg, Ontario, native, who made his fortune in petroleum and mineral exploration, was part of the group that brought the Atlanta Flames to Calgary in 1980. He was also instrumental in getting the Saddledome built for the Flames and bringing the 1988 Winter Olympics to Calgary.
"As a farm boy growing up in Southern Ontario with hockey as a key part of my life, this is truly a very special honor," said Hotchkiss. "I have certainly enjoyed the 26 years that I have been part of the NHL and am very humbled to be selected."
The 2006 Hockey Hall of Fame induction ceremony takes place Nov. 13 in Toronto.