April 25, 2006
Golden Boys
A look at the U.S. Under-18 World Champions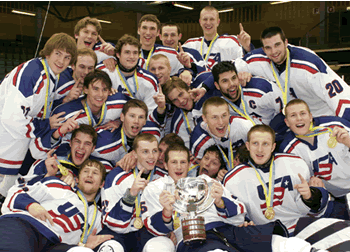 The U.S. Under-18 team that captured the IIHF World Championship last week featured five future Minnesota Golden Gophers, three future Boston University Terriers and Wisconsin Badgers, and a coveted college recruit leading the way in Patrick Kane.
It was the second straight Under-18 World Championship for Team USA, which was coached by John Hynes. The Americans beat Finland, 3-1, in the gold medal game.
Below is a statistical look at Team USA's performance, along with the college commitments from each player.
| | | | | | | | | | | | |
| --- | --- | --- | --- | --- | --- | --- | --- | --- | --- | --- | --- |
| No. | Name | College | GP | G | A | PTS | PIM | PPG | SHG | GWG | Pts/Gm |
| 27 | Patrick Kane | Undecided | 5 | 7 | 5 | 12 | 2 | 2 | 0 | 2 | 2.40 |
| 4 | Jamie McBain | Wisconsin | 5 | 2 | 9 | 11 | 0 | 2 | 0 | 0 | 2.20 |
| 6 | Erik Johnson | Minnesota | 5 | 4 | 6 | 10 | 2 | 3 | 0 | 1 | 2.00 |
| 21 | Bill Sweatt | Colo. Coll. | 5 | 5 | 2 | 7 | 4 | 0 | 0 | 1 | 1.40 |
| 20 | Michael Carman | Minnesota | 5 | 3 | 3 | 6 | 10 | 1 | 0 | 0 | 1.20 |
| 10 | Rhett Rakhshani | Denver | 5 | 4 | 1 | 5 | 2 | 3 | 0 | 1 | 1.00 |
| 18 | Blake Geoffrion | Wisconsin | 5 | 1 | 3 | 4 | 6 | 1 | 0 | 0 | 0.80 |
| 29 | Luke Popko | Boston Univ. | 5 | 2 | 1 | 3 | 8 | 0 | 0 | 0 | 0.60 |
| 19 | James O'Brien | Minnesota | 5 | 3 | 0 | 3 | 6 | 2 | 0 | 0 | 0.60 |
| 12 | Ryan Flynn | Minnesota | 5 | 2 | 1 | 3 | 4 | 0 | 0 | 0 | 0.60 |
| 22 | Mike Ratchuk | Mich. State | 5 | 0 | 2 | 2 | 4 | 0 | 0 | 0 | 0.40 |
| 24 | Colin Wilson | Undecided | 5 | 0 | 1 | 1 | 6 | 0 | 0 | 0 | 0.20 |
| 5 | Trent Palm | UMD | 5 | 0 | 1 | 1 | 2 | 0 | 0 | 0 | 0.20 |
| 23 | James vanRiemsdyk | UNH | 5 | 0 | 1 | 1 | 2 | 0 | 0 | 0 | 0.20 |
| 9 | Ryan Hayes | Boston Coll. | 5 | 1 | 0 | 1 | 2 | 0 | 0 | 0 | 0.20 |
| 30 | Joseph Palmer | Ohio State | 3 | 0 | 1 | 1 | 0 | 0 | 0 | 0 | 0.33 |
| 2 | Cade Fairchild | Minnesota | 5 | 0 | 0 | 0 | 0 | 0 | 0 | 0 | 0.00 |
| 17 | Kevin Montgomery | Ohio State | 5 | 0 | 0 | 0 | 0 | 0 | 0 | 0 | 0.00 |
| 16 | Chris Summers | Michigan | 5 | 0 | 0 | 0 | 23 | 0 | 0 | 0 | 0.00 |
| 3 | Nigel Williams | Wisconsin | 5 | 0 | 0 | 0 | 18 | 0 | 0 | 0 | 0.00 |
| 7 | Brian Strait | Boston Univ. | 5 | 0 | 0 | 0 | 4 | 0 | 0 | 0 | 0.00 |
| 31 | Brett Bennett | Boston Univ. | 2 | 0 | 0 | 0 | 2 | 0 | 0 | 0 | 0.00 |
| | Bench | | | | | | 4 | | | | |
| | | | | | | | | | | | |
| | | GP | Min. | W | L | Tie | SO | GA | GAA | SV | SV % |
| 30 | Joseph Palmer | 3 | 187 | 3 | 0 | 0 | 1 | 5 | 1.67 | 80 | 0.941 |
| 31 | Brett Bennett | 2 | 120 | 2 | 0 | 0 | 1 | 1 | 0.50 | 31 | 0.969 |