August 20, 2007
Atlantic Hockey games to air online
By Ken McMillan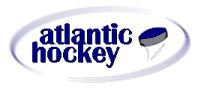 Atlantic Hockey has taken a bold step to raise the visibility of the league and its members by signing a league-wide deal with the B2 Networks. Every league contest in the 2007-08 season will be available on broadband via subscription, starting with a pair of exhibitions Oct. 8 and culminating with the Atlantic Hockey tournament in Rochester, N.Y., in March.
The B2 Networks televised the semifinals and finals of the 2007 Atlantic Hockey tournament from Rochester. Atlantic Hockey is the first NCAA conference to sign a league-wide deal with B2 Networks.
"This is a great opportunity for Atlantic Hockey and its members," said Bob DeGregorio, the Atlantic Hockey commissioner. "Even though we would like friends, fans, families and alumni to watch their favorite teams in person, this gives those people who are unable to attend another avenue to see their teams play."
Even though Atlantic Hockey members span a swath of the nation's top media markets, most college hockey telecasts on national and regional television feature schools from Hockey East, the Western Collegiate Hockey Association, the Central Collegiate Hockey Association, and ECAC Hockey.
Taking the Atlantic Hockey games to the Internet will raise awareness of the league and could certainly help recruiting efforts.
"As true hockey fans know, Atlantic Hockey teams can play with any NCAA team in the country, and our broadcasts will showcase to the world the great talent playing in the conference," said Richard Brosal, a B2 Networks executive president.
Fans will need a high-speed Internet connection and current version of Windows Media Player to watch the games online. Games will be available on a single-game basis for $6 or a full-season subscription of $79.95. The games will be available through AtlanticHockeyOnline.com and through member institution athletic websites.