January 10, 2007
Central Scouting Releases Mid-Term Rankings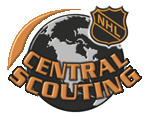 The NHL's Central Scouting Service has released its mid-season rankings of the top players eligible for the 2007 NHL Entry Draft. The rankings list North American and European players separately, as well as separating goalies from skaters (forwards and defensemen).
The top-ranked player with college ties is U.S. National Team Development Program forward James Van Riemsdyk at No. 2. He'll attend New Hampshire next season. Wisconsin recruit Kyle Turris, who plays for Burnaby in the British Columbia Hockey League, is fifth, while Westminster Prep's Tommy Cross, a Boston College recruit, is ranked tenth.
The North American lists rank 210 skaters and 30 goalies, all playing in the U.S. and Canada. In addition to college players the list features draft-eligible major junior players, as well as a number of college-bound high school, prep and junior players
North American Skaters (College and College-Bound Players Only)
Rank
Player

Pos.

Current Team
College Commit
2.
James Van Riemsdyk

F

U.S. NTDP
New Hampshire
5.
Kyle Turris

F

Burnaby (BCHL)
Wisconsin
10.
Tommy Cross

D

Westminster (Conn.) Prep
Boston College
12.
Ryan McDonagh

D

Cretin-Derham (Minn.) HS
Wisconsin
13.
Kevin Shattenkirk

D

U.S. NTDP
Boston University
20.
Jim O'Brien

F

Minnesota
23.
Max Pacioretty

F

Sioux City (USHL)
Michigan
24.
Mike Hoeffel

F

U.S. NTDP
Minnesota
25.
Patrick White

F

Grand Rapids (Minn.) HS
Minnesota
27.
Colby Cohen

D

Lincoln (USHL)
Boston University
31.
Nick Petrecki

F

Omaha (USHL)
Boston College
33.
T.J. Galiardi

F

Dartmouth
34.
Ted Ruth

D

U.S. NTDP
Notre Dame
39.
Matt Marshall

F

Nobles (Mass.) Prep
Northeastern
50.
Ben Ryan

F

Des Moines (USHL)
Notre Dame
51.
Nick Larson

F

Hill-Murray (Minn.) HS
Minnesota
53.
John Lee

D

Moorhead (Minn.) HS
Denver
61.
Nico Sacchetti

F

Virginia (Minn.) HS
Minnesota
63.
Brad Malone

F

Sioux Falls (USHL)
North Dakota
64.
Alexander Killorn

F

Deerfield (Mass.) Prep
Undecided
68.
Aaron Palushaj

F

Des Moines (USHL)
Michigan
71.
Travis Erstad

F

Stevens Point (Wis.) HS
Undecided
76.
Blake Kessel

D

Waterloo (USHL)
Undecided
77.
Drew Leblanc

F

Hermantown (Minn.) HS
Undecided
78.
Ben Blood

D

Shattuck St. Mary's (Minn)
North Dakota
80.
Jake Hansen

F

White Bear Lk. (Minn.) HS
Minnesota
82.
Corey Tropp

F

Sioux Falls (USHL)
Michigan State
87.
Casey Pierro-Zabotel

F

Merritt (BCHL)
Michigan Tech
88.
John Albert

C

U.S. NTDP
Ohio State
89.
Ben Winnett

F

Salmon Arm (BCHL)
Michigan
90.
Tristin Lleyellyn

D

Tri-City (USHL)
Michigan
93.
C.J. Severyn

F

U.S. NTDP
Ohio State
94.
Paul Carey

F

Salisbury (Conn.) Prep
Boston College
97.
Robin Bergman

F

Cedar Rapids (USHL)
Notre Dame
99.
Riley Nash

F

Salmon Arm (BCHL)
Undecided
103.
Tyler Johnson

F

Cloquet (Minn.) HS
Colorado College
105.
Brendan Nash

D

Cornell
106.
Brian Gibbons

F

Salisbury (Conn.) Prep
Boston College
109.
Calle Ridderwall

F

Tri-City (USHL)
Notre Dame
113.
Ian Cole

D

U.S. NTDP
Notre Dame
117.
Nick Bonino

F

Avon Old Farms (Conn.)
Boston University
122.
Jordy Christian

F

Moorhead (Minn.) HS
St. Cloud State
123.
Paul Thompson

F

New Hampshire (EJHL)
New Hampshire
124.
Matt Rust

F

U.S. NTDP
Michigan
125.
Baylor Dieter

D

Green Bay (USHL)
Undecided
128.
Joe Lavin

D

U.S. NTDP
Providence
131.
Cade Fairchild

D

U.S. NTDP
Minnesota
133.
Joe Stejskal

D

Grand Rapids (Minn.) HS
Dartmouth
138.
Colin Lidster

F

Victory Honda (Mich.)
Quinnipiac
140.
Scott Freeman

F

Bowmanville (OPJHL)
Clarkson
141.
Colin Haas

F

Dallas Stars Midget
Undecided
144.
Josh Turnbull

F

Waterloo (USHL)
Wisconsin
145.
Spencer Anderson

F

Brampton (OPJHL)
Undecided
147.
Tommy Wingels

F

Cedar Rapids (USHL)
Miami
150.
Brennan Vargas

F

U.S. NTDP
Undecided
151.
Jeff Foss

D

Moorhead (Minn.) HS
Undecided
152.
Louie Caporusso

F

St. Michael's (OPJHL)
Michigan
153.
Mike Dorr

F

Roseville (Minn.) HS
Undecided
157.
Brendan Smith

D

St. Michael's (OPJHL)
Wisconsin
160.
Vince Loverde

D

Waterloo (USHL)
Undecided
164.
John Heffernan

F

Boston Coll. (Mass.) HS
Undecided
165.
Danny Hobbs

F

Ohio (USHL)
Massachusetts
169.
Daniel Nycholat

D

Canmore (AJHL)
Undecided
170.
Tyler Kieffer

D

Stillwater (Minn.) HS
St. Cloud State
171.
Brett Bruneteau

F

Omaha (USHL)
North Dakota
172.
Joe Beaudette

F

Blaine (Minn.) HS
Undecided
176.
Jamie Benn

F

Victoria (BCHL)
Alaska
177.
Billy Maday

F

Waterloo (USHL)
Notre Dame
178.
Mark Arcobello

F

Yale
179.
Alain Goulet

D

Aurora (OPJHL)
Nebraska-Omaha
180.
Brandon Bahnemann

F

Roch. (Minn.) Lourdes HS
Undecided
182.
Alex Biega

D

Harvard
184.
Brandon Martell

D

Elk River (Minn.) HS
Minnesota
186
Andrew Hamburg

C

Dallas Stars Midget
Colorado College
188.
Travis Oleksuk

F

Sioux City (USHL)
Minnesota Duluth
190.
Brian Schack

D

Minnesota
191.
Patrick Kennedy

F

St. Thomas (WOJHL)
Cornell
192.
Matt Bartkowski

D

Lincoln (USHL)
Undecided
193.
Bobby Farnham

F

Andover (Mass.)
Undecided
194.
Carter Camper

F

Lincoln (USHL)
Miami
195.
Max Campbell

F

Strathroy (WOJHL)
Western Michigan
197.
Scott Pitt

F

Orleans (COJHL)
Mercyhurst
198.
Dan Lawson

D

Chicago (USHL)
Vermont
200.
Trevor Nill

F

Detroit Compuware Midget
Michigan State
201.
Craig Smith

F

Waterloo (USHL)
Wisconsin
202.
Pier-Oliver Michaud

F

Portland, Maine (AJHL)
Undecided
203.
Matt Reber

F

Edina (Minn.) HS
Undecided
204.
Doug Leaverton

D

Mahoning Valley (NAHL)
Undecided
206.
Josh Levine

F

Bloomington Jefferson (Minn.) HS
Undecided
207.
Brian Rufenbach

D

Lindsay (OPJHL)
Clarkson
208.
Brad McCabe

C

Alaska (NAHL)
Alaska Anchorage
210.
T.J. Syner

F

New England (EJHL)
Undecided
Limited Viewing
Barry Almeida

F

New England (EJHL)
Boston College
Alexei Dosoinov

F

Sioux Falls (USHL)
Undecided
Jack Downing

F

Omaha (USHL)
Vermont
Jason Gregoire

F

Lincoln (USHL)
Undecided
Anthony Hayes

F

Green Bay (USHL)
Undecided
Dion Knelsen

F

Alaska
Peter Merth

D

Rensselaer
Travis Paeth

F

Des Moines (USHL)
Western Michigan
Philippe Ringuette

F

St. Andrews (Ont.) HS
Undecided
Anthony Schooley

D

Waterloo (USHL)
Michigan Tech
Bill Sweatt

F

Colorado College
Matt Tomassoni

D

Cedar Rapids (USHL)
Miami
North American Goalies (College and College-Bound Players Only)
Rank
Player

Pos.

Current Team
College Commit
4.
Brad Phillips

G

U.S. NTDP
Notre Dame
7.
Brad Eidsness

G

Okotoks (AJHL)
North Dakota
11.
Kent Patterson

G

Cedar Rapids (USHL)
Undecided
12.
Josh Unice

G

U.S. NTDP
Bowling Green
14.
Brian Hogan

G

Lincoln (USHL)
Michigan
16.
Jeremie Dupont

G

Nebraska-Omaha
18.
Reid Ellingson

G

Cloquet (Minn.) HS
Undecided
20.
John Muse

G

Nobles (Mass.) Prep
Boston College
22.
Mark Guggenberger

G

Richfield (Minn.) HS
Undecided
25.
Dan Dunn

G

Wellington (OPJHL)
Undecided
27.
Chris Rawlings

G

Powell River (BCHL)
Undecided
28.
Austin Lee

G

Fargo-Moorhead (NAHL)
Minnesota State
30.
Justin Gates

G

Lawrence (Mass.) HS
Providence
Limited Viewing
Scott Darling

G

Capital District (EJHL)
Undecided