August 22, 2007
Manthey Leaves Army for Wisconsin-Stevens Point
Vermont gains Cornell transfer Milo
By Ken McMillan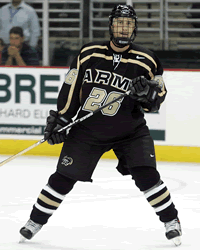 The lure of playing Division I college hockey was too strong for Tim Manthey to pass up but he admits the idea of becoming a soldier just never sat well with him.
Manthey, a two-time all-star defenseman for Army, decided to opt out of the U.S. Military Academy after two years and will play hockey for Division III Wisconsin-Stevens Point.
Cadets can leave West Point prior to the start of their junior academic year without incurring any financial penalty or be locked into a military
commitment.
"I think ultimately I just wasn't the Army type of person," Manthey said. "I went in there just to play hockey and give it two years for it to grow on me. In the end it was not what I wanted to do. I feel I made the right decision."
His departure leaves a significant void in the Army program. Manthey was the Black Knights' second-leading scorer in each of the past two seasons and piloted a resurgent power play. He posted five goals and 18 assists as a freshman and was named to the Atlantic Hockey all-rookie team in 2006. Last season, he netted 11 goals and assisted on 18, tying for the league lead among defensemen with 29 points and ranking seventh nationally in points per game among blueliners. He was named to the Atlantic Hockey second-team all-star squad both seasons.
"He is a great kid, and did a lot for the program in the two years he was here,'' said Army coach Brian Riley. "At the same time, this will give someone else the opportunity to step up and get the opportunity to prove themselves."
Manthey said he had no problems with the players or coaches at Army, and
added the players he leaves behind "are my best friends for life.''
"That was the worst [aspect about leaving]," he said. "That's what took me so long to decide ... I would do anything for those guys."
It's certainly not the first time an all-star player has left the Army hockey program early. Dan Hinote, now with the St. Louis Blues, left after two seasons and went on to win the Stanley Cup with the Colorado Avalanche. Morgan Ward played two seasons (2002-04) before transferring to Michigan, where he just concluded his senior season. Ryan Cruthers played two seasons (2003-05) before transferring to Robert Morris, where he has one year of eligibility remaining.
There have been Army players who have completed their education before moving on to pro hockey. Andy Lundbohm played four seasons (1995-99) for Army and parts of four more in the American Hockey League before retiring due to injuries. All-star Brad Roberts tended Army's goal for four seasons (2002-06) and is currently playing with the Youngstown (Ohio) SteelHounds of the Central Hockey League.
Also: Cornell forward Justin Milo, who appeared in 24 games as a freshman for the Big Red last season, is transfering to Vermont.
A native of Eden Prairie, Minn., Milo will have three years of eligibility remaining after sitting out the upcoming season per NCAA rules. The 5-8, 180-pound forward scored three goals and one assist during his rookie season at Cornell.
Milo will also play baseball for the Catamounts beginning with the 2008 season. He was a Collegiate Baseball Louisville Slugger Freshman All-American selection and All-Ivy League selection after hitting .426 in for the Big Red.