March 2, 2007
UMass Lowell Exploring Conference Options
River Hawks will stay in Hockey East through 2007-08 season
by Jeff Howe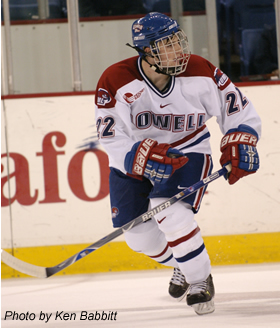 Freshman forward Paul Worthington and his UMass Lowell teammates will be Hockey East members next season. The River Hawks' conference status beyond 2007-08, however, may be subject to the school's board of trustees.
LOWELL, Mass. – While UMass Lowell is currently exploring potential options that could mean leaving Hockey East for another Division I conference, athletic director Dana Skinner says the program will definitely remain with Hockey East for one more season.
Hockey East requires a 16-month notice from a school wishing to leave the conference. If a school leaves earlier than that, it will be subjected to a fine. Skinner said UMass Lowell will not violate that policy if the decision is made to leave, and also said the River Hawks, "are not even thinking along those lines yet."
As of Friday afternoon, Hockey East commissioner Joe Bertagna said he had not heard from UMass Lowell with that notice. If he does, he said he will do whatever he can to keep the River Hawks in the league.
"Hockey East very much wants UMass Lowell to remain right where it is," Bertagna said. "We will do everything to try to convince them to stay. We really fully believe they can be very successful here in Hockey East."
According to Skinner, talk of bolting for another conference is very premature. The UMass Board of Trustees is evaluating the program's future. According to an article in Friday's Lowell Sun, some higher education officials say shifting UMass Lowell out of Hockey East is part of board chairman Stephen Tocco's desire to solidify UMass Amherst's position as the system's centerpiece.
"The board has been emphasizing what they call 'branding excellence' for quite awhile," Skinner said. "Defining how that applies to Lowell, you have to examine a bunch of issues: fan support, funding, competitiveness in Hockey East.
"So, in the end, what we're trying to do is define excellence and determine what it will take to achieve that excellence. I'm not as fearful of this process as others are. I actually think it's an important process for everyone in higher education or any business. How do you define excellence, and how do you obtain it?"
When asked what the positives would be in leaving Hockey East for another conference, Skinner acknowledged it was too early to fully know.
"I wouldn't know that yet because, frankly, we haven't even explored them," Skinner said. "That's what the task force is for – to try to look at all of our options because clearly there are a great number of advantages to being in Hockey East. There certainly are very few negatives to being affiliated with a conference like Hockey East. It's a question of other issues we have to resolve here.
"We're the only school in the whole conference that doesn't own its own hockey arena. That causes conflicts. There have been situations when we've actually had to relocate games out of the Tsongas Arena to other arenas, and it gets a little difficult to conduct a hockey program in a conference like Hockey East when you have some of those challenges. Our intent is to try to examine those challenges, see if we can find a way to resolve a number of our issues, define excellence as appropriately as we can and move forward."
UMass Lowell, an original member of Hockey East, hopes to remain with the conference when all is said and done.
"Hockey East is a great conference for UMass Lowell. It's a terrific conference, and we are thrilled to be a member of Hockey East. We'd like to be a member of Hockey East forever."
Jeff Howe can be reached at jeff@insidecollegehockey.com.