January 10, 2008
Central Scouting Releases Mid-Term Rankings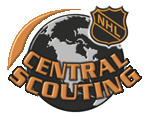 The NHL's Central Scouting Service has released its mid-season rankings of the top players eligible for the 2008 NHL Entry Draft. The rankings list North American and European players separately, as well as separating goalies from skaters (forwards and defensemen).
The top-ranked player with college ties is Boston University forward Colin Wilson at No. 9. Others listed among the top 30 include UMass recruit John Carlson, who plays for Indiana in the United States Hockey League (19th); Wisconsin recruit Jake Gardiner of Minnetonka (Minn.) H.S. (22nd); Ohio State recruit Zac Dalpe, who plays for Penticton in the British Columbia Hockey League (26th); and Denver recruit Joe Colborne, who plays for Camrose in the Alberta Junior Hockey League (30th).
The North American lists rank 210 skaters and 38 goalies, all playing in the U.S. and Canada. In addition to college players the list features draft-eligible major junior players, as well as a number of college-bound high school, prep and junior players
North American Skaters (College Players and College Commitments Only)
Rank
Player

Pos.

Current Team
College Commit
9.
Colin Wilson

F

Boston University
19.
John Carlson

D

Indiana (USHL)
Massachusetts
22.
Jake Gardiner

D

Minnetonka (Minn.) HS
Wisconsin
26.
Zac Dalpe

F

Penticton (BCHL)
Ohio State
30.
Joe Colborne

F

Camrose (AJHL)
Denver
35.
Aaron Ness

D

Roseau (Minn.) H.S.
Minnesota
40.
Danny Kristo

F

U.S. NTDP
North Dakota
46.
Corey Trivino

F

Stouffville (OPJHL)
Boston University
48.
Cody Goloubef

D

Wisconsin
57.
Brandon Burlon

D

St. Michael's (OPJHL)
Michigan
61.
Cory Fienhage

D

Eastview (Minn.) H.S.
North Dakota
65.
Jimmy Hayes

F

U.S. NTDP
Boston College
67.
Seth Soley

F

Omaha (USHL)
Michigan Tech
70.
Nathan Condon

F

Wausau (Wis.) West. H.S.
Minnesota
71.
David Toews

F

Shattuck St. Mary's (Minn)
North Dakota
72.
Derek Stepan

F

Shattuck St. Mary's (Minn)
Wisconsin
73.
Taylor Stefishen

F

Langley (BCHL)
Ohio State
77.
Julien Cayer

F

Northwood (N.Y.) School
Clarkson
79.
Tyler Gron

F

Fort McMurray (AJHL)
Northern Michigan
89.
Daultan Leveille

F

St. Catharines (GHJHL)
Michigan State
102.
Justin Daniels

F

Kent (Conn.) Prep
Northeastern
103.
David Warsofsky

D

U.S. NTDP
Boston University
105.
Jake Youso

F

Int'l Falls (Minn.) H.S.
Minnesota
110.
Drew Olson

D

Brainerd (Minn.) HS
Minnesota Duluth
112.
Tyler Barnes

F

Burnsville (Minn.) HS
Wisconsin
113.
Drew Daniels

F

Kent (Conn.) Prep
Northeastern
115.
Jared Festler

F

Lincoln (USHL)
St. Cloud State
116.
Robbie Czarnik

F

U.S. NTDP
Michigan
117.
Max Nicastro

D

Chicago (USHL)
Boston University
121.
Justin Florek

F

U.S. NTDP
Northern Michigan
122.
Vinny Saponari

F

U.S. NTDP
Boston Univeristy
125.
Jack Downing

F

Vermont
127.
Steve Quailer

F

Sioux City (USHL)
Northeastern
130.
Michael Fink

F

Waterloo (USHL)
North Dakota
142.
Mark Goggin

F

Choate (Conn.) Prep
Dartmouth
145.
Joe Campanelli

F

Westminster (Conn.) Prep
Yale
147.
Drew Leblanc

F

Chicago (USHL)
St. Cloud State
151.
Patrick Mullane

F

Avon Old Farms (Conn.)
Boston College
153.
John O'Neill

F

Anoka (Minn.) H.S.
Minnesota Duluth
154.
Brock Montpetit

F

Waterloo (USHL)
Wisconsin
157.
Danny New

D

Avon Old Farms (Conn.)
Providence
162.
Greg Pateryn

D

Ohio (USHL)
Michigan
163.
Eric Ringel

D

Mahoning Valley (NAHL)
Notre Dame
167.
Tyler Johnson

F

Colorado College
172.
Marshall Everson

F

Edina (Minn.) H.S.
Harvard
175.
Greg Burke

F

New Hampshire (ECHL)
New Hampshire
184.
Ben Smith

F

Boston College
185.
Paul Thompson

F

New Hampshire
188.
Joe Gleason

D

Edina (Minn.) H.S.
North Dakota
189.
David Wohlberg

F

U.S. NTDP
Michigan
190.
Jake Hendrickson

F

Burnsville (Minn.) H.S.
Minnesota Duluth
191.
Jordy Murray

F

Shattuck-St. Mary's (Minn)
Wisconsin
199.
Paul Lee

F

Avon Old Farms (Conn.)
Dartmouth
201.
Rob Maloney

F

Eastview (Minn.) H.S.
Providence
203.
Steve Spinell

D

Ohio (USHL)
Miami
206.
Max Cook

F

Green Bay (USHL)
Miami
208.
Matt Reber

F

Dartmouth
210.
Ryan Grimshaw

D

U.S. NTDP
Harvard
North American Goalies (College Players and College Commitments Only)
Rank
Player

Pos.

Current Team
College Commit
16.
Matt Hoyle

G

Indiana (USHL)
Harvard
17.
Aaron Crandall

G

Green Bay (USHL)
Wisconsin
19.
Brady Hjelle

G

Cedar Rapids (USHL)
Minnesota Duluth
21.
Joe Cannata

G

U.S. NTDP
Merrimack
27.
Nick Maricic

G

U.S. NTDP
Yale