June 10, 2005; UPDATED June 20, 2005
Lake Superior State Fires Anzalone, Promotes Roque
Inside College Hockey Staff Report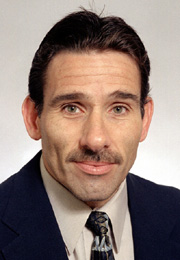 Frank Anzalone compiled a 32-97-20 record in his second stint at LSSU.
More than a week after reports surfaced that Lake Superior State had asked Frank Anzalone to step down, the school confirmed on Monday that it had relieved him of his head coaching duties and promoted assistant coach Jim Roque to lead the Lakers.
While Lake Superior State officials would neither confirm nor deny the initial reports, Anzalone received the significant backing of a number of prominent alumni, several of whom spoke out in his defense in a letter to the school president and in a Soo Evening News story.
Despite their defense, the school made the move shortly after noon on Monday in a press release. Roque, who has been an assistant at LSSU and Clarkson, becomes the ninth head coach in Laker hockey history.
"We believe that there is a need for change in our hockey program, and that this is the best possible decision we can make," said athletic director Bill Crawford in the press release.
In four seasons during his second go-round with the Lakers, Anzalone compiled a 32-97-20 overall record and his teams have finished no higher than ninth in the CCHA during that time. In addition to losing, significant roster turnover has marked Anzalone's return at LSSU. Among the players who've transferred to other programs during his tenure were Andrew Contois (who ended up at Northern Michigan), Jeff Mushulak (Maine) and Adam Nightingale (Michigan State).
He was re-hired by the school in 2001 – more than a decade after his first stint as LSSU's bench boss from 1983-90. During that seven-year stretch, Anzalone led the program to a 191-108-22 mark, one CCHA regular-season title, four NCAA Tournament appearances and a national championship in 1988.
Roque, who played for the Lakers from 1983-87, came back to his alma mater for a second tour of duty when Anzalone returned. An assistant at LSSU in the late '80s and early '90s, Roque also spent seven seasons as an aide to Mark Morris at Clarkson.
"Jim brings continuity to the coaching situation," said Crawford. "I am confident that he will do a great job. He recruited many of our players and knows our strengths and weaknesses. I hope that Laker fans everywhere will continue to support the program."