June 21, 2005
Anzalone Contests Firing
By Nate Ewell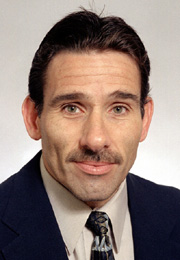 Frank Anzalone claims that he was "wrongfully terminated" by Lake Superior State.
Frank Anzalone's tenure at Lake Superior State may be over, but he's not going quietly.
Anzalone's attorney, James P. Lambros, released a statement to Inside College Hockey on Tuesday contesting the grounds of Anzalone's dismissal:
"Head coach Frank N. Anzalone has been wrongfully terminated pursuant to the terms of his contract with Lake Superior State University, and will seek redress in the courts against those responsible for his unjustified discharge."
Lambros, a former player at Michigan State who is now an attorney in Sault Ste. Marie, Mich., declined to elaborate on the grounds of Anzalone's complaint pending the filing of his suit against the school.
Anzalone was fired by Lake Superior State on Monday and replaced by assistant coach Jim Roque, 10 days after reports surfaced that the school was looking to make a change.
In four seasons during his second stint with the Lakers, Anzalone compiled a 32-97-20 overall record and his teams have finished no higher than ninth in the CCHA during that time. He had been re-hired by the school in 2001 – more than a decade after his first stint as LSSU's bench boss from 1983-90. During that seven-year stretch, Anzalone led the program to a 191-108-22 mark, one CCHA regular-season title, four NCAA Tournament appearances and a national championship in 1988.