INCH UPDATE DESK
WCHA Extends McLeod's Contract

April 29, 2005
The Western Collegiate Hockey Association, acting through its Executive Committee, has announced the extension of Commissioner Bruce McLeod's contract through the 2008-09 season.
McLeod, who has one year remaining on his current contract and has been the league's commissioner since 1994, was given a three-year extension, according to Pat Joyce, Faculty Representative at Michigan Tech University and Chair of the Association for 2004-05.
"Reflecting the wishes of the conference membership and in acknowledgement of the tremendous successes the Western Collegiate Hockey Association has experienced under Bruce¹s leadership over the past dozen years," said Joyce, "the league is pleased to announce this extension of his contract.
"We value Bruce's continuing dedication to both the WCHA and the sport of college hockey in general, on both on the men's and women's sides," added Joyce, "and we look forward to continuing success and prosperity under his guidance. These past couple of seasons have seen the league reach even more significant heights, as evidenced by national team championships, national honors for our student-athletes and record-setting levels of attendance, television exposure and sponsorships."
Former NHLer Ramage Will Face Trial in Magnuson's Death
April 24, 2005
Former NHL defenseman Rob Ramage has been ordered to stand trial for his role in a 2003 car accident that claimed the life of former University of Denver and Chicago Blackhawk standout Keith Magnuson.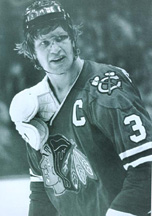 Keith Magnuson (photo courtesy Chicago Blackhawks)
According to a report on Rogers Sportsnet of Canada's website, a four-day preliminary hearing ended April 21 with enough evidence presented to move forward with a trial. The 46-year-old Ramage faces three charges, the most serious of which is impaired driving causing death – which carries a maximum sentence of life in prison.

Magnuson was a passenger in Ramage's vehicle as the two returned from the funeral of former NHL Alumni Association chair Keith McCreary on Dec. 15, 2003, when they collided with two other cars near Toronto. Ramage suffered a dislocated hip in the crash.

Six Cities Finalists for 2009, 2010 and 2011 Frozen Fours
April 14, 2005
The list of candidates to host the NCAA Frozen Four in 2009, 2010 and 2011 has been pared to six cities, the Division I Men's Ice Hockey Committee announced.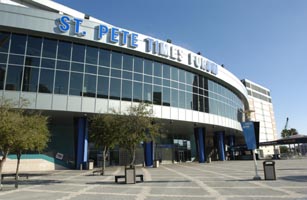 The St. Pete Times Forum in Tampa seats 21,434 for hockey and had 22,717 for Game 7 of the 2004 Stanley Cup Finals. (photo courtesy Tampa Bay CVB)
The finalists, including venues and host institutions, are:

• Boston: TD Banknorth Garden; Boston University and Hockey East
• Detroit: Ford Field; Central Collegiate Hockey Association
• Philadelphia: Wachovia Center; Canisius College, Niagara University, Rider University and the Metro Atlantic Athletic Conference
• Tampa: St. Pete Times Forum; University of Alabama-Huntsville
• St. Paul, Minn: Xcel Energy Center, University of Minnesota
• Washington, D.C.: MCI Center; U.S. Naval Academy

Yale athletic administrator Wayne Dean, who chairs the Division I Men's Ice Hockey Committee, said he and a member of the NCAA staff will visit the six prospective host cities over the next seven weeks. Each finalist will then make a formal presentation to the entire committee in Indianapolis June 7-10.

The committee will close its June meeting by sending recommendations to the Division I Championships and Competition Cabinet for final approval. That board meets in late September.

The 2006, 2007 and 2008 Frozen Fours will take place at the Bradley Center in Milwaukee, Wis., the Savvis Center in St. Louis, Mo., and the Pepsi Center in Denver, respectively.

OSU's Markell inks five-year extension
April 5, 2005

Ohio State coach John Markell has received a new five-year contract, effective immediately. The new deal replaces Markell's prior contract, which had one season remaining.

Markell just completed his tenth full season as the Buckeyes' head coach. He owns a 200-173-32 career record and has led the team to five NCAA Tournament appearances (1998, 1999, 2003, 2004 and 2005) and a NCAA Frozen Four berth in 1998. He also guided OSU to the 2004 CCHA Super Six tournament title

In 2004-05, the Buckeyes posted a 27-11-4 mark – tying for the second-most wins in program history – and finished second in the CCHA regular-season standings, the team's best conference showing in more than two decades.

Bourque leaves BU for Moncton

April 2, 2005
Boston University forward Chris Bourque, one week removed from the end of his freshman season, has left the Terriers for the Moncton Wildcats of the QMJHL.
Bourque had 10-13—23 in 35 games for BU this season, earning Beanpot MVP and Hockey East All-Rookie Team honors. The highly acclaimed son of Hall of Famer Ray Bourque, Chris finished fifth on the team in scoring but was often the Terriers' best player.
A second-round draft pick of the Washington Capitals in last June's draft, Bourque repeatedly expressed his desire to stay in school, as recently as this week in a Boston Herald article. But Moncton, which lured Adam Pineault away from Boston College a year ago, has had its eye on bringing Bourque aboard since selecting him in the QMJHL draft.
Bourque told Fluto Shinzawa of the Boston Globe that academics were the primary reason for his decision.
"College was a good time, but it wasn't for me," he said in the Globe's Sunday edition. "I wasn't a big fan of going to school and going to class. It's not the place for me. But I had a great time playing with the kids that I did."
Crawford-West leaving Miami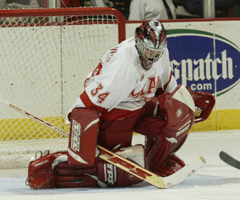 Brandon Crawford-West compiled a 32-24-8 record and a 2.49 GAA in two seasons at Miami.
April 1, 2005
Miami goaltender Brandon Crawford-West has decided to leave the school and forego his final two seasons of eligibility.

The 22-year-old San Diego native posted an 11-16-5 record, a 2.48 goals against average and a .917 save percentage in 32 appearances this season. As a freshman, he helped the RedHawks to a second-place finish in the CCHA standings and a 2004 NCAA Tournament berth with a 21-8-3 mark, a 2.50 GAA and a .902 save percentage.

"He was honest with me and honest with himself," Miami coach Enrico Blasi said. "He's done a good job in his two years here."

Crawford-West's departure leaves two goaltenders on the RedHawks roster – junior-to-be Steve Hartley and Charlie Effinger, who just completed his freshman campaign.

Spencer Penrose finalists announced

April 1, 2005
Previous honorees George Gwozdecky (Denver), Don Lucia (Minnesota) and Jack Parker (Boston University) are among the nine finalists for the 2005 Spencer Penrose Award, presented annaully to the national coach of the year.

Joining Gwozdecky, Lucia and Parker on the list of finalists are Dave Hakstol (North Dakota), Mike Kemp (Nebraska-Omaha), Scott Owens (Colorado College), Rand Pecknold (Quinnipiac), Mike Schafer (Cornell) and Tom Serratore (Bemidji State).

Parker was awarded the Penrose Award on two previous occasions (1975 and 1978). Gwozdecky earned the honor in 1993 when he was head coach at Miami. Lucia won the following year, his first season at Colorado College. Scott Sandelin of Minnesota Duluth was last year's winner.

To be a finalist for the Spencer Penrose Award, the coach must either be selected as Coach of the Year in their conference or take his team to the NCAA Frozen Four. This year's winner will be honored at the American Hockey Coaches Association annual banquet in Naples, Fla., April 23.