July 31, 2004
Riley Replaces Riley at Army
Older brother Rob retires after 18 years at helm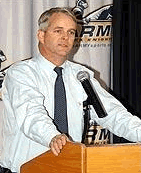 Rob Riley succeeded his father, Jack, at Army 18 years ago.
After 18 years as head coach of Army's hockey program, Rob Riley announced his retirement from college coaching today, ending a coaching career that spanned more than three decades. Director of Athletics Rick Greenspan named Brian Riley, associate head coach of the Black Knights for the past five years, to succeed his older brother at the helm of the Black Knights' program.
Rob Riley, who won his 300th career game last January, stood 14th among active head coaches on the NCAA all-time wins list following this past winter's campaign. Only eight other current head coaches in the nation have been with the same school longer than Riley. He leaves the coaching profession to pursue an opportunity with Legg Mason Inc. in Boston, Mass.
He concludes his coaching career at Army with a 257-288-33 (.473) mark and an overall ledger of 306-302-34 (.503). Riley and his father, legendary Hall of Famer Jack Riley, are the all-time winningest father-son combination in college hockey history with 848 victories between them. The elder Riley finished his storied coaching career second on the all-time wins list with 542 victories, a mark that still ranks in the top 10.
Thoughts on Brian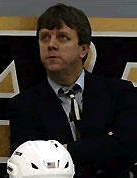 The Army sports information department collected the following comments about Brian Riley from around the coaching world:
"Brian will do a terrific job at West Point. His association with the Academy over the years, coupled with the knowledge and experience gained from growing up with his father (Jack) and working alongside his brother (Rob) will help him as he embarks on this next challenge. I think it is a very positive situation for both Brian and the Army hockey program."
— Jerry York, Boston College

"This is a great opportunity for Brian. His experience, knowledge of the game and character, is exactly what Army is looking for in a head coach. He is very well prepared for this next step. Brian is a mature coach with a great mentality. He is a person who communicates well and can maximize each player's potential. His dedication to recruiting and the experiences gained working at Shattuck (St. Mary's), probably the No. 1 prep school program in the nation right now, will serve him well."
— Andy Murray, L.A. Kings

"I think (Army athletic director) Rick Greenspan and the Academy made a great decision in promoting Brian to head coach. He is a veteran assistant coach who has seen a lot of hockey at the Division I level. You will not find a more competitive family than the Riley's, but more importantly, they win the right way. Brian is a great mentor and the Academy could not have made a better choice."
— Don Vaughan, Colgate

"I first met Brian while he was coaching my two sons at Shattuck St. Mary's, and I hold Brian in highest regards. He is a man of his word with a great deal of character and integrity. He will continue to bring that to the Army hockey program. As a head coach, Brian is ready to take the reins. He is a player's coach who really relates well to the kids. I am excited for him and this opportunity. Brian will keep West Point moving forward."
— Mike Eaves, Wisconsin
The youngest Riley son, who has spent 14 of the past 16 years as an assistant at West Point, becomes just the third head coach of the hockey program in the past 55 years, following his father, who coached the Black Knights for 36 seasons (1951-86), and Rob, who coached Army from 1986-2004.
"It has been a privilege to coach the Army hockey team for the past 19 years," Rob Riley said. "Representing the U.S. Military Academy, while having the opportunity to work with so many outstanding young leaders, has been a very rewarding experience. I am proud of the many contributions our players have made to the Academy both on and off the ice and wish them all the best of luck in their future endeavors."
"We are certainly sad to see Rob leave West Point. The Riley name has been synonymous with Army Hockey for more than a half-century and no one embodies the principles of the Academy more than Rob Riley," Greenspan said. "Throughout his tenure here, Rob has built a strong hockey program 'the right way' and his tireless dedication to his players, his staff, the hockey community and the Academy will be sorely missed. While we wish him well as he moves on to a new chapter in his life, we know he leaves the program in capable hands."
Riley's distinguished coaching career includes two straight 20-win seasons while at Army and five consecutive winning campaigns in the mid 1990s. He authored a 13-3-2 mark against Canadian rival Royal Military College (RMC), helping the Black Knights to a commanding overall lead in that series. In addition, Army has qualified for the postseason in each of the past four years.
A 1983 graduate of Brown University, Brian Riley, 45, began his coaching career with a three-year stint as an assistant coach at SUNY Plattsburgh in Upstate New York. During that time, the Cardinals advanced to the NCAA Division III Tournament three times, reaching the championship game twice.
Following that championship season, Riley left the north country for the Division I ranks and UMass Lowell. There, he teamed with cousin Bill Riley for one season, directing the River Hawks to the NCAA Tournament, giving him his fourth straight postseason appearance.
Riley, a native of West Point, returned to his hometown in 1989 as an assistant on the Black Knights' staff following stops at Plattsburgh and Lowell. In 1996, he ventured to Minnesota where he carved out a stellar career as head coach of Shattuck St. Mary's Prep in Faribault, Minn. Riley etched a 94-19-10 record into the books during his two seasons. He returned to the East Coast and the friendly confines of West Point in 1999, where he has served as Army's associate head coach since.
"I want to thank (Superintendent) Lt. Gen. (William J.) Lennox and Rick Greenspan for giving me this opportunity," Riley said. "You always hear people talk about having their dream job. Well, this has always been my dream. I am also very thankful to my brother Rob. I am sure that if it were not for him, I would not be in this position today. I had the opportunity to be an assistant coach at West Point for 14 years and it has been a tremendous honor. Now, to be named head coach is truly humbling."
"Brian Riley was the clear-cut choice to become our next head coach," Greenspan said. "Like Rob, Brian has spent a large portion of his life at West Point. He knows what it takes for cadets to be successful, both on and off the ice, and he has worked 'hand-in-hand' with Rob to build Army Hockey into one of the most respected programs in the country. Brian has the requisite experience and background to be the head coach at any institution in the country, but his dedication and devotion rest with the Black Knights. I am convinced he will guide our program to new heights."
The younger Riley will look to continue a long line of successful coaching campaigns within his family. In addition to Jack and Rob, Bill Riley won 376 games during his college coaching career. The Riley family has racked up 1,224 victories in a combined 77 years.