June 16, 2005; UPDATED: June 17, 2005
Providence Hires Army as Head Coach
By Nate Ewell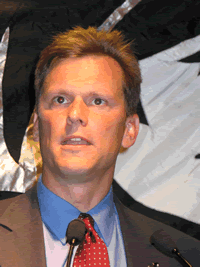 Providence introduced Tim Army as its new head coach on Friday.
Providence named former Friar star Tim Army, a veteran of the professional coaching ranks, its new head coach at a Friday morning press conference.
"I'm honored and thrilled to return home to Providence College," Army said in a statement. "I look forward to the challenge and the responsibility of directing the great traditions of our hockey program."
Army, the head coach of the AHL's Portland Pirates last season, has ties to the school as both a player (1982-85) and assistant coach (1989-93). He left Providence in 1993 to join fellow Friar alum Ron Wilson in the NHL as an assistant coach with the Mighty Ducks of Anaheim. Army worked with Wilson for nine seasons in Anaheim and with the Washington Capitals.
After Wilson was fired in 2001, the Capitals named Army their AHL coach with the Pirates. Washington's decision this summer to move their AHL affiliation to Hershey (Pa.) may have played a role in Army's return to the college game – he's a New Englander with strong family ties to the region.
As a player, Army was a first-team All-American and a finalist for the Hobey Baker Award as a senior in 1985, when he helped lead the Friars to the NCAA championship game.
Now Army, who replaces 11-year head coach Paul Pooley, will try to lead the Friars back to the NCAAs. They made just one NCAA appearance in the last eight seasons and finished seventh in Hockey East in 2004-05, with a 12-21-4 overall record.
"We are excited to have Tim Army leading our men's hockey program," athletic director Bob Driscoll said. "He has experienced success as an athlete and as a coach at all levels. Tim brings extensive knowledge and strong teaching skills to the position. In addition, he is a part of the tremendous tradition of Friar hockey and he will take great pride in moving the program forward."
"I can't think of anyone more deserving of this job than Tim Army," said Wilson, now the head coach of the San Jose Sharks. "Tim is a tireless worker who has a tremendous amount of coaching experience. He is the perfect person to come in and reenergize the Friar hockey program."
Army, the first Friar alum to lead the program since legendary coach Lou Lamoriello, is also the first former Hockey East player to become a head coach in the conference. A native of East Providence, he is the sixth-leading scorer in Friar history and the program's 11th head coach.
Army is the second coach to join Hockey East this season from the AHL, along with Northeastern's Greg Cronin. He will be one of four new head coaches in the league this winter, with Cronin, Kevin Sneddon of new Hockey East member Vermont, and the yet-to-be-named head coach at Merrimack.