June 25, 2004
Blais Leaves North Dakota
Hakstol named interim head coach of Fighting Sioux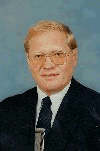 Dean Blais' distinguished head coaching career at North Dakota, which spanned 10 years and included two national championships, came to an end Friday as he was named associate coach of the NHL's Columbus Blue Jackets.
The Blue Jackets named interim head coach Gerard Gallant to the permanent post. Blais will step in as the team's associate coach, a position that was vacated when former Michigan Tech coach Newell Brown moved into a role with the team's hockey operations department in January.
"This is a tremendous opportunity for me to do something that I have always dreamed about and that is coach in the National Hockey League," Blais said in a Blue Jackets statement. "I am thrilled to be joining a first-class organization like the Blue Jackets and to be working with Gerard and the coaching staff. For me, this is as exciting a moment as I have had in my hockey career."
In Grand Forks, athletic director Roger Thomas appointed Dave Hakstol as the Sioux's interim head coach. Hakstol has been the team's associate head coach since 2000. Assistant coach Brad Berry has been named the interim associate head coach.
Thomas, Hakstol and Berry have scheduled a press conference for Saturday morning in Grand Forks.
Back in Raleigh, Columbus General Manager Doug MacLean was effusive in his praise of Blais.
"Dean Blais has been the most successful coach in Division I hockey over the past 10 years and is regarded in hockey circles as one of the great coaches and teachers in the game," said MacLean. "He has proven himself in international competition as well and will be an invaluable asset to our franchise and the great, young players we have in our organization. I am very pleased with the coaching staff we have put together to lead this team."
Blais presided over the 1997 and 2000 national championships at North Dakota, five MacNaughton Cup titles as the WCHA champions, plus the opening of the $100 million Ralph Engelstad Arena. He earned the Spencer Penrose Award as the national coach of the year twice, in 1997 and 2001.
He compiled a 262-115-33 record in his 10-year career with the Sioux. The 2003-04 North Dakota team won the WCHA title and was ranked No. 1 in the nation for much of the season, but fell to eventual national champion Denver in the NCAA quarterfinals.
Blais has been named the head coach of the 2005 U.S. National Junior Team, which will play in the World Junior Championship in Grand Forks. It's not immediately known whether his obligations with the Blue Jackets would prevent him from holding that post, should any NHL lockout be resolved by December.
Blais is believed to have interviewed with MacLean in the past, when MacLean was seeking the organization's first head coach. MacLean at the time turned to Dave King, who was fired in January of 2003 and replaced by MacLean himself. Gallant, an assistant coach since the expansion team began play, replaced MacLean in January of 2004.
Speculation for Blais' replacement at North Dakota immediately turned to his former assistant coach, North Dakota alumnus Scott Sandelin. Sandelin signed a multi-year contract extension last summer with Minnesota-Duluth, where he led the Bulldogs to the Frozen Four this season and earned the Spencer Penrose Award. Sandelin is slated to serve as an assistant coach of the U.S. National Junior Team, and would be the prime candidate for that head coaching job as well, should Blais be unable to fulfill the role.
Hakstol, a former head coach in the USHL and a North Dakota alumnus, would also be a candidate to keep the head coaching position on a permanent basis. Hakstol joined the Sioux when Sandelin left for Minnesota Duluth in 2000.
Check back with Inside College Hockey for further details on this story as they develop.