December 10, 2004
Canisius Fires Cavanaugh
By Mike Eidelbes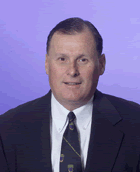 Cavanaugh was in his 24th season at Canisius.
Citing "irreconcilable differences" with his players, Canisius athletics director Tim Dillon abruptly fired hockey coach Brian Cavanaugh Friday.

In a prepared statement, Dillon stated, "The college has reluctantly concluded that irreconcilable differences on a wide range of issues had arisen between Coach Cavanaugh and the members of the team that have caused Coach Cavanaugh to lose the trust and confidence of the team. This had become severe enough that we felt that a change at this point of the season was necessary.
"This is not a decision that was made lightly, as Coach Cavanaugh has had a long career at Canisius during which he has contributed much to the growth and development of our program."
Cavanaugh, reached by Inside College Hockey Friday afternoon, expressed surprise at the turn of events.
"This is the statement I have to make: I'm sad and disappointed," he said. "I'm in a state of shock and I'm concerned about the welfare of my family. That's it."
The Golden Griffins are off to an impressive 6-2-0 start in Atlantic Hockey play and own a 7-7-1 overall record. Cavanaugh, who was in his 24th season behind the Canisius bench, has a 347-306-57 career record and ranks among the top 50 winningest college coaches of all-time.
Team captain Fred Coccimiglio also expressed surprise.
"I really have no comment on the issue," Coccimiglio said. "I found out this morning. It surprised me."
Cavanaugh was the center of controversy four years ago when he was suspended for five days in December 2000 for allegedly hitting a player on the head with a stick. At the time, Cavanaugh contended he tapped the player in order to get him to pay attention.

Assistants Clancy Seymour and Stephen Fabiilli will assuming coaching duties on an interim basis beginning with this weekend's home-and-home series with Mercyhurst. A search for a permanent replacement will begin immediately.