April 26, 2005
CCHA Revamps Playoff Format
By Mike Eidelbes
The CCHA has scrapped its current playoff structure in favor of a three-round format that awards first-round byes to the top four finishers in the regular season standings and cuts the number of teams that advance to Detroit from six to four.

The change, which goes into effect next season, was approved by the league's athletic directors at last week's conference meetings in Florida.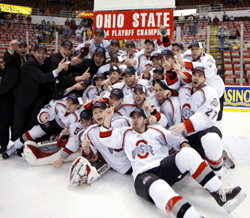 Ohio State won the CCHA Super Six championship in 2004. Starting next season, only four teams will advance to Joe Louis Arena for the league semifinals and finals.
Under the revised format, which resembles the ECACHL format and will shorten the league's regular season by a week, teams No. 5 through 8 will host Nos. 9 through 12 in first-round, best-of-three series. The winners would move on to the second round, where they would face the league's top four finishers in best-of-three series – league officials haven't determined whether they'll adhere to a straight bracket or re-seed teams following the first round. The four second-round winners head to Joe Louis Arena for the conference semifinals and finals.

"There's still a lot of jockeying in those 7, 8, 9 and 10 spots," Ohio State coach John Markell said. "It'll keep everybody interested…it'll keep the fans interested. I think this format will provide opportunities for teams."

In each of the past four seasons, the top six teams in the conference standings would host the bottom six finishers in best-of-three, first-round series. The winners moved to Detroit the following week for the CCHA Super Six – the top two teams to advance earned automatic byes into the semifinal round while the four remaining teams met in play-in games.

The old format gave more teams a chance to play at Joe Louis Arena – since 2002, nine of the league's 12 members appeared at the Super Six. The rub, however, was dismal attendance at Thursday's quarterfinal games. An announced crowd of 3,436 showed up for this year's matches featuring Alaska-Fairbanks against Northern Michigan and Michigan State against Nebraska-Omaha. Eyewitnesses pegged the actual attendance closer to 2,000.
CCHA Ch-Ch-Changes
How the CCHA's new three-round playoff system would've looked in 2004-05.
FIRST ROUND (best-of-three series)
No. 12 Notre Dame at No. 5 Bowling Green
No. 11 Ferris State at No. 6 Michigan State
No. 10 Western Michigan at No. 7 Miami
No. 9 Lake Superior State at No. 8 Alaska-Fairbanks
No. 1 Michigan, No. 2 Ohio State, No. 3 Northern Michigan and No. 4 Nebraska-Omaha would have earned first-round byes.
"We wanted more student-athletes to experience going to Joe Louis Arena," Markell said. "It's a great experience to get to Joe Louis…but you have to look at it atmosphere-wise. It wasn't very conducive to fans getting there [for quarterfinal games] and a lot of fans would wait to see what would happen on Thursday."

The 12-team ECACHL has had a similar playoff system in place for three seasons. Supporters of the format feel it provides incentives to the teams in the lower two-thirds of the league standings, rewards the top four finishers for strong regular-season showings and helps the top teams can improve their NCAA Tournament hopes by avoiding first-round games against the four lowest seeds.