March 16, 2005
Northeastern Dismisses Crowder
By Nate Ewell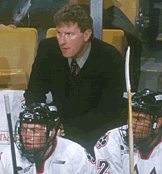 Bruce Crowder was 120-170-36 at Northeastern.
Northeastern athletic director Dave O'Brien announced today that the school will not renew head coach Bruce Crowder's contract, ending his nine-year tenure with the Huskies.
"Making this decision was very difficult," O'Brien said in a statement. "Bruce is a hard working gentleman who has always put the best interests of his players first. We greatly appreciate Coach Crowder's many contributions to Northeastern over the years."
Crowder had only two winning seasons in nine years at Northeastern, and his teams hosted only one home playoff series. He led the Huskies to a sixth-place finish in Hockey East this year after back-to-back last-place seasons and came within a goal of winning the Beanpot, losing to Boston University in overtime. The Huskies finished 15-18-5 overall after losing to New Hampshire in the Hockey East quarterfinals, 6-1 and 4-0.
Each of the last two seasons the Huskies finished the regular season strong, going 6-3-1 in their last 10 this year and 4-3-3 a year ago. Despite strong finishes, Crowder's teams never lived up to the hopes that came with him from UMass Lowell, where he had been named Hockey East Coach of the Year twice and National Coach of the Year once in five seasons.
Crowder is a 1979 graduate of the University of New Hampshire and played in the NHL with the Boston Bruins and Pittsburgh Penguins from 1981-85. Before entering the head coaching ranks, Crowder was an assistant coach at the University of Maine from 1986-90 and an assistant at UMass Lowell for the 1990-91 season.