January 14, 2004
Central Scouting Releases Mid-Term Rankings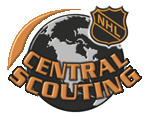 The NHL's Central Scouting Service has released its mid-season rankings of the top players eligible for the 2004 NHL Entry Draft. The rankings list North American and European players separately, as well as separating goalies from skaters (forwards and defensemen).
Michigan's Al Montoya is the top-rated North American goaltender, while North Dakota forward Drew Stafford, at No. 9, leads all college players on the North American skaters list. College players make up six of the top 29 players on the North American skaters list.
The North American lists rank 240 skaters and 40 goalies, all playing in the U.S. and Canada. In addition to college players the list features draft-eligible major junior players, as well as a number of college-bound high school, prep and junior players
Eight of the 18 collegians in the rankings, including each of the top four, were born after Sept. 15, 1985, meaning that they would have to "opt-in" to next summer's draft in order to be selected. Players who have already enrolled in school forfeit their NCAA eligibility if they opt in to the draft (junior players, on the other hand, can opt in and retain their eligibility).
North American Skaters (College Players Only)
Rank
Player
Pos.
School
9.
Drew Stafford*
F
North Dakota
16.
A.J. Thelen*
D
Michigan State
19.
Wes O'Neill*
D
Notre Dame
21.
Adam Pineault*
F
Boston College
24.
David Booth
F
Michigan State
29.
Grant Lewis
D
Dartmouth
35.
Casey Borer
D
St. Cloud State
44.
Steve Birnstill*
D
Northeastern
56.
Mike Lundin
D
Maine
57.
Brian Ihnacak
F
Brown
58.
Jake Dowell
F
Wisconsin
60.
Kyle Wilson
F
Colgate
63.
Darin Olver
F
Northern Michigan
73.
Jeff Caron*
D
Merrimack
81.
Robbie Earl
F
Wisconsin
85.
Jonathan Sigalet*
D
Bowling Green
93.
Daniel Winnik
F
New Hampshire
96.
T.J. Hensick*
F
Michigan
106.
Kevin Schaeffer
D
Boston University
111.
Matt Christie
F
Miami
115.
Mitch Carefoot
F
Cornell
129.
Rob Jarvis
D
Dartmouth
138.
Keith Johnson
F
Maine
144.
Mike Brown
F
Michigan
146.
Joe Cooper
F
Miami
151.
Jeff Likens
D
Wisconsin
157.
Ryan Sullivan
D
Merrimack
162.
Bobby Selden
F
Northern Michigan
164.
Shawn Mole
D
Yale
177.
Mark Heatley
F
Wisconsin
179.
Matt Hunwick
D
Michigan
185.
Scott Thauwald
F
Colorado College
187.
Luciano Aquino
F
Maine
188.
Olivier Bouchard
F
Union
208.
Bryan McGregor
F
Minnesota Duluth
211.
Michael Bartlett
F
Notre Dame
226.
Tom Zabkowicz
D
Maine
227.
Bryan Cirullo
D
Northeastern
228.
Michael Alexiou
F
Merrimack
234.
Ryan Smyth
F
Colgate
North American Goaltenders (College Players Only)
1.
Alvaro Montoya
G
Michigan
29.
David Brown
G
Notre Dame
30.
Bryce Luker
G
Michigan Tech
* Indicates player would need to "opt-in" to be eligible for 2004 Draft