November 16, 2004
Central Scouting Releases Preliminary Rankings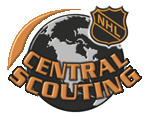 The NHL's Central Scouting Service has released its preliminary rankings of the top 30 skaters and five goaltenders in college hockey who are eligible for the 2005 NHL Entry Draft. The CSS also ranked USHL and high school players, many of whom have already committed to colleges.
In addition to the 40 ranked college players, the Central Scouting Service listed 16 additional players who their scouts have not seen enough to include in the rankings.
Ranked Skaters
Rank
Player
Pos.
School
1.
Dan Bertram
F
Boston College
2.
T.J. Hensick
F
Michigan
3.
Jonathan Sigalet
D
Bowling Green
4.
Nate Davis
F
Miami
5.
Jon Rheault
F
Providence
6.
Steve Birnstill
D
Northeastern
7.
Andrew Thomas
D
Denver
8.
Sasha Pokulok
D
Cornell
9.
Mike Brennan
D
Boston College
10.
Nate Hagemo
D
Minnesota
11.
Jonathan Matsumoto
F
Bowling Green
12.
Blair Yaworski
F
Yale
13.
Evan Rankin
F
Notre Dame
14.
Michael Kostka
D
Massachusetts
15.
Paul Stastny
F
Denver
16.
Peter MacArthur
F
Boston University
17.
Tom Fritsche
F
Ohio State
18.
Jeff Caron
D
Merrimack
19.
Nate Dey
F
St. Cloud State
20.
Paul Szczechura
F
Western Michigan
21.
Andrew Lord
F
Rensselaer
22.
Chris Mueller
F
Michigan State
23.
Jeff Likens
D
Wisconsin
24.
Dylan Cox
F
Providence
25.
P.J. Fenton
F
Massachusetts
26.
Tom May
F
Denver
27.
Bryan Lerg
F
Michigan State
28.
Ryan Maki
F
Harvard
29.
Bryan Ewing
F
Boston University
30.
James Unger
F
Bowling Green
Ranked Goaltenders
1.
Joe Fallon
G
Vermont
2.
Matt Lundin
G
Maine
3.
Jordan Alford
G
Rensselaer
4.
Sean Samuel
G
Dartmouth
5.
Bryce Luker
G
Michigan Tech
Limited Viewing
John Burns
D
Connecticut
Ben Cottreau
F
Mercyhurst
Mark Dekanich
G
Colgate
Matt Fornataro
F
New Hampshire
Sean Garrity
F
St. Cloud State
Matt Greene
F
Boston College
Jack Hillen
D
Colorado College
Rob Jarvis
D
Dartmouth
Mike Lesperance
F
Western Michigan
Todd Perry
D
Boston College
Chris Poli
F
Brown
Mike Radja
F
New Hampshire
Kyle Radke
D
Notre Dame
Brian Salcido
D
Colorado College
Brandon Scero
F
Nebraska-Omaha
Bobby Selden
D
Northern Michigan
USHL 'A' Players (College Commitments Only)
Justin Abdelkader
F
Michigan State
Phil Axtell
F
Michigan Tech
Chris Butler
D
Denver
Tom Gorowsky
F
Wisconsin
Christian Hanson
F
Notre Dame
Nick Kemp
F
Minnesota Duluth
USHL 'B' Players (College Commitments Only)
Zach Bearson
F
Wisconsin
Brock Bradford
F
Boston College
Adam Davis
D
Northern Michigan
Tim Filangieri
D
Boston College
Tim Kennedy
F
Michigan State
Dennis McCauley
F
Northeastern
John McCarthy
F
Boston University
David Meckler
F
Yale
Tim Miller
F
Michigan
Chad Rau
F
Colorado College
Gary Steffes
F
Miami
Garrett Suter
D
Wisconsin
Matt Vokes
F
Brown
USHL 'A' Goaltenders (College Commitments Only)
Jordan Pearce
G
Notre Dame
USHS East 'A' Players (College Commitments Only)
Anthony Aiello
D
Boston College
Pat Cullity
D
Boston University
Benn Ferriero
F
Boston College
Shea Guthrie
F
Clarkson
Brendan Milnamow
D
Union
Keith Yandle
D
New Hampshire
USHS East 'B' Players (College Commitments Only)
Kyle Kucharski
F
Boston College
Hunter Thunel
D
Brown
USHS East 'B' Goaltenders (College Commitments Only)
Jonathan Quick
G
Massachusetts
USHS West 'A' Players (College Commitments Only)
Taylor Chorney
D
North Dakota
Michael Gergen
F
Minnesota Duluth
Jared Hummel
D
St. Cloud State
Brian Lee
D
North Dakota
Matt Niskanen
D
Minnesota Duluth
T.J. Oshie
F
North Dakota
Chris Vande Velde
F
North Dakota