January 16, 2005
Central Scouting Releases Mid-Term Rankings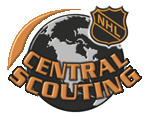 The NHL's Central Scouting Service has released its mid-season rankings of the top players eligible for the 2005 NHL Entry Draft. The rankings list North American and European players separately, as well as separating goalies from skaters (forwards and defensemen).
Five future collegians and one current college player make up six of the top 30 players on the North American skaters list. Jack Johnson, a defenseman headed to Michigan next season, heads all college or college-bound players on the list at fifth among North American skaters. Jack Skille, a forward headed to Wisconsin who plays with Johnson at the USA Hockey National Team Development Program, checks in at No. 9.
Cornell freshman defenseman Sasha Pokulok is the top-rated current college player at No. 30 among North American skaters. Vermont freshman Joe Fallon leads all current college goaltenders at No. 13 among North American goalies.
The North American lists rank 240 skaters and 40 goalies, all playing in the U.S. and Canada. In addition to college players the list features draft-eligible major junior players, as well as a number of college-bound high school, prep and junior players
North American Skaters (College and College-Bound Players Only)
Rank
Player
Pos.
School
5.
Jack Johnson*
D
Michigan
9.
Jack Skille*
F
Wisconsin
11.
Ryan Stoa*
F
Minnesota
16.
Brian Lee*
D
North Dakota
29.
Justin Abdelkader*
F
Michigan State
30.
Sasha Pokulok
D
Cornell
32.
Dan Bertram
F
Boston College
37.
Matt Niskanen*
D
Minnesota Duluth
45.
Nate Hagemo
D
Minnesota
47.
Jason Bailey*
F
Michigan
48.
Tim Kunes*
D
Boston College
52.
Christian Hanson*
F
Notre Dame
53.
Keith Yandle*
D
New Hampshire
57.
Chris Butler*
D
Denver
61.
Colin Greening*
F
Cornell
68.
Chris VandeVelde*
F
North Dakota
70.
Jon Rheault
F
Providence
73.
Nathan Davis
F
Miami
77.
Phil Axtell*
F
Michigan Tech
80.
Benn Ferriero*
F
Boston College
81.
Tom Gorowsky*
F
Wisconsin
82.
Andrew Thomas
D
Denver
83.
Zach MacVoy*
F
Michigan
86.
Jonathan Sigalet
D
Bowling Green
87.
Andrew Cogliano*
F
Michigan
89.
Justin Mercier*
F
Miami
90.
Paul Stastny
F
Denver
92.
Zach Jones*
D
North Dakota
94.
T.J. Hensick
F
Michigan
102.
Kyle Kucharski*
F
Boston College
103.
Matt Connors*
F
Cornell
105.
Tom Fritsche
F
Ohio State
108.
Taylor Chorney*
D
North Dakota
109.
T.J. Oshie*
F
North Dakota
111.
Nick Kemp*
F
Minnesota Duluth
113.
Steve Birnstill
D
Northeastern
125.
Cody Wild*
D
Providence
126.
Tyrell Mason*
D
Clarkson
129.
Zach Bearson*
F
Wisconsin
130.
Matt Duffy*
D
Maine
132.
Mason Raymond*
F
Minnesota Duluth
133.
Mike Brennan
D
Boston College
135.
Tim Miller*
F
Michigan
138.
Andrew Kozek*
F
North Dakota
140.
Jeff Caron
D
Merrimack
142.
Michael Gergen*
F
Minnesota Duluth
143.
Tim Crowder*
F
Michigan State
144.
Jason Lawrence*
F
Boston University
145.
Tim Filangieri*
D
Boston College
146.
Jimmy Fraser*
F
Harvard
153.
Jonathan Matsumoto
F
Bowling Green
156.
Peter Bogdanich*
F
Colgate
158.
Paul Szczechura
F
Western Michigan
163.
Blair Yaworski
D
Yale
165.
Garrett Suter*
D
Wisconsin
175.
Shea Guthrie*
F
Clarkson
179.
Anthony Aiello*
D
Boston College
181.
Pat Cullity*
D
Boston University
184.
Brock Bradford*
F
Boston College
191.
Chad Rau*
F
Colorado College
192.
Ray Kaunisto*
F
Northern Michigan
194.
Jared Hummel*
D
St. Cloud State
195.
Kyle Lawson*
D
Notre Dame
197.
Brandon Gentile*
D
Michigan State
198.
Alec Martinez*
D
Miami
200.
David Meckler*
F
Yale
201.
Michael Kostka
D
Massachusetts
205.
Tim Kennedy*
F
Michigan State
206.
Brendan Milnamow*
D
Union
207.
Mike Stuart*
D
Brown
210.
Chris Mueller
F
Michigan State
211.
Kevin Schmidt*
D
Bowling Green
213.
Nathan Gerbe*
F
Boston College
217.
Steve Silver*
D
Western Michigan
221.
Alex Berry*
F
Massachusetts
230.
Ben Cottreau
F
Mercyhurst
231.
Pat Brosnihan*
F
Yale
232.
Dennis McCauley*
F
Northeastern
233.
Matt Generous*
D
St. Lawrence
235.
Michael Kennedy*
F
Cornell
North American Goaltenders (College and College-Bound Players Only)
7.
Ben Bishop*
G
Maine
8.
Jeff Frazee*
G
Minnesota
9.
Jordan Pearce*
G
Notre Dame
13.
Joe Fallon
G
Vermont
14.
Jonathan Quick*
G
Massachusetts
15.
Sean Samuel
G
Dartmouth
18.
Drew O'Connell*
G
Colorado College
30.
Michael-Lee Teslak*
G
Michigan Tech
* Indicates player has committed to attend college