July 2, 2004
Crimson Call On Donato
NHL veteran takes Harvard head coaching job
By Nate Ewell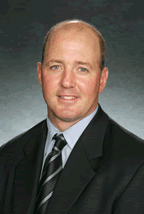 Ted Donato
While his Harvard classmates pursued careers in business, law or medicine, Ted Donato followed the less common path to play in the NHL.
Now, with his NHL career winding down and the possibility of a lockout looming, that path has led Donato back to school. The Crimson introduced Donato, a former team captain and member of the school's 1989 national championship team, as their new head coach Friday morning in Cambridge.
"This is a great day for me," Donato said. "I'm thrilled to be back at Harvard. Obviously this is a special place for me. I embrace the history and tradition of Harvard Hockey and the quality of people who are involved with the program.
"I feel that this is the greatest combination of superior academics and competitive athletics in all of college sports, and that is a tradition that I hope to carry on," he added. "I look forward to working with a number of outstanding people, and I'm very excited about the future of this program."
Athletic director Bob Scalise felt like Donato was a perfect fit.
"In hiring Ted Donato, we're confident that we've added an enthusiastic head coach who is prepared to build upon our success of the recent past," said Scalise. "He knows firsthand what it takes to be a successful Harvard student and hockey player, and I fully expect that with his leadership we will have great success with our program in the future.
"We looked carefully at what we thought the principles of the next Harvard hockey coach should embody," said Scalise. "We decided that we wanted someone who would first give us credibility in the hockey community; secondly, someone who would embrace Harvard's philosophies in academics and athletics; and lastly, someone who can serve as a role model to our current student-athletes and to the young people of New England."
Donato and former Boston College assistant coach Ron Rolston were the leading candidates for the head coaching position, which became available June 16 when Mark Mazzoleni stepped down to become the head coach of the USHL's Green Bay Gamblers. On Thursday Rolston accepted a head coaching position with the USA Hockey National Team Development Program. Rolston's brother, Brian, was a teammate of Donato's last year on the Bruins.
Back to School
Ted Donato is the latest in a line of former NHL players to return to their alma maters as the head coach, listed here with their record at school and their NHL statistics:
Red Berenson, Michigan
533-255-55
987 games, 658 points (MTL, NYR, DET, STL)
Jim Culhane, Western Mich.
86-92-21
6 games, 1 point (HFD)
Ted Donato, Harvard
0-0-0
796 games, 347 points (BOS, NYI, OTT, ANA, DAL, LA, STL, NYR)
Mike Eaves, Wisconsin
35-36-12
324 games, 226 points (MIN, CGY)
Marshall Johnston, Denver
89-63-7
251 games, 66 points (MIN, CALIF)
Brian McCutcheon, Cornell
108-105-21
37 games, 4 points (DET)
Jim Nahrgang, Mich. Tech
56-62-3
57 games, 17 points (DET)
Dave Poulin, Notre Dame
134-170-44
724 games, 530 points (PHI, BOS, WSH)
Tim Watters, Mich. Tech
39-116-9
741 games, 177 points (WPG, LA)
Ken Yackel, Minnesota
7-17-0
6 games, 0 points (BOS)
Donato is the latest in a series of former NHL players to return to their alma maters as the head coach (see chart). Red Berenson has enjoyed tremendous success in leading Michigan, while Tim Watters never got Michigan Tech's program back on track. Others, like Dave Poulin, who shared his experiences with Inside College Hockey last week, have had mixed results.
Donato's NHL career spanned 13 seasons, mostly with the Bruins, but he skated for eight NHL teams overall. He enjoyed three 20-goal campaigns. He was an effective defensive forward for Boston this past season, despite spending part of the year in the AHL, and likely would have been in the mix for a roster spot in 2004-05, should the season take place.
Donato was paid at a rate of $450,000 for his time in the NHL last season, and will likely see his pay cut by more than three-quarters with the move to his alma mater.
Bruins head coach Mike Sullivan, a Boston University alumnus, was in attendance at Donato's introductory press conference in support of his former player.
In four years as a player at Harvard, Donato posted 50 goals and 144 points in 66 games. The team won the national title his sophomore season and Donato was named the Most Outstanding Player in the NCAA Tournament. As a senior he was the captain and a first-team All-ECAC selection.
He takes over a team that has reached the NCAA Tournament in each of the last three seasons, twice on the strength of the ECAC Tournament title. Last year's team was the preseason favorite to win the ECAC and finish in the top 10 in the nation, but the Crimson finished sixth in the league (18-15-3 overall).
Donato's return should energize the Harvard alumni base. While he may not have followed the traditional business, law or medicine path of most Harvard graduates, Donato is still clearly one of them.