August 24, 2004
Quinnipiac to Join ECAC in 2005-06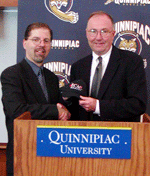 ECAC acting commissioner Steve Hagwell and Quinnipiac athletic director Jack McDonald at Tuesday's announcement.
By INCH Staff
The ECAC made its future membership plans official on Tuesday, introducing Quinnipiac as the newest league school to begin conference play in 2005-06.
The Bobcats will replace Vermont, which will join Hockey East after the upcoming season. Admitting Quinnipiac maintains ECAC membership at 12 schools and allows the ECAC to continue using its travel partner system of scheduling. It was not yet announced which school will be Quinnipiac's travel partner.
"The ECAC Hockey League is extremely pleased to extend membership to Quinnipiac University effective with the 2005-06 season," acting commissioner Steve Hagwell said in a statement. "We are confident that Quinnipiac will be a tremendous addition to the league, and welcome it to the league family.
Conference Shuffle
The most recent movement in the six Division I college hockey conferences:
Atlantic Hockey: no additions, loses Quinnipiac (after 2004-05)
CCHA: added Nebraska-Omaha (1999-2000), lost Ill.-Chicago (1995-96)
CHA: added Robert Morris (2004-05), lost Findlay (after 2003-04)
ECAC: adds Quinnipiac (2005-06), loses Vermont (after 2004-05)
HEA: adds Vermont (2005-06), no losses
WCHA: added MSU-Mankato (1999-2000), lost Northern Michigan (after 1996-97)
"During our very thorough membership review process, it became evident that Quinnipiac is a great fit for our League," Hagwell added. "The commitment to excellence and vision expressed by President John Lahey and Director of Athletics Jack McDonald, make it abundantly clear that Quinnipiac is a program with a tremendous future."
Quinnipiac, Holy Cross, Mercyhurst, Niagara and Sacred Heart had all applied for ECAC membership. While the other four schools were informed that they were out of the running several weeks ago, Quinnipiac's status remained in limbo. Sources told Inside College Hockey that the holdup was the result of the members of the ECAC Hockey League Policy Committee being away on vacation, and, thus, not being available to take the necessary vote. That group, made up of non-athletics administrators, met last Friday and approved the recommendation of athletics administrators to admit Quinnipiac.
"Quinnipiac is honored to accept the ECAC Hockey League invitation and we look forward to competing for ECAC hockey championships beginning in 2005-06," Quinnipiac Athletic Director Jack McDonald said. "Being invited to play ice hockey – one of our region's most popular sports – with some of the most prestigious academic institutions in the world is an exciting development for Quinnipiac University."
The loss of Vermont and addition of Quinnipiac marks the first change in ECAC membership since Union moved to Division I and joined the conference in 1991-92. Vermont is just the second school, joining Army, to leave the ECAC since Hockey East was formed in 1984-85.
Quinnipiac has been among the flagship programs of Atlantic Hockey and, before that, the MAAC. The Bobcats won the MAAC playoff title in 2002 and appeared in the NCAA Tournament. They also won the MAAC's first two regular-season championships, in 1998-99 and '99-00, and have never finished lower than third in the MAAC or Atlantic Hockey standings. Plagued by injuries in 2003-04, head coach Rand Pecknold's Bobcats finished 15-14-6 overall (12-6-6 in Atlantic Hockey).
Losing Quinnipiac leaves Atlantic Hockey with eight teams. That situation isn't ideal for a league looking to grow, but the ramifications aren't as dire as they would have been a few months ago.
Under old NCAA rules, Atlantic Hockey would have lost its automatic bid to the NCAA Tournament because it would have had fewer than six core Division I teams (Mercyhurst, Bentley and American International don't compete in Division 1 in other sports). But the NCAA amended the rule this year to allow a conference with at least six teams that had played together for two years to retain its auto bid. Thus, the Atlantic Hockey auto bid is not in jeopardy.
Atlantic Hockey commissioner Bob DeGregorio wished Quinnipiac well in a statement.
"While we understand that the move was made in the best interest of the university," he said, "we shall miss the contributions [Quinnipiac] has made to Atlantic Hockey, and we wish Quinnipiac the best of luck when it becomes a member of the ECAC.
"Quinnipiac was one of the driving forces for the formation of Atlantic Hockey, and the success of its ice hockey program elevated the stature of the eight other institutions in our league. Jack McDonald, Athletic Director at Quinnipiac, has done a great job for our organization as chair of the Executive Committee. His leadership and participation will be greatly missed."