August 9, 2004
The Homecoming's Over: Fournier Leaves UAA
By Jess Myers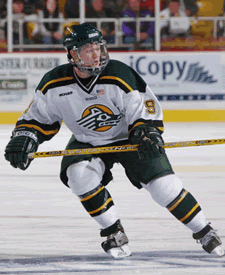 Chris Fournier finished second on the Seawolves in scoring last season with 32 points in 38 games.
Alaska Anchorage fans attending the Seawolves' season opener versus Canisius on Oct. 15 will surely want to grab a copy of the program. The names on the backs of the home team's sweaters might be a bit bewildering and unfamiliar at first.
The Seawolves, who ended the 2003-04 season on a high note, advancing to the WCHA Final Five for the first time in school history after a first-round playoff upset at Wisconsin, have plenty of holes to fill. The most recent void in the lineup comes from the fact that Anchorage native Chris Fournier has left school and will not return to the team. Fournier, who led the Seawolves with 18 assists last season, was ruled academically ineligible and has left UAA.
"Chris was ineligible after the spring semester," head coach John Hill said. "He needed to take care of some things over the summer and didn't do them. I don't think school was a priority for him.
"He has left the program and we wish him the best," he added.
Fournier's two seasons in the WCHA were not without highs and lows. He was the Alaska high school player of the year as a freshman, and was named the national junior player of the year before committing to North Dakota. Fournier only lasted one season in Grand Forks, transferring to his hometown college after a marginal freshman season during which he posted 13 points in 28 games.

After sitting out the 2002-03 season, Fournier's college hockey fortunes took a decided upward turn last season, when he emerged as one of Alaska Anchorage's better forwards, and seemed happy to be playing in his home state again, while expressing some bitterness toward North Dakota. The feeling, apparently, was mutual, and Fournier was met with a chorus of boos at Ralph Engelstad Arena last January when he scored a goal for the Seawolves in their 6-2 loss to the Sioux.
Fournier's departure leaves the Seawolves without their top three scorers from last season (leading scorer Curtis Glencross signed with the Anaheim Mighty Ducks shortly after the season ended, and Dallas Steward was a senior last season). Making matters more of a challenge for coach John Hill, both of the Seawolves' goalies from last season, Chris King and Kevin Reiter, were seniors. The netminding duties will likely fall to either freshman Nathan Lawson or junior John DeCaro – a transfer from Ferris State who practiced with the team all of last season.