April 12, 2005
Gwozdecky Wins Spencer Penrose Award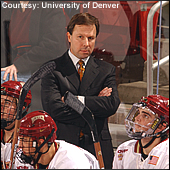 George Gwozdecky was also named the INCH Coach of the Year.
George Gwozdecky, less than a week after leading Denver to a second consecutive national championship, has been named the Spencer Penrose Award winner as the Division I coach of the year.
Gwozdecky, who was the WCHA and INCH Coach of the Year, has now won two Spencer Penrose Awards, having earned the honor in 1993 as the head coach at Miami.
He led the Pioneers to a 32-9-2 overall record, capturing a share of the MacNaughton Cup as the WCHA regular-season champions and the Broadmoor Trophy as the WCHA playoff champions in addition to the national title.
The Spencer Penrose Award is named in memory of the Colorado Springs benefactor who built the Broadmoor Hotel Complex, site of the first 10 NCAA championship hockey tournaments. It will be presented at the AHCA Coach of the Year Banquet in Naples, Florida, on April 23.