June 9, 2005
Hill to Leave UAA for Minnesota Assistant Position
Inside College Hockey Staff Report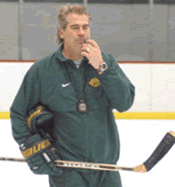 John Hill leaves UAA after four seasons.
John Hill has resigned from his head coaching position at Alaska Anchorage to join Don Lucia's Minnesota staff as an assistant coach, the Gophers announced Friday.
Hill was Lucia's assistant for six seasons at Minnesota and Colorado College before taking his job with the Seawolves four years ago. Hill's decision comes just days after Paul Pooley made a similar move, resigning as head coach at Providence to become the associate head coach at Notre Dame under his old boss, Jeff Jackson.
The opening at Alaska Anchorage will be the first head coaching position open in the WCHA this offseason. Hill's move was made possible by Bob Motzko's departure from Minnesota to take an assistant coaching position at St. Cloud State.
Hill had confirmed to Doyle Woody of the Anchorage Daily News last week that he had spoken to Lucia about the possibility of returning to the Gophers.
"Obviously, there's more than just a professional relationship [between him and Lucia]," Hill told Woody. "We're very close friends, and I'm sure we'll talk again.
"I'm very fond of our staff and our players at UAA. I think the program is headed in the right direction, and to leave the program would take something special."
Hill went 39-89-21 in four years at Alaska Anchorage. He withstood a 1-28-7 season in 2002-03, his second year with the Seawolves, and rebounded with a 14-23-3 campaign the next year. That team upset Wisconsin in the WCHA playoffs – the school's first WCHA playoff game or series victory – and made the Seawolves' first trip to the WCHA Final Five.
According to Woody's report, Hill had two years remaining on a three-year contract extension he signed in 2004. He made $91,000 in base salary last season and is scheduled to make $94,000 in 2005-06.
A number of names have already surfaced as candidates for the UAA position once Hill's move becomes official, with speculation focusing on assistant coaches in the WCHA or CCHA.