May 6, 2005
Jackson Takes Over at Notre Dame
By Mike Eidelbes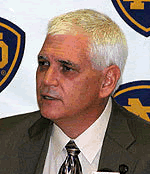 Notre Dame introduced its new head coach, Jeff Jackson, on Friday.
Nearly a decade after leaving the college ranks with two NCAA championship victories, former Lake Superior State coach Jeff Jackson is returning to the CCHA as the new head coach at Notre Dame.
Notre Dame director of athletics Kevin White made the announcement Friday morning. Jackson, who met with the media in South Bend that afternoon, replaces Dave Poulin, who three weeks ago resigned after 10 years behind the Fighting Irish bench to take another position within the athletic department.
"This is the University of Notre Dame and that in itself makes it special," said Jackson. "I think that the potential is going to be based on the quality of individuals that come to this school character wise and the type of players that we bring in here. But my immediate objective is to take the players that are here and accelerate the transition and convince the players that are here that they fit into the mission."
Jackson, who has spent the past two seasons as a New York Islanders assistant, cut his coaching teeth in Sault Ste. Marie, first as an assistant for four years under current LSSU coach Frank Anzalone, helping the Lakers to an NCAA crown in 1988. When Anzalone left the Soo for the professional ranks prior to the 1990-91 campaign, Jackson assumed head coaching duties and piloted LSSU to national championships in 1992 and 1994, six straight NCAA Tournament appearances, four CCHA playoff titles and a pair of CCHA regular-season championships.
In six seasons at Lake Superior State, Jackson amassed a 182-52-25 record. His .751 winning percentage is tops in Division I history among coaches with at least 200 career decisions.
Jackson left the Lakers following the 1996-97 season to serve as head coach of the fledging U.S. National Team Development Program in Ann Arbor, Mich., where he guided the U.S. entry in the 1997 World Junior Championship to a silver medal – the best showing for an American team at the WJC until the U.S. won the gold in 2004.
Prior to joining the Islanders organization, Jackson spent three seasons as head coach of the Ontario Hockey League's Guelph Storm where he compiled an 87-67-24-4 record.