February 20, 2005
Kessel Narrows Field to Four
By Nate Ewell and Jess Myers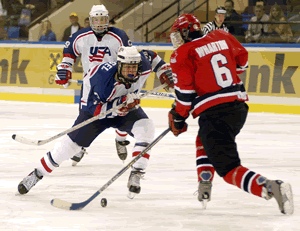 Kessel is North America's most coveted recruit – for both colleges and the OHL.
Phil Kessel has narrowed his list of possible college destinations to four, but the OHL isn't backing down in its pursuit of the the nation's most coveted recruit.
Boston College, Kessel said Saturday, is "not really in the mix any more," leaving Boston University, Michigan, Minnesota and Wisconsin as his top four choices.
Kessel was in Minneapolis with the U.S. Under-18 Team to face the Gophers, and he posted two goals and two assists in a 7-5 loss.
Meanwhile, the Saginaw News ran two stories on Kessel in Sunday's edition, as the OHL's Saginaw Spirit continued to push for Kessel's services. The Spirit, whose general manager/coach is former college hockey player and coach Bob Mancini, selected Kessel in the fourth round of the 2003 OHL draft.
The paper admitted that the Spirit's chances with Kessel were remote – the recruit told Inside College Hockey last summer "I'm going to go to college" and hasn't altered that thinking publicly – but Mancini isn't giving up.
"Is college hockey better for Phil than our league?" Mancini said to the News. "It is a bit naive of the family to think that (he'll dominate the OHL). He'd have to do it over a 68-game schedule with no open ice like he'll see in college – there is no (center) red line (in the NCAA). I think just the opposite will happen if he plays in college. He'll dominate more.
"Plus, he'll play 36 games, tops, in college against less-skilled players overall. This argument is not about what's better, the NCAA or major junior. It's always been for me about what's the best for Phil Kessel."
It's safe to say that Red Berenson, Mike Eaves, Don Lucia and Jack Parker fall on the other side of that argument.
With his team's trip to Minneapolis, Kessel has now visited all four schools he's considering, at least unofficially. He's made official visits to Wisconsin and Minnesota, played at BU in January, and may make an official visit to Michigan this weekend, with the Ann Arbor-based Under-18 Team traveling across town to play at Yost Saturday night.
Kessel doesn't have a precise timetable for his decision, but doesn't want to wait too long.
"It's coming up soon," he said. "I really haven't decided, but I can't keep the colleges waiting. I still don't know where I want to go. It's a lot harder to decide than I thought it would be."