June 6, 2005; UPDATED: June 9, 2005
Wisconsin, Ohio State Set For Lambeau Game
By Mike Eidelbes
Wisconsin, Ohio State and Green Bay Packers officials announced their plans for the U.S. Hockey Hall of Fame Game to be played at Lambeau Field in February.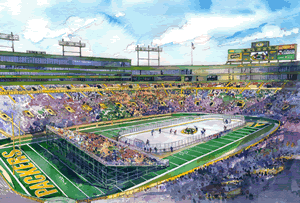 An artist's rendering depicts the famous Frozen Tundra – sans snow – set up for February's hockey game.
The contest, slated for 3 p.m. CT on Feb. 11, will be the second outdoor game in recent college hockey history. Michigan and Michigan State skated to a 3-3 draw in front of 74,554 fans – the most to ever see a hockey game – at Spartan Stadium in East Lansing to start the 2001-02 season.
Lambeau Field, which holds 72,601 for Packers football, would be configured to accommodate approximately 38,000 to 40,000 fans. The Ohio State-Wisconsin game is being held in conjunction with the Packers Fan Fest, the football organization's off-season celebration.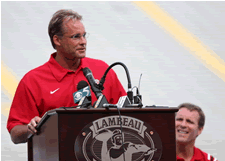 Ohio State head coach John Markell addresses the media Wednesday with Wisconsin's Mike Eaves looking on. (Photo by Larry Radloff)
"This is going to be an event, not just a hockey game," Wisconsin coach Mike Eaves said. "It will be something that the players, coaching staff and everyone involved will remember for a lifetime. It will be something for these young men to share with their kids, that they played in a football stadium in the middle of February in Green Bay."
Ohio State was targeted as a participant after the Badgers' efforts to land a WCHA foe were fruitless. The Buckeyes had to juggle their schedule in order to take part in the Lambeau game by shifting a league series against Michigan State to a different weekend.
"This game will bring a lot of recognition to college hockey," said Buckeye head coach John Markell. "Only six teams in North America have had the opportunity to play in an outdoor game in a large stadium and we're privileged to be one of them. Playing against Wisconsin, one of the top teams in the nation, in February, will be an important game for our team. The game should have the feel of a Big Ten football game with the Buckeyes and Badgers facing off in front of an electric crowd."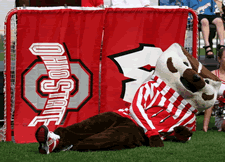 Bucky is not expected to play goal for the Badgers on Feb. 11. (Photo by Larry Radloff)
Playing outdoors will create a unique environment
"I grew up playing hockey outside," said Eaves. "There is a unique sound of the skates on the ice, the puck off the boards when you play outside, it is something to hear."
While excited about playing in such a unique setting, the idea did cause some concern for the Badgers' Adam Burish.
"This is a very special place to play, one of the most historic stadiums ever," Burish said. "To put a sheet of ice over this great field is almost a crime."
There are other hockey games in non-traditional venues on the horizon. Boston College and Boston University are expected to play a doubleheader against non-conference opponents at Fenway Park during the 2006-07 season, the Metrodome in Minneapolis is a potential site for the 2007 Hockey Hall of Fame Game pitting Minnesota against Minnesota-Duluth, and Detroit's Ford Field is one of six finalists to host the Frozen Four in either 2010 or 2011.
Special thanks to Larry Radloff for his assistance with this report.