July 27, 2005
Michigan to Manhattan
Montoya signs three-year deal with Rangers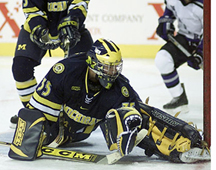 Al Montoya was 30-7-5 for Michigan last season with a 2.52 GAA and a .895 save pct.
By Mike Eidelbes
Players leaving college for the pro ranks before their eligibility runs out has become de rigueur at Michigan. That doesn't make it any easier to swallow for Wolverines coach Red Berenson, however.
The latest to flee from Ann Arbor without taking part in Senior Night ceremonies is goaltender Al Montoya, who signed a three-year contract with the New York Rangers Wednesday. Terms of the deal were not disclosed, but the pact is believed to be near the rookie maximum for 2004 draft picks (roughly $984,000 annually).
"I understand where Al is coming from and I understand where the Rangers are coming from, but I think it's premature," Berenson said. "I'm looking at more than just the player. I'm looking at the person, the student and the player."
Montoya, whom the Rangers selected with the sixth overall pick in last year's entry draft, posted a 30-7-5 mark last season, matching his career high for wins and recording his best winning percentage as a Wolverine. However, sharp movements in Montoya's goals-against average (2.52, up from 2.23 as a sophomore) and save percentage (.895, down from .917 the previous year) were troubling. More than a few observers wondered about the consistency of the netminder who captured the attention of NHL scouts after leading the U.S. to the gold medal at the 2004 World Junior Championships.
"He would've had another year under his belt to mature and be even more ready for pro hockey," Berenson said. "He would've had the chance to be a top goalie in college hockey and maybe a Hobey Baker finalist, and would've had a last shot at winning a [national] championship at Michigan. Certainly, he would've graduated on time."
Instead, Montoya will probably serve an apprenticeship with the Blueshirts' American Hockey League affiliate in Hartford. The organization's top prospect, three-time Swedish Elite League goalie of the year Henrik Lundqvist, is expected to sign and have the inside track on earning the Rangers' starting job. Jason Labarbera, who has complied a 65-25-11 record in Hartford over the last two seasons, is also in the mix.
"The competition is great," Montoya told reporters via teleconference. "No matter where you go or where you are, you have to beat the best to be the best. I think the competition is going to make me a better player."
Montoya claimed he made the decision to turn pro Tuesday night. Berenson, however, said the writing on the wall shortly after the Wolverines season ended with a loss to Colorado College in the NCAA Midwest Regional final.
"He wasn't ready to stand up and say he was coming back," Berenson said. "If you leave yourself open and give the pros a chance to work on you all summer, you're probably ready to leave."
Michigan's returning goalies, senior Noah Ruden and junior Mike Mayhew, have less than nine games of experience between them, although Ruden played well during last season's Great Lakes Invitational while Montoya was at the 2005 World Junior Championships. Expected to join the battle for the starting job will be a pair of freshmen from the United States Hockey League – 17-year-old freshman Billy Sauer, who played for Chicago last year, and Lincoln netminder Steve Jakiel.
The Rangers, meanwhile, aren't finished signing college underclassmen to pro contracts. The team is expected to ink its first-round selection in the 2003 draft, Dartmouth forward Hugh Jessiman, to a deal soon.