February 19, 2004
Coaches Ask NCAA to Revisit Opt-In Rule
By Mike Eidelbes
Inside College Hockey.com Exclusive
A group of college coaches has presented the NCAA with information in the hopes that it will revisit its position on the opt-in rule, Inside College Hockey has learned.
The rule, enacted in 1995, requires prospects born between Sept. 16, 1985, and Sept. 15, 1986 to declare their intentions by May 1 in order to enter the pool for the upcoming National Hockey League Entry Draft. College players who opt in forfeit the remainder of their eligibility.
"What we're explaining [to the NCAA] is that these kids want to stay in school," said Notre Dame coach Dave Poulin, who spearheaded the effort. "It's about the ability to choose."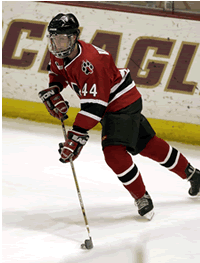 Northeastern's Steve Birnstill is one of 12 college players who could opt in to the 2004 NHL Draft.
Poulin – who has an opt-in prospect on his roster in defenseman Wes O'Neill – and other college coaches with players who can declare their eligibility for the 2004 draft wrote letters to NCAA Director of Agent, Gambling and Amateurism Bill Saum stating their position on the opt-in rule. Those letters were delivered to the organization's headquarters in Indianapolis earlier this week.
The interpretation of the opt-in rule added a new wrinkle last year, when the NCAA ruled that junior players could opt in and retain their college eligibility as long as they hadn't enrolled in school yet. Meanwhile, players of the same age who are already in college would have to forfeit their eligibility to opt in.
"It's a tough choice for all these players, and it's one they shouldn't have to make," said Boston College's Jerry York, who coaches an opt-in candidate in freshman forward Adam Pineault. "If Adam had played at the national program for another year, he could get drafted and still be in school next year. Now he's going to have a tough decision to make."
According to Poulin, who met with Saum recently, the opt-in rule can be modified on a short-term basis by an NCAA Management Council sub-committee. Any long-term change to the policy would have to proceed though the NCAA's standard legislative path.
"It's not a controversial situation at all," Poulin said. "[The NCAA is] very understanding of it."
There are 12 college players who could opt in to the 2004 NHL Draft, including the top four collegiate prospects in the Central Scouting Services Mid-Term Rankings – North Dakota's Drew Stafford, Michigan State's A.J. Thelen, O'Neill and Pineault.
The only player to forgo his remaining college eligibility by opting in to the NHL Draft is former Boston University goaltender Rick DiPietro, who left the Terriers after his freshman season and was selected by the New York Islanders with the first overall pick in 2000. Proponents of amending the opt-in rule point to DiPietro's struggle for consistency in the professional ranks to support their position.
"When Ricky DiPietro had to make that choice, I thought it was really unfortunate," York said. "It was unfortunate for him, and probably for the Islanders, too – they probably would have liked to have had him back at school for another year."
2004 NCAA Opt-In Candidates

Player
Team

Pos.

Sean Bentovoglio
Niagara

F

Steve Birnstill
Northeastern

D

Jeff Caron
Merrimack

D

Matt Cohen
Yale

D

Steve Hartley
Miami

G

T.J. Hensick
Michigan

F

Wes O'Neill
Notre Dame

D

Adam Pineault
Boston College

F

Jonathan Sigalet
Bowling Green

D

Drew Stafford
North Dakota

F

Paul Szczechera
Western Michigan

F

A.J. Thelen
Michigan State

D
As college coaches continue to spot more potential recruits at earlier ages, the possible effects of the rule will grow at a similar rate. Michigan goaltender Al Montoya could've opted into the 2003 NHL Entry Draft and likely would've been chosen in the first round. He chose to stay in Ann Arbor, however, and is a lock to be taken in the opening round of this year's draft.
"Kids are being recruited when they're 14 years old," Montoya said. "A player that accelerates and is ready for the next level at an early age should have the option to go into the draft."
Modifying the opt-in rule helps NHL clubs in two ways. One, it would allow young prospects to improve and mature in the college environment where they can play against players who are up to seven years older, spend more time sharpening skills in practice and take part in strength and conditioning programs. Second – and perhaps most important – letting younger players find their games in college is far more cost effective than drafting a prospect and watching him struggle in the professional ranks.
"I've never had a drafted player leave early," Poulin said. "If [the team that drafted them] is pleased with the way a player is developing, they're apt to leave him there."

Poulin says he expects a ruling on the matter as soon as next week.

Additional reporting by Nate Ewell.