March 29, 2004
Parise Come, Parise Go
North Dakota star signs with NHL's Devils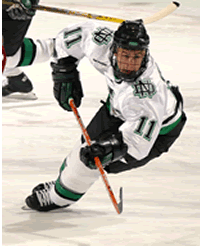 Zach Parise was a Hobey Baker finalist each of his two seasons with the Fighting Sioux. (Photo by UND Athletics Photographer Scott Gaddini)
North Dakota sophomore center Zach Parise signed with the NHL's New Jersey Devils on Monday, forgoing his final two years of collegiate eligibility. He could play for the Devils as early as Tuesday night against the New York Rangers, and gives the defending Stanley Cup champions some added offensive firepower headed into the Stanley Cup Playoffs.
The news comes two days after Parise and North Dakota's season ended with a surprising 1-0 loss to Denver in the NCAA West Regional Final. The Sioux, ranked No. 1 in the nation for much of the year, were led by their two Hobey Baker finalists, Parise and junior Brandon Bochenski.
Parise finished second on the team in scoring this year, trailing only Bochenski, with 55 points in 37 games. He posted 116 points in 76 games during his two-year college career and was a finalist for the Hobey Baker Award each season. A first-team All-WCHA selection, he is considered a solid contender for the honor this season, which will be announced April 9 in Boston.
The Devils traded up to select Parise with the 17th choice in the NHL Entry Draft last June. His stock continued to rise with an impressive showing at this winter's World Junior Championship, where he led the tournament in scoring and guided the U.S. to its first gold medal in the event.
The 5-foot-11, 180-pound Parise is a native of Faribault, Minn., and the son of J.P. Parise, who played 13 seasons in the NHL. Zach's older brother, Jordan, was a freshman goaltender for the Sioux this season.
Parise becomes the fifth underclassman to sign a professional contract this spring. Alaska Anchorage's Curtis Glencross (Anaheim), Alaska Fairbanks' Aaron Voros (New Jersey), Massachusetts' Greg Mauldin (Columbus) and Yale's Joe Callahan (Phoenix) had already left college to sign with NHL teams.