December 11, 2004
Sigalet: I Have MS
By Mike Eidelbes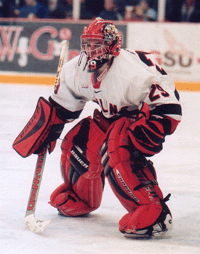 Sigalet was a first team All-CCHA selection in 2003-04.
Bowling Green senior Jordan Sigalet, one of the nation's top goaltenders, announced Saturday that he has multiple sclerosis.
"After discussing this with my family and giving it much thought, I have decided it is time to make public that I suffer from multiple sclerosis," Sigalet said in a prepared statement. "By doing this I hope to somehow help others that have this disease and possibly learn more myself. The support from my family, teammates, and coaches over the past nine months has been awesome. I can't thank them enough."
The Surrey, B.C., native and the 2003-04 All-CCHA first team goaltender was diagnosed with multiple sclerosis in March. Sigalet has missed three games due to complications from MS – the Falcons' last game of the 2003-04 regular season at Western Michigan and home contests this month against Michigan State (Dec. 4) and Michigan (Dec. 11).
What is MS?
According to WebMD, multiple sclerosis affects about 400,000 Americans. At least one professional athlete – former major league relief pitcher Stan Belinda – competed after learning he had MS | More from WebMD
"MS is an inflammatory disease of the central nervous system that can affect the brain and the spinal cord," said Bowling Green team physician Dr. Tom Wojciechowski, who has been involved in Sigalet's treatment since he learned he had the disease. "Symptoms include numbness involving the body, as well as effects on one's vision, muscles and reflexes."
Sigalet, who was chosen by the Boston Bruins in the 2001 NHL Entry Draft, has been a workhorse in goal for the Falcons. The nation's leader in saves last season (1,140 in 37 starts), he's Bowling Green's career leader in save percentage (currently at .915) and ranks second in career goals against average (3.00). This year, Sigalet is 8-4-2 with a 2.89 GAA and a .916 save percentage as BGSU is off to its best start in nine seasons. His brother, Jonathon, is a sophomore defenseman for the Falcons.
"What Jordan has exhibited over the past nine months, both physically and mentally, is nothing short of extraordinary," said Bowling Green coach Scott Paluch. "His ability to deal with his disease and perform at the high level he has is unbelievable."
Sigalet is scheduled to meet with the media at a Monday afternoon press conference. The Falcons, who were swept by Michigan in a home-and-home series this weekend, are idle until Dec. 29-30 when they travel to Hanover, N.H., to take part in the Ledyard Bank Classic.