March 6, 2005
MSU Dismisses Thelen from Team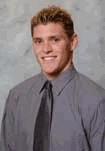 A.J. Thelen
Michigan State defenseman A.J. Thelen, who struggled through a difficult sophomore year after dazzling rookie season, has been dismissed from the Spartan team. Head coach Rick Comley announced the dismissal in a press release Sunday night.
"A.J. did not meet the expectations for a student-athlete in the ice hockey program at MSU," said Comley. "It was in the program's best interest to dismiss him from the team immediately. Despite parting at this time, I certainly wish A.J. well in his hockey career."
Thelen was a first-round pick of the Minnesota Wild (12th overall) in last June's NHL Draft after a freshman season in which he was a first-team All-CCHA and second-team All-America selection. A Savage, Minn., native, Thelen had 11-18—29 on the year.
As a sophomore, however, he struggled out of the gate. After what scouts told Inside College Hockey was a sluggish performance at USA Hockey's National Junior Team Evaluation Camp, Thelen never seemed to live up to his old self . He had no goals and 11 assists through 33 games.
He was a healthy scratch in both Michigan State games this weekend, a series sweep of Notre Dame.
Neil Koepke of the Lansing State Journal caught up with Brian Lawton, Thelen's family advisor.
"A.J. is really disappointed and we're not happy about the situation," Lawton told Koepke. "For some reason, the MSU coaching staff was of the understanding at the start of training camp that A.J. did not want to be there. That was not true. He was battling that all year."
Michigan State indicated that Thelen would retain his scholarship as long as he was in school and academically eligible. While he cannot sign with the Wild at the moment due to the NHL lockout, he could sign a minor-league contract or join the major junior ranks. His WHL rights are held by the Prince Albert Raiders.