July 10, 2005
Sweatt Brothers, 11 Former Collegians Chase Inline Gold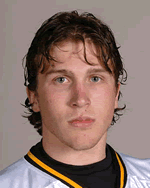 Lee Sweatt
Colorado College defenseman Lee Sweatt and 11 former college players are among the 16 players on the USA Hockey Inline National Team competing this week at the Inline Hockey World Championship in Kuopio, Finland. The U.S. is the defending gold medalist in the event.
Joining Sweatt on the team is his younger brother, Billy, a forward with the U.S. National Team Development Program who has committed to Colorado College for the 2006-07 season.
The former college players on the roster include:
G: Jeff Reynaert (Western Michigan)
D: Ernie Hartlieb (Miami)
D: Derek Kern (Oswego State)
D: Troy Milam (Ferris State)
D: Doug Nolan (UMass Lowell)
D: Geno Parrish (St. Cloud State)
F: Jason Deskins (Miami)
F: Jeff Giuliano (Boston College)
F: Brad Parsons (Princeton)
F: Chris Peterson (Lake Superior State)
F: Mike Sylvia (Boston University)
The U.S. schedule got underway Sunday with a 5-1 win over Slovenia.
Team USA's Schedule
July 10: U.S. 5, Slovenia 1
July 11: U.S. 8, Slovakia 3
July 12: U.S. 6, Germany 2
July 14: U.S. 12, Austria 2
July 15: Sweden 6, U.S. 5
July 16: U.S. 6, Czech Republic 0 (Bronze Medal)