September 3, 2004
Vanek Signs with Buffalo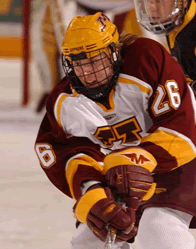 Thomas Vanek was the Inside College Hockey Rookie of the Year in 2003 while leading Minnesota to a national title.
By Nate Ewell and Jess Myers
Thomas Vanek, the fifth overall choice in the 2003 NHL Draft, has decided to forgo his final two years of eligibility at Minnesota and sign with the Buffalo Sabres.
Vanek called head coach Don Lucia with the news Thursday night.
"We're happy for Thomas," Lucia told Inside College Hockey Friday morning. "He worked very hard to put himself in this position."
The decision ends Vanek's college career after two years of often scintillating – but occasionally frustrating – play. He had the talent to single-handedly dominate games, as he did over the Frozen Four weekend in 2003, leading Minnesota to its second straight national champoinship and earning NCAA Tournament MVP honors. But opposing coaches and scouts often marveled at his tendency to disappear for long stretches.
Regardless of his drawbacks, Vanek's loss is a significant one for the Gophers, who have already seen defensemen Keith Ballard and Jake Taylor depart for the professional ranks this summer. In all, Minnesota loses its top four point-scorers (Vanek, Ballard, and the graduated Troy Riddle and Matt Koalska) and its tpo four goal scorers (Vanek, Riddle, Koalska and Grant Potulny).
Related Story
The Awesome Austrian
College hockey fans – especially Gopher fans – won't soon forget Vanek's heroics in Buffalo.
"It's a big loss for us, but we're thankful for the great impact Thomas made on our program," Lucia said. "We wouldn't have won a Frozen Four without him.
"We knew that it was a situation where if the numbers were right, he'd sign, and he called yesterday to tell me that the numbers were right."
The Sabres were understandably excited about the addition.
"That's great," said Sabres center Chris Drury, in Minnesota Friday playing for Team USA in the World Cup. "I've seen him play a little bit at Minnesota. He's done all he can in college, and we're certainly glad to have him in Buffalo."
Vanek was the WCHA Rookie of the Year and the Inside College Hockey Rookie of the Year in 2002-03. He was an American Hockey Coaches Association second-team West All-America selection this past season. In 83 career games with the Gophers, Vanek had 57 goals and 56 assists for 113 points.