March 15, 2005
Grumet-Morris Wins Walter Brown Award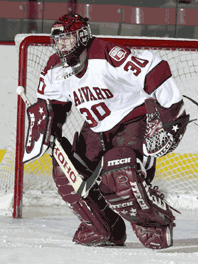 Dov Grumet Morris leads the nation in save percentage. (Photo by DSPics.com)
The Gridiron Club of Greater Boston has named Harvard goalie Dov Grumet-Morris as the winner of the fifty-third Walter Brown Award, which is presented annually to the best American-born college hockey player in New England.
Grumet-Morris, a senior from Evanston, Ill., leads the nation with a .949 save percentage and ranks second in goals-against average (1.53) and shutouts (six).
"Dov's selection as winner of the Walter Brown Award is a great accomplishment and a deserved honor for a student athlete who not only represents our program so well, but also our university," said Harvard coach Ted Donato. "Dov's accomplishments this year have been pivotal to the success of our team, and his character and personality have been a joy to be around."
In three-plus years as the Crimson's starting netminder, Grumet-Morris has virtually rewritten Harvard's goaltending record book. He holds the career lead in nine categories, and will add a 10th if he makes 14 saves in Friday's ECACHL semifinal game against Colgate. He has 2,963 saves in 111 games, a 2.24 goals-against mark, and a .923 save percentage. Academically, Grumet-Morris has attained 3.22 grade-point average while majoring in Government and Near Eastern Languages and Civilizations. He was recently named to the ECACHL All-Academic squad for the third consecutive year.
Grumet-Morris is the ninth Harvard player to win the Walter Brown Award and the first since Lane MacDonald in 1989. Other Crimson winners were: Bill Cleary in 1955; Bob Cleary in 1957 and 1958; Dave Grannis in 1962; Joe Cavanagh in 1971; Bob McManama in 1972; Mark Fusco in 1983; and Scott Fusco, who shared the award with Boston College's Scott Harlow in 1986.
Grumet-Morris edged out Northeastern captain and senior center Jason Guerriero in the final balloting. A native of Manorville, N.Y., Guerriero is the first Northeastern player to win the Hockey East regular season scoring title. He finished with 11 goals and 23 assists for 34 points in conference play and 17 goals and 31 assists for 48 points in all games. Others who received strong consideration were Boston College forwards Ryan Shannon and Patrick Eaves and New Hampshire forward Sean Collins.
"The committee members were especially pleased with the quality of this year's field of 15 semifinalists for the Walter Brown Award," said committee chairman Tim Costello. "But Dov Grumet-Morris emerged as a particularly outstanding candidate for his superb performance this year and throughout his college years, both on the ice and in his academic work."