June 22, 2005
York Diagnosed with Prostate Cancer
By Nate Ewell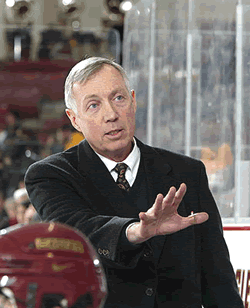 Jerry York is college hockey's winningest active coach.
Boston College head coach Jerry York, the winningest active head coach in college hockey, has been diagnosed with prostate cancer and will undergo surgery later this summer, the school announced Wednesday.
York's diagnosis was made in the early stages of the disease, and the prognosis for a full recovery is excellent, according to BC officials. York's surgery is expected to be performed in late July or early August, and if all goes well, his participation in the Eagles' 2005-06 season shouldn't be affected.
York has already spoken to two other members of the coaching fraternity who have successfully battled prostate cancer: Holy Cross basketball coach Ralph Willard and Connecticut basketball coach Jim Calhoun. Calhoun returned to the bench for the Huskies just 13 days after undergoing surgery in 2003.
"They told me that I should buy my primary care physician a bottle of wine because they caught it so early," a typically upbeat York told John Connolly of the Boston Herald. "The first two days when they told me I said, 'Whoa!' but they caught it early."
Prostate cancer is one of the most common types of cancer among men, although survival rates continue to improve, especially when it is diagnosed in the early stages. According to webmd.com, 99 percent of men with prostate cancer survive at least five years after their diagnosis, 92 percent survive at least 10 years, and 61% survive longer than 15 years.
York has compiled a 723-429-72 record at Clarkson, Bowling Green and Boston College, and has won national championships with the Falcons and Eagles. Only Ron Mason and Bob Peters have more career college hockey victories.
York's Boston College team was 26-7-7 last season, won the Hockey East regular-season and playoff titles, and reached the quarterfinals of the NCAA Tournament. The Eagles are scheduled to open the 2005-06 season at Michigan and Bowling Green Oct. 14-15.