November 10, 2004
Huntsville's Other Scoring Stars
By James Jahnke
Atlantic Hockey/CHA Notebook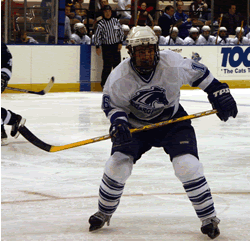 Craig Bushey and linemate Bruce Mulherin are tied for second on the Chargers with nine points in six games, trailing only Jared Ross.

As Yale and Princeton were devising their plans to beat Alabama-Huntsville a couple of weeks ago, you could almost hear their coaches saying, "What we really need to do is neutralize that top line of Jared Ross and ... um ... oh geez. Those other two guys. What are their names? Man! It's right on the tip of my tongue! Don't tell me. Arrrrgh!"
Not to make fun of those particular ECACHL teams. It's just that outside of College Hockey America, the names Craig Bushey and Bruce Mulherin don't carry the same notoriety as Ross'. Ross is the face, the name and the star associated with Charger hockey around the country. Bushey and Mulherin are just the two guys he plays with.
But as time goes on, other staffs are learning what CHA coaches have known for a year or more: Bushey and Mulherin can mess you up, too.
In six games, Bushey has four goals and five assists, Mulherin has five goals and four assists and Ross has five goals and six assists. Add it up, and you have a 4-1-1 record (including wins over Holy Cross and Yale and a tie with Princeton) heading into this weekend's series at Air Force.
"It's easy to get points and goals out there with those two," Bushey said. "We're all pretty talented players, so the offense kind of takes care of itself."
Mulherin and Ross are both playmakers, equally comfortable with setting up someone else for a goal as they are with scoring their own. Bushey admits he's less of a creator and more of a finisher around the net – but that's exactly what two playmakers need for a third component of a successful line. The trio has been together (on power plays and penalty kills, too) since early last season, and the comfort level the three have with each other is evident.
"We were actually saying during captains' practices this summer how great it feels to not even have to look to know where the other guys are," Mulherin said. "And then you can hear the other team's coaches telling them to watch out for Jared, which just means that there's more room for us to exploit their system."
Bushey agreed that playing with Ross makes things easier for him. He used Randy Moss as an analogy.
"I was watching Monday Night Football, and Daunte Culpepper was saying that Moss was the biggest decoy on the field," Bushey said. "The other team's always looking at him, worrying about what he's doing. And it just opens things up for the other guys. That's what it's like when they try to take Jared away."
Ross' linemates say there's no jealousy of King Jared in Chargerland. After all, the bigger the pie that Ross bakes, the bigger the slices everyone else gets.
"He brings more attention to us," Mulherin said. "People will hear about what Jared's doing, and they'll ask, 'Who's on his line? How's he doing so well?'"
"It's awesome for Jared," Bushey said. "He draws scouts to the stands, which gives everyone on this team an opportunity to get noticed. They'll be watching him and see someone else with talent. Maybe it will be me."
SEEN AND HEARD IN THE LEAGUES

Simon Don't Say – Bentley has the rare ability to measure its improvement in months. As in, the Falcons secured their first league win two months earlier this year than they did last season. By beating Holy Cross (the defending league champions, no less) on Saturday, Bentley improved to 1-2-1 in the league and 2-4-2 overall. Last year, the Falcons were 1-9-2 at Christmas and didn't get their first league victory until Jan. 6 versus Sacred Heart.
"It came at the exact time we needed it," coach Ryan Soderquist said of the Holy Cross win. "And for it to be against the league champs is even better. Not to take anything away from any team in our league, but had we beaten AIC last weekend, it may not have been the best jump for our guys. We needed to know that we could compete with and score on anyone. We did everything we needed to do to win, and we're upbeat and excited about the season."
The biggest surprise associated with Saturday's game might not have been that Bentley won, but who was the triumphant goalie. Geordan Murphy spelled struggling Simon St. Pierre and made 26 saves for the 5-3 victory. Soderquist said Murphy played well enough to earn another start Friday against Bemidji State, but St. Pierre will be back in the crease Saturday.
"We've expected more out of Simon than we've gotten so far," Soderquist said. "I don't think he's been focused. His save percentage (.898) is inexcusable for him as a senior. He gave up five goals against Sacred Heart (Oct. 24) and five against Canisius (on Friday), and there were one or two goals in each game that, normally, he stops."
Asked if he were concerned about his star goalie, Soderquist said. "No. Not yet at least. One thing about Simon is he plays his best when his numbers are down. If he has a bad game or two, you know he'll go out and have three or four good ones in a row."
Mystery man – Niagara junior Jeff Van Nynatten, almost universally regarded as the top goalie in the CHA, didn't play at Western Michigan last weekend and won't play against Quinnipiac this weekend. Niagara is characterizing his absence as a "coach's decision," but coach Dave Burkholder doesn't want to go into specifics.
"It was something we needed to do," Burkholder said. With Van Nynatten out of the lineup, sophomore Allen Barton and freshman Scott Mollison are handling the goaltending duties. "The two goalies that played at Western Michigan are the two who are what the team needs right now," Burkholder said.
Burkholder said Van Nynatten is still a member of the Purple Eagles. The goalie's status for next week will be determined after the Quinnipiac series. Van Nynatten is 3-4-0 with a 3.16 goals-against average and .902 save percentage.
FRIES AT THE BOTTOM OF THE BAG
Great Weekend Getaway

Quinnipiac at Niagara (Fri.-Sat.)
It's commonly held that the quality of play in the CHA is slightly better than in Atlantic Hockey, and Niagara will have a chance to prove that this weekend as two of the best teams from each league square off. Quinnipiac features goalie Jamie Holden, who stole a win with a 42-save performance against Dartmouth two weekends ago, while Niagara has a potent offense led by Barret Ehgoetz, Ryan Gale and even defenseman Pat Oliveto. You might not see a better gauge of the CHA vs. the AHA this season.

While you're there: If you only have the attention span for one hockey game this weekend, skip the series opener and check out Colin Quinn's comedy show Friday night at the University at Buffalo Center for the Arts. No doubt that Colin will provide some intermission scores to his audience.


Stick Salute

Wouldn't it be great if Wayne State forward Mark Nebus (who had a goal each night against Providence last weekend and is the CHA Offensive Player of the Week) scored an overtime game winner sometime this season? The headline could be "Save Us, Nebus." Or maybe it would be better if he were a goalie.


Bench Minor

Bemidji State had gone 60 straight games without being shut out until last weekend, when the Beavers were blanked twice by Minnesota State, Mankato. Bemidji (1-3-0) hasn't looked like the team the CHA coaches tabbed as the preseason favorite this year. After this weekend's home series against Bentley, the Beavers go on the road for six straight tough games (vs. Niagara, Wayne State and Lake Superior State). Time to cowboy up.
• Coaches will tell you that there's nothing like an early-season road trip to forge team unity, but it still was pretty surprising to see that visiting teams went 6-0 in Atlantic Hockey games last weekend.
• You can bet that Wayne State forward Jason Bloomingburg had an ear-to-ear grin when he scored against his former school, Providence, in an upset win Friday night. Bloomingburg, who left the Friars in part because of some legal trouble and in part because he didn't like their trapping style of play, has seven goals this season and has been a key to the aggressive Warriors' 5-3 start (including splits against Clarkson, Merrimack and Providence).
• Aside from Wayne State's win Friday, the CHA and AHA lost their other eight games against "Big Four" opponents last weekend. The leagues will only get three cracks at a major upset this weekend, as Connecticut plays a series at Ferris State and Mercyhurst plays once at Massachusetts on Sunday.
• The only thing separating Wayne State coach Bill Wilkinson from his 400th career win is former pupil Derek Schooley, who played for Wilkinson at Western Michigan from 1990-94. Schooley is now the head coach at Robert Morris, which hosts the Warriors for its first-ever home CHA series this weekend. Wilkinson is sitting at 399 victories.
• As one of just a handful of still-winless teams in the country, American International obviously has some what-ifs in its memory bank. Among them: A 2-0 lead that got away against Quinnipiac, a wasted three-goal rally to tie a game against Sacred Heart (eventually a 6-3 loss) and a blown 1-0 lead Friday versus Holy Cross.
• Second-place Canisius will host first-place Sacred Heart in a battle for early-season Atlantic Hockey supremacy this weekend. A big reason for the Golden Griffins' success thus far is a much-improved penalty-killing rate. Last year, Canisius finished last in the league with a 78.1 kill rate. This year, it's leading the league at 85.9. Maybe this will be a magical year in Buffalo. "It's a funny thing," captain Fred Coccimiglio said. "The Redskins/election theory and the Red Sox's curse both ended this year. It's the year of change." Does that mean Canisius might get its first-ever NCAA tournament bid? "That's what I'm
hoping," Coccimiglio said.
• Coccimiglio, who sat out almost all of last season after back surgery, has a fifth-year of eligibility next season if he wants it. But having earned his bachelor's degree in just three years, the grad student said he won't decide whether to come back to the Golden Griffins until after this season.
• Niagara will be without the services of forward and assistant captain Jason Williamson for Game 1 of its series against Quinnipiac this weekend. Williamson is serving a mandatory one-game suspension after fighting Western Michigan's Vince Bellissimo on Saturday. Word is, Williamson won, but that's beside the point. Burkholder said Williamson's was the first fighting penalty in the program's nine-year history.
• It might have taken a little longer than expected this season, but Mercyhurst bench boss Rick Gotkin earned his 300th win at the school and his 100th as a Division I coach with a 2-0 whitewash of Army on Friday. Of course, the Lakers also beat Connecticut on Saturday, meaning those milestone numbers didn't say nice and round for very long. Throw in a 45th birthday celebration on Sunday, and it wasn't a bad weekend for coach Gotkin.
• Sacred Heart still sits atop Atlantic Hockey with a 3-0-0 record and six points. But while the Pioneers have had their way with league opponents, nonconference games have been a different story. Coach Shaun Hannah's crew has been outscored 30-4 in five nonleague games (vs. Vermont, Colgate, Cornell and Ohio State, twice).