March 18, 2005
CCHA SEMIFINALS
Feels Like the First Time For Guenin
By Mike Eidelbes
DETROIT – Ohio State defenseman Nate Guenin will never forget the celebration following the Buckeyes' win against Michigan in last year's CCHA Super Six championship. As his teammates took turns skating around Joe Louis Arena with the Mason Cup held high above their heads, the Aliquippa, Pa., product watched from the bench in street clothes.

Weeks earlier against Ferris State, Guenin had a Bulldog player lined up for a check along the wall when the opponent ducked down to avoid the hit. The 6-foot-2, 200-pound Guenin sailed over the top of the FSU skater and rammed head-first into the boards.
Ohio State 4,
Michigan State 1

Team
Goal
Str
Time
Assists

First Period

1-OS
Andrew Schembri (4)
PP
8:25
K. Bernard, D. Knapp
1-MS
Ash Goldie (11)
EV
17:44
C. Fretter, M. Lalonde
Second Period
2-OS
Sean Collins (9)
EV
7:38
N. Guenin, D. Maiani
Third Period
3-OS
Jason DeSantis
EV
7:35
B. Anderson, T. Fritsche
4-OS
Tom Fritsche (9)
PP
15:59
M. Beaudoin, M. Waddell
Goaltending
MS: Dominic Vicari, 60:00, 35 saves, 4 GA
OS: Dave Caruso, 59:57, 24 saves, 1 GA
Penalties: MS 5/10; OS 6/12
Power Plays: MS 0-6; OS 2-5
Attendance: 10,128
"My whole left arm…I couldn't feel it for a couple minutes," Guenin said. "I went to the hospital, and they did x-rays and a CAT scan [in Big Rapids] and said I had a fractured vertebra. Still, the doctor made it sound like in a couple weeks I'd be back.
"We got back to Columbus and our neurologist dropped the bomb, saying I'd be out for three months and depending on how it healed, I could be out a whole year."
Not only is Guenin back, but he's playing as well as he did before he got hurt – if not better. An all-CCHA second team honoree, the OSU assistant captain set up partner Sean Collins' game-winning goal as the Buckeyes advanced to the league playoff title match with a 4-1 win over Michigan State.

Guenin, who was chosen by the New York Rangers in the 2002 NHL Entry Draft, embodies the Buckeyes' style of play. He's talented, physical, tenacious and sound in all aspects of his game, which he believes stems from his upbringing in the Pittsburgh area.
"JB [Bittner, the Buckeyes' captain] and I grew up in Pittsburgh," explains Guenin, who has 2-12—14 and 132 penalty minutes in 39 games this season. "In a blue-collar town like that, you learn to play hockey that way.
"We play with that grit and with a chip on our shoulders. As a player, you want to be that guy the other team doesn't want to go up against."
Consider that mission accomplished. But there's still the matter of the Mason Cup, which Guenin hopes to raise triumphantly Saturday – this time on the ice. He's grateful to get a second chance
"My parents always taught me to appreciate everything," Guenin said. "As a player, I always try to play as hard as I can because [that game] could be my last. Being able to run on the ice every day after not being able to do that for five months…you learn not to take the little things for granted."
MR. ROGERS' NEIGHBORHOOD
Alaska-Fairbanks goaltender Wylie Rogers was named the game's third star following his team's 3-1 loss to Michigan Friday.
Those attending the first CCHA semifinal match– and there weren't many – know better. Rogers, who was named to the league's all-rookie team earlier in the month, stole the show by stopping 43 of the 46 shots he faced. Today's effort is just the latest leg of Rogers' whirlwind ride through the playoffs, during which he has outdueled a pair of Hobey Baker Award finalists – Jordan Sigalet of Bowling Green and Northern Michigan's Tuomas Tarkki.
Michigan 3 ,
Alaska-Fairbanks 1

Team
Goal
Str
Time
Assists

First Period

No scoring
Second Period
1-UM
Brandon Kaleniecki (12)
EV
12:13
J. Tambellini, T. Hensick
2-UM
Jeff Tambellini (20)
EV
19:41
B. Kaleniecki, J. Dest
Third Period
1-AF
Ryan McLeod (15)
EV
2:43
unassisted
3-UM
Chad Kolarik (15)
PP
5:37
E. Nystrom, A. Ebbett
Goaltending
AF: Wylie Rogers, 60:00, 43 saves, 3 GA
UM: Al Montoya, 59:46, 12 saves, 1 GA
Penalties: AF 10/20; UM 5/10
Power Plays: AF 0-4; UM 1-9
"It's physically tiring because they had so many shots – quality shots – tonight," Rogers said. "But you can't slip and start getting mentally tired, start getting lazy and start giving up goals on shots you would normally stop."
That the Wolverines, the CCHA's highest-scoring team, needed three perfect shots to solve Rogers speaks volumes on the quality of his play. The Anchorage, Alaska native was quick to credit his teammates for his success.
"The guys did an excellent job clearing rebounds out from in front of me, and talking – all weekend, the guys have been talking and telling me, 'Hey, you've got this shot…hold on to the rebound,'" Rogers said. "Communication has been huge this weekend.
"The guys did a helluva job. We battled hard."
Rogers' path to UAF has been a circuitous one. Two years ago, he was in Ann Arbor as a member of the U.S. National Team Development Program, an experience he says taught him the value of dedication to the game. Last season, he jumped to the Victoria Salsa of the British Columbia Hockey League only to ride the bench much of the time.
"I had to learn to battle through adversity when I was sitting five games in a row thinking I should be in there," he said. "Coming into this year, when I did get my shot I had to make [the coaches] have to play me."
There's little doubt UAF bench boss Tavis MacMillan will write Rogers' name in ink atop his goaltending depth chart. In fact, the Nanooks, whose lineup Friday featured 14 freshmen and sophomores, will look roughly the same next season. Because of that, Rogers says, this year's playoff run will pay dividends down the road.
"It's completely priceless. Every guy takes a piece of this," he explained. "The freshmen that come in next year…every guy can say to them that this is what we're shooting for. This can be fuel for our fire.
"Look out. This is a young team. We're going to do some very good things."
SEEN AND HEARD AT THE JOE

• The Super Six will stay at Joe Louis Arena through the 2009-10 season. The CCHA reached an agreement with Olympia Entertainment, the venue's parent company, to keep the event in downtown Detroit. The CCHA has brought its postseason finale to the Joe every season since 1982.

By the way, Friday's announced attendance of 10,128 brings the two-day turnstile total to 13,564. By comparison, Thursday's WCHA play-in game between Wisconsin and North Dakota drew 15,583 to the Xcel Energy Center in St. Paul.
INCH's Three Stars of the Night
3. Sean Collins, Ohio State
The underrated blueliner notched the game-winning goal for the Buckeyes on a shot from just inside the blue line that sailed with over the glove of MSU goalie Dominic Vicari.

2. Wylie Rogers, Alaska-Fairbanks
Thanks to his terrific effort between the pipes, the Wolverines needed three restaurant-quality scoring opportunities to advance to Saturday's championship game.

1. Brandon Kalienicki and Jeff Tambellini, Michigan
The latter set up the former on the Wolverines' first goal, and the former returned the favor on the team's second marker. Both plays were carbon copies in that perfect shots were set up by beautiful passes.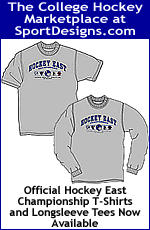 • Michigan State's NCAA Tournament prospects are iffy at best, but if the Spartans are one of the teams to receive an invitation they'll have to make do without the services of junior forward David Booth.

Booth, who cracked a rib in a 6-3 win against Ohio State in East Lansing Feb. 18, will not return to the lineup this season. The Washington, Mich., native and Florida Panthers' prospect scored five goals and four assists in 13 games this season.

• MSU's red-hot forward quartet of Colton Fretter, Jim McKenzie, Drew Miller and Jim Slater was held scoreless against OSU Friday. One of the four had recorded a goal in 10 of the Spartans' previous 12 games.
• INCH's favorite NFL quarterback, former Miami RedHawk Ben Roethlisberger, gained such a following during his magical run with the Pittsburgh Steelers last season that one of the city's eateries created the "Roethlisberger" sandwich in his honor.

Perhaps it's ironic, then, that a Pennsylvania restaurant has unveiled a meal named after a college athlete from the Buckeye State. Copabanana in Philadelphia will debut its Umberger Monday. Named after former OSU forward R.J. Umberger, who now plies his craft with the American Hockey League's Philadelphia Phantoms, the sandwich features fried onion rings and muenster cheese.
• Ever wonder why there's a second Stanley Cup in case of emergencies?

The Mason Cup, awarded to the winner of the CCHA playoff championship, was on display at the Fox Theatre in downtown Detroit Wednesday as part of the league's awards show. The handler charged with moving the trophy from the lobby to the stage prior to the ceremony apparently forgot about the velvet rope keeping minglers at bay, stumbling over the barrier. The trophy hit the floor hard and while the metal cup remained intact, the base shattered into pieces.

Thankfully, a spare trophy stored at league headquarters was removed from a giant Tupperware container for Saturday's post-championship game ceremony.
PLUSSES AND MINUSES

Don't let the scoreboard fool you. Friday's losing goaltenders – Rogers and MSU's Dominic Vicari – were extremely sharp. Their performances are especially impressive considering the extenuating circumstances. Vicari and the Spartans have been in playoff mode for four weeks, and Rogers and his Nanook mates have been on the road for more than a week.

Stepping away from the CCHA for a moment, shout out to my alma mater, St. Thomas (Minn.), for advancing to Saturday's NCAA Division III championship game with a 4-1 win over Trinity in a semifinal match Friday in Middlebury, Vt. The Tommies (yeah, I know) face the host team in the title match. Middlebury downed New England College, 5-2, in the other semifinal. CCHA fans may remember New England College as the school where Scott Borek landed after getting axed at Lake Superior State. Borek is now an assistant at New Hampshire.

The CCHA and Olympia Entertainment have extended the agreement to hold the Super Six at Joe Louis Arena. But given the attendance woes through two first two days of the event this season, perhaps conference brass should've taken a harder look at alternate venues. Skating on the Detroit Red Wings' home ice may be alluring, but but playing in front of a crowd thet barely fills one-third of the cavernous building certainly isn't.

Numerous public address announcements at the Joe encouraged fans to fill out a college-hockey related questionnaire on the arena concourse, but the survey's organizers could've put a little more thought in the gift that one lucky fan will win via a blind drawing. A Red Wings' sweater autographed by Pavel Datsyuk is nice and all, but how about getting the John Hancock of a former collegian (say, Chris Chelios) on the winged wheel?
WHAT'S NEXT
For the second straight year, Michigan and Ohio State play for the title Saturday. One school of thought maintains the Wolverines have to let the Buckeyes win in order for a second CCHA team to advance to the NCAA Tournament. Another school remembers a flat Michigan team sleepwalking through the first 40 minutes of last year's championship game against OSU en route to a 3-2 loss.