November 23, 2004
Coming Soon to a Rink Near You
By Nate Ewell
Hockey East Notebook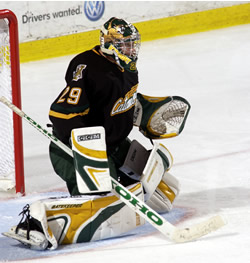 Get used to this guy, Hockey East fans: Vermont goaltender Joe Fallon. (Photo by William DiLillo, University of Vermont)

Last January, Hockey East coaches expressed overwhelming excitement about adding another quality program to the league in Vermont, which will join Hockey East officially next fall.
Some of those same coaches might not be so excited that the Catamounts are this good right now.
Vermont, which finished 11th in the ECAC last season, extended its nation-best unbeaten streak to nine games with Tuesday's win over Massachusetts, the first of three straight games against Hockey East teams.
With the next two weeks providing an early peek into the future, we thought it was a good time to ask: what can Hockey East fans expect from the Catamounts, both this season and, more importantly, in the future?
"They play an up-tempo game," said Tim Whitehead, who said in October that he expected good things from the Catamounts, even though his Maine team beat them 7-1 in the season opener. "They don't sit back at all. But they play smart, too, they aren't just running around.
"They're an enthusiastic team," he added, "they've got a great young coaching staff, and they're very excited about the future and joining Hockey East."
Whitehead is one of three Hockey East coaches who have already faced the Catamounts – BU also posted a win against UVM in the early going, then Tuesday's UMass game. Over the course of the regular season six Hockey East teams will play Vermont – New Hampshire and Northeastern in the next two weeks, in Burlington, and Providence Dec. 28 at Dartmouth.
Those visiting Gutterson Field House are in for a treat.
"The atmosphere is great to play in," Whitehead said. "I saw a real jump in their step despite the result of our game. They play with a lot of emotion, and they have good team speed."
Goaltending has keyed Vermont's run, as the Cats have allowed three goals just once in their last nine games (a 4-3 win over St. Lawrence). Freshman Joe Fallon has been spectacular; he stands ninth in the nation in goals-against average (2.01) and 13th in save percentage (.926). Fallon, a Bemidji, Minn., native, has been in goal for six of the seven Vermont wins.
Up front, the most recognizable names will be gone by the time Vermont joins Hockey East. Senior Scott Mifsud (10-7—17 in 14 GP) is the captain and leading scorer, followed by senior Brady Leisenring, who has nine points despite battling injuries and only playing six games. But there's more talent that will be around next season, led by Torrey Mitchell (3-7—10), a freshman from Hotchkiss. Junior Jaime Sifers is a star on defense. (Leisenring also could make an appearance in Hockey East; Vermont announced Wednesday that groin troubles will keep him out of the lineup for the rest of 2004-05, and he will apply to the NCAA for an additional year of eligibility.)
Vermont's nine-game unbeaten streak was sparked by a win and a tie at then-No. 1 Minnesota Duluth. In the ECACHL, where the Catamounts played their last six games before Tuesday, opponents have marveled at the improvement over the team that finished 11th last season.
"Unbelievable," said Colgate head coach Don Vaughan, whose team played at UVM Saturday. "What a turnaround. They skate well. They're playing with a lot of confidence. You can just see it in the way they're playing ... They are a very, very good hockey club."
One that will try to take Hockey East by storm, first over the next two weeks, then again next season.
SEEN AND HEARD IN HOCKEY EAST
More Troubles for Howard – Jimmy Howard's challenging season took another twist late in Sunday's game when the star Maine goaltender re-injured his knee in a collision with Providence's Nate Meyers, who was given a five-minute major for charging. It was the low point in a game so heated, referee Jeff Bunyon sent the teams off the ice afterwards without the post-game handshake.
The Black Bears scored on the ensuing power play, making the score 8-4, but it's yet another setback for their best player. Howard came down with mononucleosis in the summer, then sprained an ankle, then sprained a knee before this latest injury.
"I've been really proud of Jimmy and the way he's handled himself," said Maine head coach Tim Whitehead. "He's had a tough go of it, right from the summer, but he's a tough competitor. He's found a way to recapture the season, and this is just a minor setback here."
In the meantime, expect freshman Matt Lundin to get the start at Dartmouth Saturday. It may not be a terrible assignment – the Big Green has a sputtering offense that has been held to two goals or fewer in five of eight games.
FRIES AT THE BOTTOM OF THE BAG
Great Weekend Getaway

Dunkin Donuts Coffee Pot (Providence, Sat.-Sun.)
The thin air of Colorado College and Denver is enticing, but traveling on Thanksgiving weekend is about as appealing as a spear to the gut. If you're looking for a short getaway, go catch Merrimack and Providence in action at the Providence Civic Center. The field is better than it gets credit for, too – Union has won six straight and would have to be considered the favorite going in.

While You're There: You could go to the Providence Place Mall. Yeah, right – shopping this weekend is worse than traveling. With that in mind, it's a good thing this tournament doesn't start on the infamous busiest shopping day of the year, Friday.

Stick Salute

We normally wouldn't mention a team from outside the league here, but heck, we wrote the whole lead to the notebook on an ECACHL team. So here's to Harvard, which has taken on two of the best teams we have to offer and come out ahead.


Bench Minor

It was great to see college hockey get noticed in last week's Sports Illustrated, but we've got to whistle SI's vaunted fact-checkers for misspelling Joe Bertagna's name ("Bertagne"). If it wasn't the fact-checkers, maybe writer E.M. Swift intentionally misspelled the Commish's name as they vie for the title of the second-most-famous former Ivy League goaltender behind Ken Dryden.
• Chris Bourque sure does know how to pick his spots. All three of the Boston University freshman's goals have come in televised games. Good news for BU: the cameras will be rolling for NESN at Denver and Colorado College this weekend.
• Merrimack plays the first of four in-season tournaments this weekend at the Dunkin Donuts Coffee Pot. First-round wins by the Warriors and Friars could set up an all-Hockey East final.
• Providence appears to have found a full-time No. 1 goaltender in freshman Tyler Sims, who stopped 35 shots in the 2-2 tie with Boston College. Two days later, however, he gave up all eight goals against Maine in Portland.
• Boston College's first meeting with fellow Jesuit school Holy Cross since 1986 couldn't have come at a better time. The Eagles, who dropped out of the No. 1 spot in the polls earlier in the day, beat the Crusaders 5-0 Monday night, snapping a brief three-game winless streak and getting some pucks in the net for a change. They scored on five of 44 shots (11.4 percent) after scoring on just 5.4 percent of 112 shots during their winless streak.
• Perhaps the most unbelievable note of the young season belongs to the UMass Lowell offense, which scored first in each of its first nine games this season. Tuesday night against UNH was the first time the River Hawks' opponent got the first lead, and it also marked UMass Lowell's first point in Hockey East play, with a 3-3 tie. They're now 0-5-1 in the conference, 4-0-0 outside.
• Maine was thrilled to get Michel Leveille back in the lineup last weekend, and the gifted center must've been pretty excited himself. He had an assist Friday against UMass, and broke out for a hat trick Sunday vs. Providence. It was the first multiple-goal game of his career; last year, when he was particularly snake-bit around the net, he didn't score his third goal until Jan. 23. Now, with five goals despite missing six games, he's one goal shy of his total from all of last year.
• There are no defensemen among the top 11 scorers in Hockey East play … unless you count BU's Bryan Miller. Miller, who has spent time at both forward and defense, shares the conference lead with teammate Pete MacArthur, with 10 points in seven games. Thomas Pöck he's not, but like the former UMass defenseman, Miller seems to have a bit more scoring knack from the blueline than at forward.
• BU can head outside the conference for the next three games on this happy note – the Terriers have already equaled their Hockey East win total from all of last season (six).
• The Terriers' trip to Colorado alongside Massachusetts makes us wonder: if Jack Parker gets his 700th career victory Friday night at Denver, will he have the opportunity to meet up with his former player and assistant coach Don Cahoon to celebrate? It's not quite being at home, but it certainly would be fitting.
A variety of sources were utilized in the compilation of this report.