March 2, 2005
Four-for-All
By Nate Ewell
Hockey East Notebook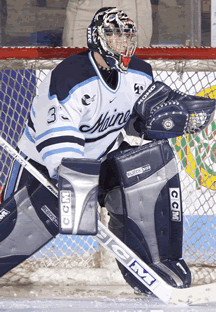 Jimmy Howard and Maine posted a sweep last weekend to stay in the Hockey East race.

Hockey East Commissioner Joe Bertagna isn't shy about the fact that the league develops the regular-season schedule with an eye toward compelling matchups late in the season.
But what begins Thursday evening has to be beyond what Bertagna or anyone else could have hoped for in the season's final weekend.
It's a veritable four-for-all, with four teams – nearly half the league – within reach of the conference title, and matched up against each other in two head-to-head series. Just imagine if nearly half the movies made in 2004 had been nominated for Best Picture Sunday night. Like an early Christmas present, it feels like we're getting to start the playoffs a week early.
Boston College helped create the logjam at the top with a tie and a win over New Hampshire last weekend. Jerry York lamented before the weekend that his Eagles allowed control of their destiny to slip away; they didn't completely regain their grip last weekend, but came close.
"Three out of four points for us makes it a race," York said after Saturday's game. "We're thickly involved in it and it's going to be an outstanding finish."
Maine, which enters the weekend in fourth place and has the toughest odds of coming away with the title, is another team that got back in the hunt with an impressive showing last weekend.
"It's exciting to be back in the mix," head coach Tim Whitehead acknowledged. "It's always great to win the regular-season title, and we have an outside chance this weekend."
Of equal – or perhaps greater – concern for the Black Bears is improving their standing for the NCAA Tournament and building momentum for the playoffs. One thing's for certain with these four teams playing, they all should come out of the weekend ready for the playoffs.
"This should really prepare us well," Whitehead said. "One of the strengths of our league, over the course of the season, you feel like you are really battle-ready. If we're fortunate enough to make the NCAA Tournament, we know we'll be ready for it."
Assuming the pace of this weekend's games truly does prepare these teams for the playoffs, it won't be any surprise at all to see the same four clubs gathering at the FleetCenter in two weeks.
SEEN AND HEARD IN HOCKEY EAST
Unsung Heroes – In the coming weeks, with the announcement of all-league teams, team MVPs and the like, we'll hear plenty more about Hockey East stars like Patrick Eaves, Sean Collins and Jimmy Howard.
With that in mind, we cast our gaze this week to the unsung heroes of Hockey East. These are the players who may not have had their names trumpeted in this column, or many other publications, but have contributed to the success of their team in their own quiet, efficient way.
Boston College: Mike Brennan was a heralded recruit for the Eagles, but he's had a relatively quiet freshman season, largely due to the fact that he's put up only six points.
Still, he's been consistent defensively, which is a lot to ask some freshman defensemen. And he's appeared in every game, something that's helped a relatively thin Eagle defense corps that has suffered injuries at key points this season.
Boston University: Two freshman forwards named Ryan – Monaghan and Weston – earn some attention here. Classmates Chris Bourque and Pete MacArthur have gotten more publicity for bringing some much-needed offense to the Terrier lineup. But a level of intensity game-in, game-out, was lacking last year as well, and Monaghan and Weston have that. They've only totaled 12 points, combined, but they're worthy of praise.
Maine: With goals in four straight games, Maine's Brent Shepheard is well on his way from moving from unsung to sung.
But the sophomore, who was limited to 20 games last year due to injury, has impressed his coaches all season, and all over the ice.
"He's really emerged for us as an elite player," said Tim Whitehead. "He's physical, he's strong defensively, he's tough and he can put the puck in the net."
Massachusetts: David Leaderer looks to be the latest in the Minutemen's line of talented offensive defensemen, following in the footsteps of Thomas Pöck and senior Marvin Degon.
Leaderer has 4-7—11 on the year, not overwhelming numbers, but impressive for a freshman. They include three power-play goals. He hasn't been scoring on creampuffs, either – his goals came against Boston College, Boston University, Denver and Maine.
UMass Lowell: He's a top-five scorer and a first-line player, but junior forward Danny O'Brien often gets lost amid the praised heaped on his classmates, Ben Walter, Elias Godoy and Andrew Martin.
That may be just the way O'Brien likes it. He's just as slippery on the ice, especially in front of the net on the power play, but he doesn't want any credit. "It's an easy job with guys like Marty and Eli and Cleve (Kinley) and Walter getting you the puck," he said.
Merrimack: What few accolades the Warriors have earned in their one-win Hockey East season have gone to defensemen Bryan Schmidt and Jeff Caron, who have been impressive despite their team's record. Also worthy of note is junior forward Matt Johnson, who has provided a bit of offense for a corps of forwards in desperate need of goals.
Johnson has scored 10 goals, equaling his previous career total, and appeared in all 35 games for the injury-riddled Warriors. He's also been fairly consistent over the course of the season, never going more than three games without recording a point.
New Hampshire: One dangerous line can be cause for concern. Two is really a recipe for success.
But when UNH's third line hits the ice, led by sophomore Josh Ciocco, it's hardly an opportunity to exhale. Ciocco barely played last year (17 GP, 0-2—2), but he's been a force as a sophomore, skating primarily with two freshmen and putting up 9-9—18. Those contributions give the Wildcats another dimension beyond their powerful top two lines.
Northeastern: Words like "scrappy" and "waterbug" are much more apt to describe Northeastern's Jared Mudryk than "goal scorer," but the addition of the senior to the Huskies' first line has provided a real spark over the last month.
He worked tirelessly all year and done a good job of generating chances, if not always finishing them. On the ice with Jason Guerriero and Mike Morris now, more of those pucks are going in. Mudryk's contributions are a big reason for NU's success in February (5-2-1).
Providence: Chris Chaput is a more dynamic player, Colin McDonald more of a pure goal scorer, and Jon Rheault among the top freshmen in the league.
But head coach Paul Pooley reserves some of his highest praise for sophomore forward Jamie Carroll, the transfer from Iona.
"Over the course of the year, he's been our best player," Pooley said. "Other players have had spikes when they've played better, but Jamie has been consistent all year. Whatever line we've put him on has had success."
FRIES AT THE BOTTOM OF THE BAG
Great Weekend Getaway

Maine at Boston College (Fri.-Sat.)
It's a tough pick between this series and BU-UNH, but with the Eagles and Black Bears on a roll, this one gets the nod. Start scouting now in case they meet again in two weeks.

While You're There: If you're a car person, you'll want to check out the Museum of Fine Arts, which is showcasing Ralph Lauren's collection of classic cars. You'll understand why those clothes of his cost so much.

Stick Salute

College hockey gets a limited amount of media coverage, but each year a handful of stories emerge as absolute must-reads for every fan. We'd like to think some of those reside on these pages. Meanwhile, we're proud to say that our affiliate site, ESPN.com, has produced what may be the best of this year as David Albright chronicles UMass Lowell's trip to Maine.

Bench Minor

Between BU and the league's NESN contracts, it's a shame Thursday night's BU-UNH game won't be on TV.
• Ottawa likes Patrick Eaves. Not a surprise – a lot of people like Patrick Eaves, including The Hockey News, which has him ranked 32nd among all NHL prospects in its Future Watch issue.
The only thing the Senators would like to change – and it's bad news for Boston College fans – is where he's playing.
"What we've got to do," Ottawa general manager John Muckler said, "is get Mr. Eaves to come out of school. He's been the best player on his college team and he's really developed by getting stronger."
Eaves, a junior, is the only current Hockey East player on the magazine's list of the top 50 prospects.
• There's a little bit of suspense remaining for Merrimack fans, regardless of the fact that the team has been out of the playoff picture for two weeks: Can defenseman Bryan Schmidt become the first Warrior to earn first-team All-Hockey East status? Certainly Merrimack – and Schmidt – would trade the honor for some more team success, but it would be a bit of a balm on a painful season.
• Jimmy Howard's nine career shutouts for Maine in Hockey East games are a league record.
• Four of the five players with a realistic shot at winning the league scoring title are playing in the "four-for-all" mentioned above in the race for the league title. The most favorable schedule belongs to Northeastern's Jason Guerriero, who plays two games against Massachusetts. Guerriero is one point behind New Hampshire's Jacob Micflikier entering the weekend.
• Senior John Ronan scored what could be the biggest goal of Maine's season – and potentially, in the long run, UMass Lowell's – when he put home a short-handed tally Saturday night with one second remaining in the second period. Ronan's goal gave Maine a 3-2 lead that they would eventually build to 5-2 (the Black Bears won, 5-3).
• Getting a lead is key for lots of Hockey East teams – last week we mentioned it for Providence. But check out Boston University's numbers when grabbing a lead: The Terriers are 15-1-3 when scoring first, 13-1-1 when leading after one period and 17-0-2 when leading after two periods. BU is yet to win when trailing after two.
A variety of sources were utilized in the compilation of this report.
Other Notebooks: Atlantic Hockey/CHA Notebook